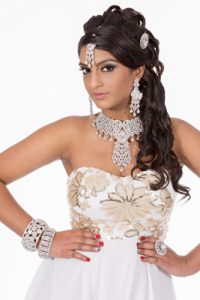 Seasons may come and go but a bride will always retain her quintessential charm and elegance. Even among Indian weddings, the Punjabi wedding is considered to be the most ostentatious and larger than life. While the celebrations can start as much as a week in advance, the main ceremonies and Punjabi wedding rituals commence a couple of days before the wedding day.  A bride is the center of attention. Her beauty is admired by everyone around and especially by the groom who can barely keep his eyes off her. It's an occasion worthy of all the time and attention that is devoted on making the bride look her gorgeous best. You need to be picture perfect. Newest make up technology, airbrush is widely used for photography purposes. Plan for everything — from the flowers on the tables, to the songs the band would play — and everything in between. "Never try anything for the first time on the day of your wedding".
TAKE SKINCARE SERIOUSLY
Nothing makes you feel as confident as having glowing, radiant skin. Great skin makes you look younger and feel healthier no matter what your age or physical condition. Plus, many ways of taking care of your skin give you the opportunity for some serious pampering. So go ahead–make your skin glow. You deserve to look and feel fabulous.
Skip the long, steamy showers and opt for shorter, cooler sprays. Long, hot showers strip skin of its moisture and wash away protective oils. So limit showers to 10 minutes and keep the water cool.
No amount of makeup can replace the radiance of healthy and beautiful skin. Ensure you get correct skin assessment from the in-house doctor at the salon and get regular treatments and cleansing procedures to fix any nagging skin problems.
Breakout issues? See a dermatologist for specialized help. Or maybe a nutritionist or naturopath can assist—what you eat shows up on your face, especially if you have certain food sensitivities, such as dairy or gluten.
Makeup glides flawlessly onto skin that has recently had a good facial. Book one ASAP to see how your skin likes it; if skin says yes! book another for a week before your wedding.
GET HAIR INTO SHAPE Healthy and shiny hair will let you experiment with different hairstyles for the different ceremonies that last a few days. Regular spa treatments for everyone are good but those who have extremely damaged or dandruff prone hair or have a lot of split ends are recommended specific treatments like power dose. Save dry, damaged and brittle hair with a regimen of reparative shampoo, conditioner and hair masks, starting now.  Try weekly treatments with coconut oil, which hair absorbs easily for improved shine and resilience.
SHAPE YOURSELF Wedding is an occasion to flaunt your designer trousseau with elegance and confidence. This confidence comes from knowing that you are in your best shape. Crash diets will take the glow away from your face. One should get a diet consultation and enroll in a gym at least 6 months prior to the wedding.
LOOK AWESOME WITH AIRBRUSH MAKEUP Go for airbrush makeup, which uses a gun to apply waterproof silicon foundation by spraying it on the face. No touching, no unevenness, no cracks and complete hygiene -it's perfect for weddings. The makeup is light and free of any speckles. Ooze sensuousness with well-defined eyes. Use eyeshadow which match or complement your dress. Use silver or golden highlighter under the brows and apply winged eyeliners and give eyelashes a density with 2-3 mascara coats.. Stud the brows or the liner with swaroskis.
FOODS TO AVOID
What you eat can make a big difference in how you feel on the big day. While you may have kept up with your already-healthy diet and lifestyle in the months leading up to the wedding, certain foods have been shown to leave the body feeling a little swollen around the seams. Try cutting out a few of the following foods before your big day.
Eliminate all forms of sugar and salt, up to 48 hours before your wedding day.
To avoid a bloated belly, steer clear from cruciferous foods like broccoli and lentils and opt for fish and salad instead. Having a protein shake or meal replacement, since they're pre-digested, which means your body doesn't have to do any work to break them down so you wont bloat with them. Artifical Sweetner, Junk Food, Alcohol, Carbonated Beverages, Dairy, Chewing Gum, all causes bloating.
A Secret food Asparagus help fight bloating, along with keeping you fuller longer due to the high fiber content. And when you're trying to look good in a custom-fit wedding dress, Weddings brings a lot of stress, nerves and late nights but you should feel relaxed, calm and happy throughout so you can enjoy to the capacity and let your inner happiness reflect on your radiant skin. You can also head off to a weekend getaway spa with a few friends away from the bustling city as you get ready to step in the limelight for your D-day.There is no better way to reduce stress, detoxify the body, aid in bloating reduction and promote weight loss than to get moving! A good 30-60mins per day of cardio type activity, 3-4 times per week, can help speed up your metabolism, reduce free radicals in the body, and encourage the flushing of toxins by increasing the body's metabolic rate. Be sure to stay hydrated with plenty of water, and you'll be sure to feel great and LOOK great on your big day!