With the festive season approaching, we all look forward to spending quality time with our loved ones. Hosting family dinners, and get-togethers are the highlight of this season, and as much as we enjoy bringing our people together, it can be demanding to host that perfect gathering.
The most important part of any gathering is food. We all love to connect, share and create memories over food, and Nugu helps us make those memories better. This luxurious and ethical dinnerware brand, with origins in Karnataka – India, is now launching in North America. Nugu's sustainably handcrafted dinnerware range boasts of timeless designs, modern forms, and chic colors.
Whether you're an amateur cook or an aspiring Michelin Star-worthy home chef, plating your meal with Nugu is sure to excite your guests. And whether you're gathering in your first apartment or a family home akin to those in Architectural Digest, the setting will be perfect when all eyes are on your stunningly plated food.
With eye-catching color palettes and modern shapes to choose from, Nugu will put your been-there-done-that white plates to shame.
Not only are Nugu's pieces the definition of "Instagrammable," they're also one of the safest and strongest ceramics to dine in. Handmade with love, from high-quality natural materials, this dinnerware is meant to last. And it gets better.
You will feel proud supporting Nugu. The company's impact first vision is built on strong pillars of social equity, Indigenous empowerment, and environment stability.
Nugu has upskilled and employed 100+ Indigenous craftspersons to create an enduring community that thrives together. Their positive impact has resulted in the development of five villages in rural South India, 30000+ planted trees, and 125 metric tonnes of carbon sequestered.
Committed to the United Nations Sustainable Development Goals, Nugu responsibly uses eco-friendly raw materials, that are sourced locally and crafted sustainably in their zero-waste producing micro-factory.
Founders Sonali and Sumath accomplished their dreams of providing employment to local communities. But they were not prepared for the massive growth that would follow.
Now used in luxurious hotels like the JW Marriott, and leading restaurants, it's clear that this exceptional dinnerware is a crowd-favorite.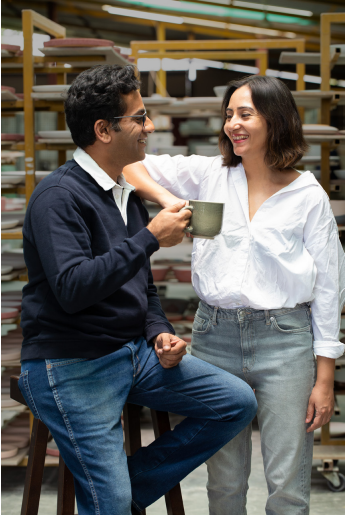 The North American consumers value good design and sustainability driven products, and we are so excited to bring Nugu Home here. It is a moment of pride not just for us, but also for our community of indigenous craftspeople, who've worked hard to make Nugu global," said Sonali Sharma, Co-founder Nugu Home.
The brand's recent launch as an ecommerce start-up in North America now allows for a larger audience to appreciate the beautiful, handcrafted pieces.
Check out this link www.nuguhome.com/drishti to access an exclusive Black Friday discount for the readers. Purchase a Nugu dinner-set, and your guests will thank you!
Link: www.nuguhome.com/drishti
Code: NUGUDRB25