Aries
New work in January-February, but will come with a struggle for Aswini Nakshatra born. For Bharni nakshatra, you will now start to enjoy the fruits of your Karmas. Krittika born might face opposition, and hard work is the key, as Saturn will transit into the career house from your moon sign from 24th January 2020. There is a high possibility of achieving success in a career. New sources of earning would open up, and there will be a higher inflow of wealth. If unemployed, this month will bring opportunities. Joy in love as compared to the last month. Students will be more confident with favorable results of exams. If you have a history of heart ailment, eat healthy food, and involve yourself in mild physical activities.
Taurus
Venus shall transit your 11th house of gains house from 2nd February, bringing excellent prospects in career and personal life. You might think of investing in beauty items, garments, designing, decorations, etc. You could change your job and make better pay. Love and married life shall see a mixed-phase during this period. Be kind in your language with your partner, family & loved ones, as Mars will be in your 8th house from 2nd February to 22nd March. Traveling abroad for professional work or business could bring in new opportunities for increased wealth. Hard work and excellent career planning will benefit you. Take care of your parents as well as your own health. Irritation and anxiety shall affect health, hence best to avoid them.
Gemini
There will be many opportunities coming your way, leading to financial gains. Those planning to travel abroad may find success. Confusion regarding some unfinished work from last year could haunt you. There could be chances of sudden windfall or gains from in-laws. You could also benefit from family assets and wealth; however, investment in real estate should be avoided. This is a good month for students as they will get the desired results of their past efforts in the form of good scores for exams in which they have already appeared. You could arrange a small party or get-together at home and shall get opportunities to mingle with your loved ones. A mother's health might require special care and attention.
Cancer
Positive times filled with hope as it brings opportunities in career and resolution of past issues. There are chances that you may buy a new home or vehicle. Those involved in politics shall find luck in their favor. Avoid pending disputes or litigations, as the cluster of five planets hanging in for a while in your 6th house, could have an effect on your fortune. Avoid uttering harsh words to avoid troubles. Your partner will be supportive of you. There will be new sources of income, and you will consider investing in real estate and property. Students will see a beneficial period in terms of their academic growth. Stomach-related issues or seasonal ailments might bother you. Avoid junk food and get enough exercise to enjoy a healthier life.
Leo
Good income will come your way as Rahu will be transiting the house of pay as per your moon sign. Those involved in real estate shall see growth due to Mars' beneficial transit. You will have adequate support from your parents, a source of strength for you. A long-standing property dispute will end in your favor. Your sign, lord, Sun with Saturn, might cause some temporary difficulties. In the last week of January, Saturn will enter the sixth house; this will be highly beneficial for you as past efforts shall reap benefits. A new project or business shows positive vibes, but some advice from an experienced person could help. Not the right time to begin a new relationship. Take care of your eating habits, as digestive issues and skin problems could trouble you.
Virgo
Saturn will transit the fifth house as per your Moon sign from 24th January 2020, opening up new avenues for earnings. You could land a job in a multinational company. You will have the courage to initiate new projects and make efforts towards earning wealth. An old flame might spark once more; you can entertain it if you're single. For singles looking to find a match and settle down, Saturn's transit in the fifth house from your moon sign could initiate new beginnings. For married couples, time from 24th January, demands a little caution as there could be confusions and ego clashes leading to stressful situations. Students might find it challenging to focus on their studies. Watch your health, especially if you have asthma.
Libra
Your financial condition will bring you happiness. New doors will open up, leading to a turning point in your career. Luck will favor you in career, and you will feel elated with new and lucrative opportunities coming across. Jupiter, the planet of wealth and wisdom, will be transiting in the third house from your moon sign and will aspect the ninth house. Generally good as far as love and marital life are concerned. If you are single and awaiting a response to your love proposal, a positive reaction will bring hope for a new relationship. Friction in your relationship from 24th January might affect your peace of mind. Mixed results for students and children. Take care of your health as back and shoulder pains may trouble you.
Scorpio
A rise in your courage due to Mars, the ruler of your moon sign. You will get unexpected opportunities in your career. If you are involved in a technical field, you will have luck in your favor. Time from 24th January is favorable to start a new venture or business. Those looking for a job will find success as there will be many opportunities. Things look bright on the financial front as your past efforts will reap lucrative rewards. There could be an involvement of a third person in your relationship, which will create misunderstandings. Students will have a real-time as there will be an increase in their confidence, and they will feel energetic. Take care of your health. Be discriminating against what you eat to avoid stomach infections.
Sagittarius
You will have a mixed start to 2020. Your married life could be a little problematic. There could also be disputes with family members. Handle situations with a calm and balanced mind. However, there could be issues with bosses and seniors at the workplace, and you might have to wait a little more for promotion. Love and married life need to be handled with care this month. The last phase of Sade-Sati will begin on 24th January when Saturn will enter the second house as per your moon sign. The second house in Vedic astrology is the house of wealth and family assets. Thus, there will be difficulties in saving money as expenditure could go out of control. It is a good month for students waiting for admission in foreign universities.
Capricorn
Saturn, the planet of karma in Vedic astrology, shall transit over your moon sign from 24th January. You might face anxiety and uncertainty leading to a confused state of mind. There will be a cluster of planets in the twelfth house as per your moon sign, which might bring in foreign travel and unexpected expenditure. Avoid overloading yourself with work as that could make you feel mentally exhausted. You will get many new opportunities from 24th January, which will turn out to be profitable. You might meet an old flame, creating a problem between you and your partner. Financial matters will see a mixed-phase as you will work hard. Students will have real-time. Health needs little care. Regular exercise will benefit you.
Aquarius
Saturn's transit of Capricorn from 24th January will initiate the seven-and-a-half-year cycle for you, known as Sade Sati. There's nothing to worry, Saturn will duly reward you according to your karma. Jupiter, the planet of wealth and knowledge, will be transiting in the eleventh house as per your moon sign. There will be growth in your career. Love life could be challenging as Rahu's placement in the fifth house as per your moon sign. Stay committed to your partner or spouse. For business starters, this period is supportive. You might receive a windfall, money from rent, interest, or good returns from past investments. Beneficial time for students. Health will remain good this period, but you should take care while driving.
Pisces
2020 shall bring a lot of optimism in your personal and professional life. The transiting of a cluster of planets will bring growth as multiple projects will be initiated. You should not invest a considerable sum of money in anything without proper planning. From 24th January, Saturn will transit the eleventh house as per your moon sign. New avenues of income for you, an excellent time to start a new business venture. You might get a promotion with a hike in salary. You will have a strong bond with your partner. Singles can be lucky to find love. Students will have a positive and encouraging time as they will receive due recognition and rewards of their past efforts. Health-wise, you should go for a walk to feel fresh and active.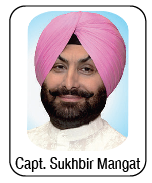 Capt. Sukhbir Mangat
778-891-4965