Fast and Furious 8 – The Fate of the Furious 
(ACTION) Releasing May
"Lets play." Ready for more? Universal has unleashed the first official trailer for Fast and the Furious 8, titled officially The Fate of the Furious, directed by F. Gary Gray (Who directed Straight Outta Compton.  After the massive success of Furious 7 in 2015, this franchise continues to roll with Vin Diesel leading the way. The cast includes Dwayne Johnson, Jason Statham, Scott Eastwood, Lucas Black, Jordana Brewster, Michelle Rodriguez, Elsa Pataky, Nathalie Emmanuel, Kurt Russell, Tyrese Gibson, Ludacris, plus two newcomers to this one: Helen Mirren and Charlize Theron (as a character named "Cipher"). As expected, expect insane stunts, in and out of cars) that seem to defy physics, hit cars and not much in the way of intelligible dialogue, But still, lots of fun!
Guardians of the Galaxy Vol. 2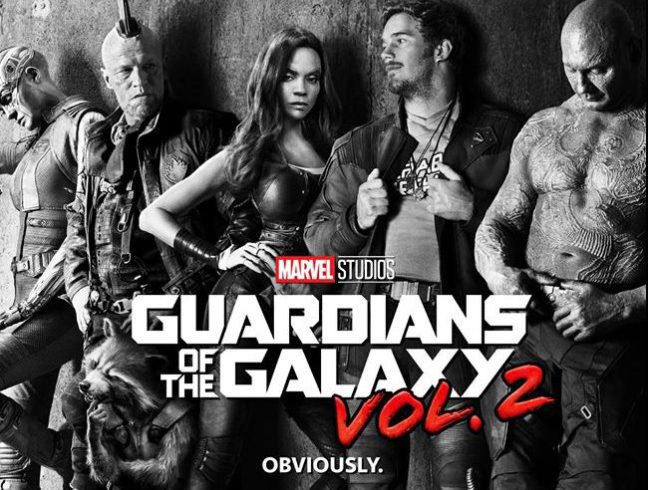 (SCI FI Action and adventure) Releasing May
"Groot – put your seat belt on!" Ready to rock 'n roll? Marvel has unveiled the third trailer for Guardians of the Galaxy Vol. 2, James Gunn's follow-up to the hugely successful Marvel sci-fi superhero movie from 2014.   Chris Pratt returns as Star-Lord, and continues the team's adventures as they unravel the mystery of Peter Quill's true parentage. With a cast including Zoe Saldana, Karen Gillan, Chris Sullivan, Elizabeth Debicki, Kurt Russell, Dave Bautista, Michael Rooker, Nathan Fillion, Glenn Close, as well as Pom Klementieff; plus Vin Diesel as Groot and Bradley Cooper as Rocket Raccoon.
Pirates of the Caribbean: Dead Men Tell No Tales.
(Action Adventure) Releasing May
"The dead have taken command of the sea…" Pirates of the Caribbean: Dead Men Tell No Tales, is the latest instalment of the Johnny Depp dialogue with Depp back as Captain Jack at the helm again, as well as Javier Bardem as Captain Salazar who has a vendetta against Jack, and Geoffrey Rush as Barbossa. The full cast includes Brenton Thwaites, Kaya Scodelario, Orlando Bloom, David Wenham, Kevin McNally, Golshifteh Farahani, plus surprises from past films.  This time around, Captain Jack Sparrow finds the winds of ill-fortune blowing even more strongly when deadly ghost pirates led by his old nemesis, the terrifying Captain Salazar, escape from the Devil's Triangle, determined to kill every pirate at sea… including him. Captain Jack's only hope of survival lies in seeking out the legendary Trident of Poseidon, a powerful artifact that bestows upon its possessor total control over the seas.
Baywatch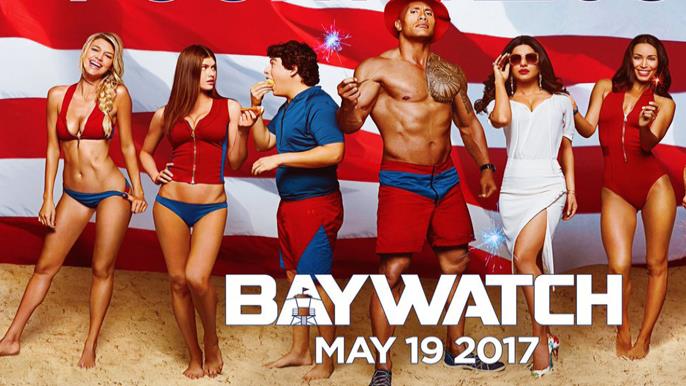 (Comedy action) Releasing April
Baywatch follows devoted lifeguard Mitch Buchannon (Dwayne Johnson) as he butts heads with a brash new recruit (Zac Efron). Together, they uncover a local criminal plot that threatens the future of the Bay. Based on the original TV show that debuted in 1981. The full cast includes Alexandra Daddario, Priyanka Chopra, Pamela Anderson, Ilfenesh Hadera, Charlotte McKinney, Kelly Rohrbach, David Hasselhoff, and Hannibal Buress.
Spark- A Space tail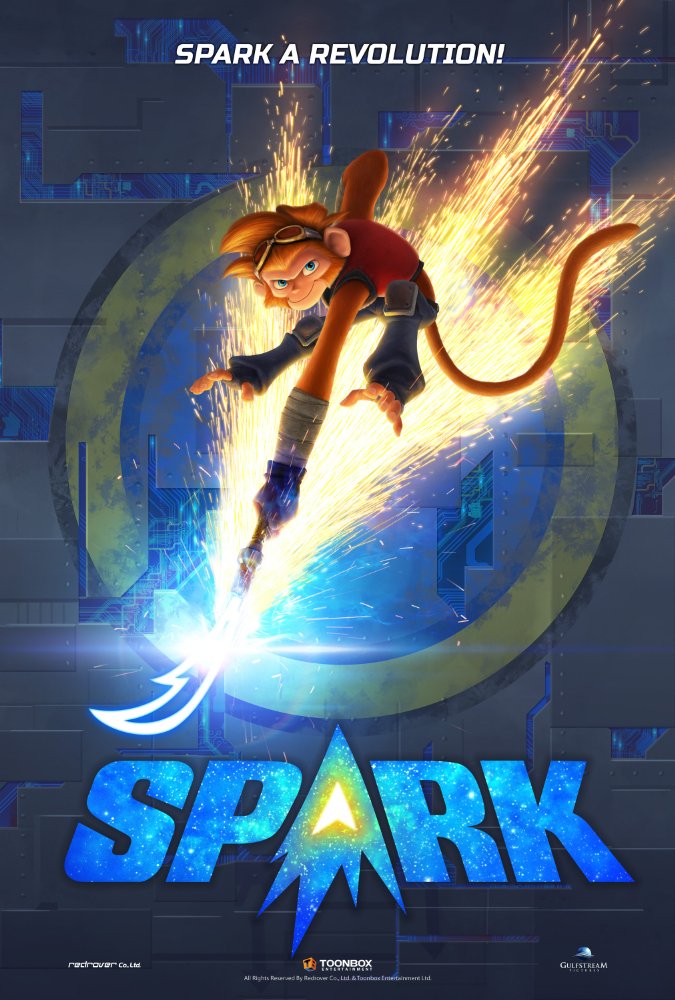 (ANIMATION) Releasing April
Thirteen years ago, the power-mad General Zhong seized control of Planet Bana and tore it to pieces in the process. Now splintered into hundreds of shards, Zhong is Bana's evil-overlord, ruling with an iron fist. Enter Spark, a teenage monkey and his friends, Vix, a battle-ready fox, and Chunk, a tech-savvy pig. Spark learns of Zhong's secret plan to take over the universe by capturing a giant space monster known as the Kraken – a beast that has the power to create black holes. If Zhong manages to harness the Kraken's power, he'll have history's deadliest weapon at his fingertips, and it's up to Spark and his friends to stop him. Spark's journey takes him to the farthest reaches of the universe, where he encounters great dangers and discovers the secret of his true identity. An action-packed space adventure full of humor and heart, Spark is the story of a boy who takes on great responsibility and in the process discovers his rightful place in the universe. Voiced by: Jessica Biel, Patrick Stewart, Susan Sarandon and Hilary Swank.
Born in China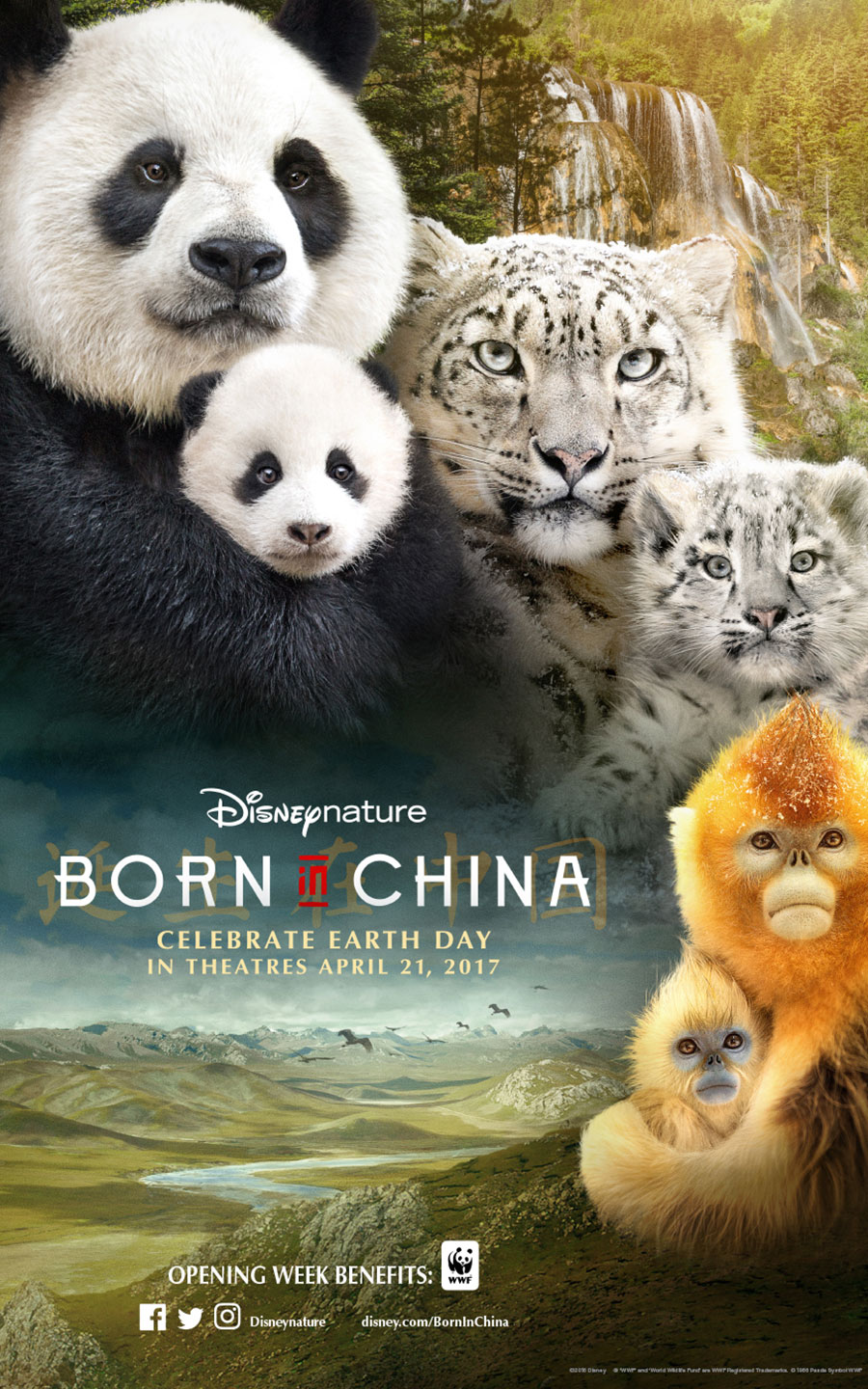 (Documentary) Releasing April
And now for something different. Disney nature's new True Life Adventure film "Born In China" takes an epic journey into the wilds of China where few people have ever ventured. Following the stories of three animal families, the film transports audiences to some of the most extreme environments on Earth to witness some of the most intimate moments ever captured in a nature film. A doting panda bear mother guides her growing baby as she begins to explore and seek independence. A two-year-old golden snub-nosed monkey who feels displaced by his new baby sister joins up with a group of free-spirited outcasts. And a mother snow leopard-an elusive animal rarely caught on camera-faces the very real drama of raising her two cubs in one of the harshest and most unforgiving environments on the planet. Featuring stunning, never-before-seen imagery, the film navigates China's vast terrain-from the frigid mountains