When you feel confident about how your teeth look, you're more apt to smile and laugh around other people. Several studies have been conducted that interpret how people are treated when they have straight teeth and a beautiful smile. Although most people expected the results to favor people with a better smile, the amount of difference between the two was quite extreme. In fact, it was enough to make a big of an impact to change the quality of life of the person and their family.
For starters, people that had straighter, whiter smiles were more likely than not to enjoy smiling around other people. They didn't feel self conscious of the way their teeth looked, or refrain from smiling in photos. This made those pe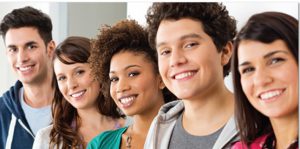 ople seem more outgoing, friendly, and more fun to be around. People who were self conscious about smiling were seen as reserved, with fewer friends. Similar studies also showed that teenagers with straighter teeth felt more confident and had greater self-esteem than teenagers that had crooked teeth.
Professionally, people with better smiles were also more likely to be the chosen candidate after job interviews, or for a promotion opportunity. Not only that, the positions also had a higher pay rate compared to people that did not have as nice of a smile. A beautiful, straight smile isn't just about good looks…it also means you'll have an easier time keeping your teeth healthy. Teeth that lean, are crowded against one another, or even widely spaced are more susceptible to bacteria build-up. You may have noticed areas of crowding being more prone to having food caught between them during meals, or getting gingivitis. That's because they're more difficult to clean around than teeth that are perfectly straight. Your toothbrush and floss doesn't always get where it needs to, even when teeth are every so slightly out of place. Unfortunately, this places people at an increased risk of developing cavities as well as periodontal disease.
While most people are concerned about developing cavities in their teeth, it is actually gum disease that is the leading cause of adult tooth loss. Periodontal disease involves destruction of the bone support around the teeth. As bacteria invade the area under the gum tissues, more bone is lost. Gradually, the affected teeth become mobile, and can ultimately fall out. Not only is bone loss around misaligned teeth a concern, this infection can spread tooth to tooth, creating a chain reaction throughout the mouth. Properly aligned teeth that have always been easy to keep clean can easily become infected as well. Thankfully, getting all of the teeth in alignment before (or even during) treatment for gum disease can improve the outcome of a person's smile.
Orthodontic therapy is not only a preventive therapy, it is also recognized as a key role in the management of gum disease.
Active gum disease plays a serious role in our health. Inflammation in our mouths, and a strain on our immune systems can make it more difficult to battle other diseases and conditions. For instance, people with diabetes may find it impossible to manage their blood sugar levels when their oral health is not in check. Other health conditions related to oral health include cardiovascular diseases, erectile dysfunction, obesity, and premature birth. Managing your health conditions mean you're watching everything from what you eat, to how much exercise you get each day. It should also include eliminating other healthcare complications in order to boost your immune system.
Choosing to make an investment in your smile doesn't mean you're vain. It means you want to have healthier teeth, and be proud of them. Other people will notice! The modest fees for orthodontic therapy offer a great return on the results that patients expect from their treatment.
Still not sure if orthodontic therapy is exactly what you're looking for? Options like Invisalign braces make orthodontic treatment simple and comfortable. Both teens and working adults love the convenience and effectiveness of the clear, alignment trays. The treatment is perfect for people with busy schedules, as there are no adjustments needed and fewer appointments are necessary. Visit www.bcorthodonticsgroup.com to find out what braces can change about your smile, and which treatment options are the best for you!