Playing their third game in less than 72 hours – and fourth in five days – with only 10 forwards, the Vancouver Giants dropped a fourth consecutive hockey game.
The Giants opened the scoring, but the Kamloops Blazers took home the two points, skating to a 5-2 victory on Sunday afternoon in Western Hockey League action at Langley Events Centre. The Blazers improved to 28-11-1-0 on the season while the Giants saw their record fall to 16-21-2-0.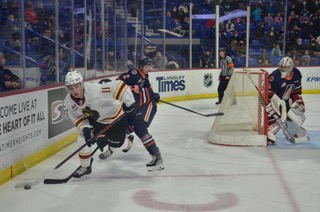 "Good start (but) not a good second period," said Coach Michael Dyck. "We showed flashes."
Tom Cadieux got the Giants on the board less than five minutes into Sunday's contest as his power-play point shot eluded Kamloops goalie Dylan Garand. Caedan Bankier evened the score at one later in the period before Logan Stankoven and Luke Toporowski added second-period goals for the visitors.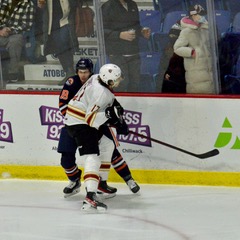 Mats Lindgren made it 4-1 less than four minutes into the third before Evan Toth got one back for the Giants – with his second in as many games – before Daylan Kuefler rounded out the scoring with 75 seconds to play.
Vancouver was coming off a 3-1 loss the night before in Kelowna. The Giants had led for most of the game before the host Rockets scored three times in a span of 5:47 in the third period. The same two teams played Friday night in Langley with the Rockets winning 6-0.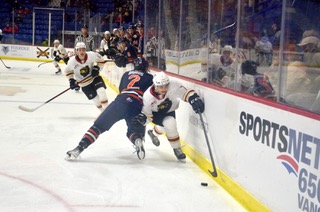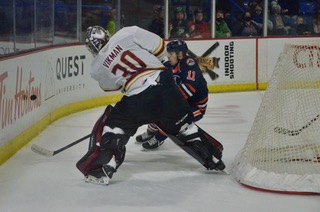 "We played real well last night, it was a really solid effort," Dyck said, adding he hoped the team could have built off that showing.
The Giants are next in action on Friday, February 4 at Langley Events Centre (7:30pm) in a rematch with the Blazers as Vancouver plays another three games in three days. Following the Blazers game, the Giants complete a home-and-home series with the Seattle Thunderbirds. The teams play in Seattle on Saturday before returning to the LEC on Sunday, February 6 with a 4:0pm puck drop.
Game notes:
Both Toth (one goal, one assist) and Cole Shepard (two assists) had two-point games for Vancouver.
Final shots on goal were 36-19 for the Blazers with Jesper Vikman making 31 saves in the Giants goal.
Photos courtesy of Gary Ahuja, Langley Events Centre