It was supposed to be the biggest day of Geeta Gidwani's life. After 10 years of dating, she was finally going to get engaged! Many a brown girl dream of the day of their engagement party … though for Geeta it quickly turned into a nightmare as her eventual groom-to-be instead dumped her! Geeta is totally devastated, moves in with her Indian parents and learns to move on with the help of her family and her best friend.
"Geeta's Guide To Moving On" is a comedic web series consisting of 12 episodes, each 6-8 minutes long starring the versatile artist Puja Mohindra. Puja was born and raised in Chicago, and in her career as an artist has spent time in New York, San Francisco, and Los Angeles. She moved back to Chicago about four years ago, where she shot and produced the web series. She is a graduate of Northwestern University, the MFA Acting program at the American Conservatory Theater (A.C.T.), and the Professional Program in Screenwriting at UCLA. Puja states she "stumbled into acting," after many years of writing and performing as a dancer. "I acted in school, but never thought back then that I would do it professionally," she notes. What she did know was that she "always wanted to do something creative" and ultimately began to pursue acting opportunities more intensively after graduation.
Before creating and starring in "Geeta's Guide to Moving On," Puja co-created the web series "Friendly Confines," created several other digital media works and had roles in television programs such as "Chicago Med," "Empire," "CSI: Miami," and several others.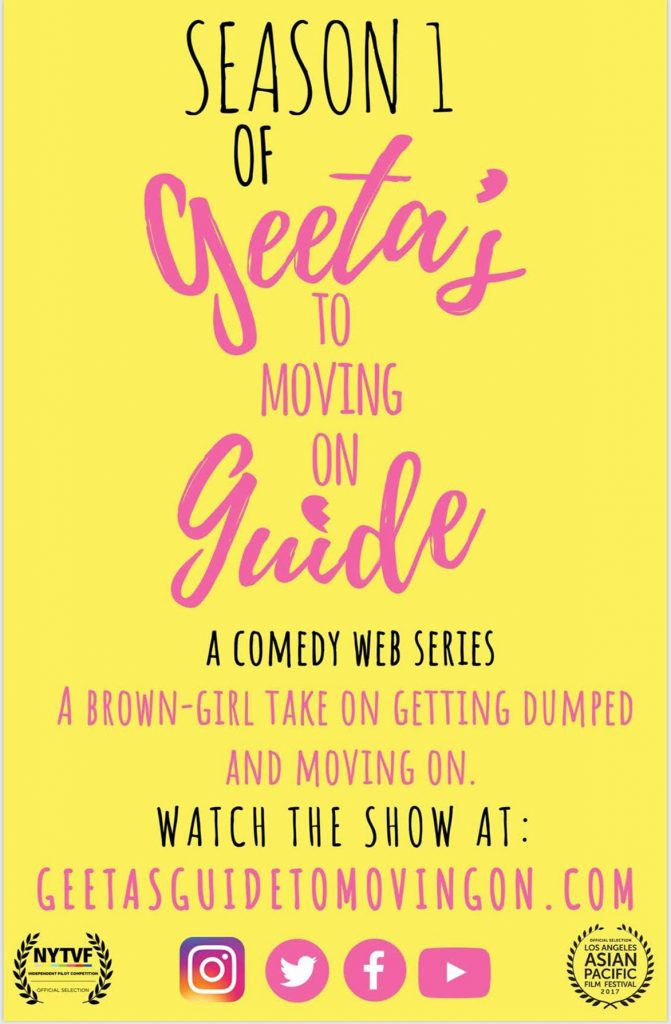 Puja enjoyed her various acting experiences, but decided to focus more on developing her creative projects. "Friendly Confines" is about three brown girls living in a small apartment, and she decided to expand upon her role and develop a show around that particular character. The result was "Geeta's Guide to Moving On." In addition to expanding upon the character, Puja proudly celebrates her Chicago Indian community in the series. She notes "South Asian stories are human stories, they are American or North American stories. These people are not outsiders; they are very much part of this country and this continent's fabric." At the same time, "it's really about the universal experience of loss, and learning to move on, and finding the comedy, the heartache, the messiness of life."
"We are constantly bombarded by images of perfection," Puja notes. "With Geeta, you see a character who isn't perfect, who is stumbling through situations, sometimes succeeding, often failing. The show embraces the fact that we are not perfect, and hopefully gives people the message to embrace the imperfections in their own lives."
Puja enjoys working with other creative artists, including those from South Asian communities. "I am so excited with people in South Asian communities telling stories," Puja advises. "I  have collaborated with many artists around the world, some are established, though most are emerging, and I am proud to be able to give the next generation of artists a venue to showcase their talents."
As for the future, Puja's creativity knows no bounds, and she continues to writes and comes up with new ideas for shows – this potentially includes developing a medical drama television pilot, a cooking show co-hosted with her mother as well as possibly a second season of "Geeta's Guide to Moving On."
"Geeta's Guide To Moving On" was an official selection of the 2016 New York Television Festival and the 2017 LA Asian Pacific Film Festival. The series can be found online at www.geetasguidetomovingon.com as well as on OTV. You can also subscribe on Youtube at www.youtube.com/pujamohindraofficial. You can find Puja on social media via @pujamohindra and the show on @geetasguide on IG and Twitter. You can also visit Puja's website at pujamohindraofficial.com