~ Approx. 30,000 fans attend the launch event in Mumbai ~
India, 14 November 2018– The Sunburn Arena Tota Myna Album Launch with Nucleya on November 10, 2018 was a phenomenal success with approx. 30,000 fans attending and grooving at the spectacular event held at the sprawling Mahalaxmi Race Course in Mumbai. The launch event witnessed Nucleya play both his new album tracks as also spin many new popular remixes.
Mumbai was chosen as the first city for the Tota Myna Album launch, and will be followed by the five cities of Bengaluru on 17 November, Guwahati on 18th November, Chennai on 25th November, Jaipur on 16 December and Kochi on 22 December. This 6 city album launch tour is touted to be the biggest-ever tour attempted by an independent artist in India.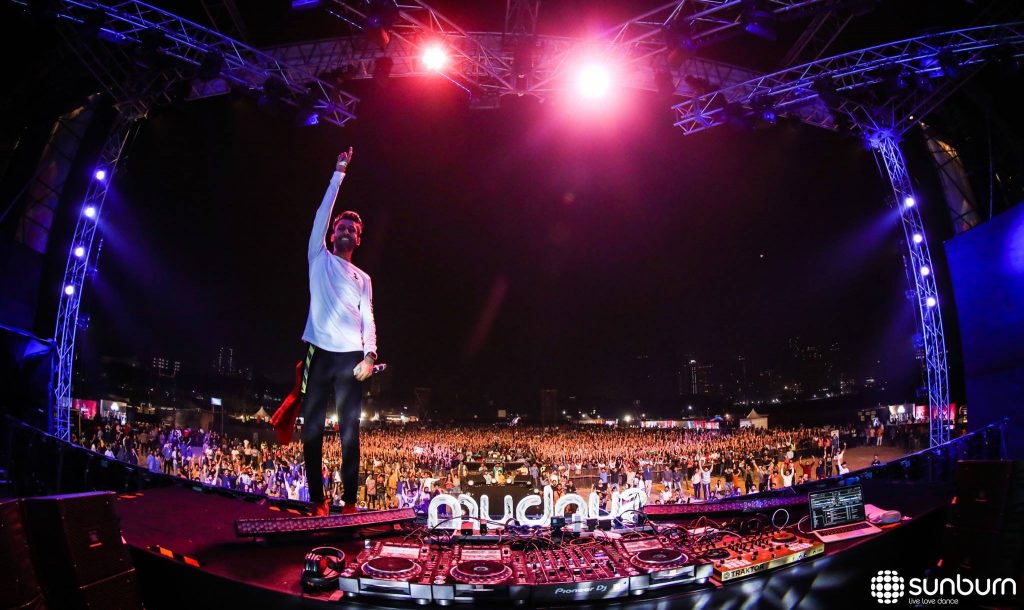 The Mumbai event was supported by Shiva Manvi, Ritiviz and Foreign Beggars who kick started the show. The grand finale act saw Nucleya steal the show along with vibrant performances by Vibha, Rahmeet Kaur and Raftaar who have done singles in collaboration with Nucleya. Notorious for his club-friendly drops, fat bass lines and quintessentially raucous live sets, the Sunburn Arena Mumbai show delivered an inimitable and intimate spectacle of Nucleya's debut album launch 'Tota Myna'. This album is a composition of a long coming idea that he had envisioned through his signature style of Indian bass, reggae and dance music; along with his profound love for experimental sounds of pop. The tracks included collaborations with A-list artists from the industry, including Shruti Hassan and hip-hop star Raftaar, as well as prominent indie artists such as Rashmeet Kaur, Avneet Kurmi and Vibha Saraf. The show saw around 30,000 fans groove to his music making it one of the biggest and most spectacular Sunburn Arena's yet.
Unarguably India's biggest dance music act, Nucleya's escalation to the top has been an expedition to take note of. After subsequently releasing two monumental albums in 2015 and 2016, namely 'Bass Rani' and 'Raja Baja', enthralling over 2,50,000 lac enthusiasts at the 18-city 'Bass Yatra Tour' in 2016, the dance music behemoth continued to reiterate his sovereignty with the unveil of his 'Sub Cinema' Tour in 2017 which marked the debut of his ambitious audio-visual live show. Following his recurring success on the charts and in the stadiums, on home turf and overseas, the modest electronic music producer who impeccably serves his unique brand of desi dubstep, teamed up exclusively with Asia's biggest dance music festival, Sunburn, to present the Sunburn Arena Tota Myna Tour in support of his latest album.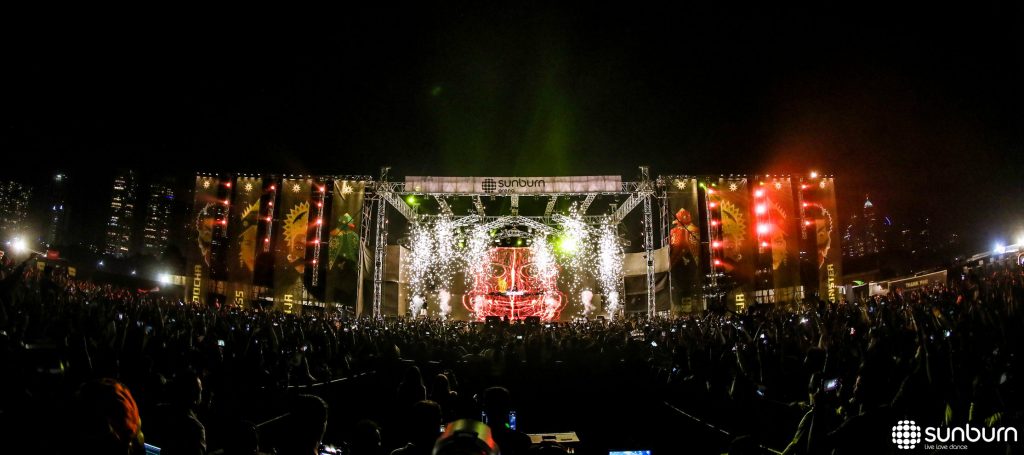 "To my fans, I'm discovering and growing every day and hope to do more shows and get more artists featured and invite as many homegrown talents as possible for this album" says the talented sensation Nucleya.
Said Karan Singh, CEO, Sunburn Festival on the successful commencement of the 6-city Sunburn Arena Tota Myna Album Launch with Nucleya, "Given the massive popularity of Sunburn and the incessant demand for novel Sunburn events and formats, we're thrilled to bring the much awaited multi-city Sunburn Arena event with the launch of popular DJ Nucleya's Tota Myna album. Sunburn has always innovated and offered its fans progressive music and beats, therein exceeding consumer expectations every single time. This album combines nostalgia and blends a diversity of sounds spanning pop-bass and street music therein reaching out to a wider audience. The Mumbai edition was a massive hit with around 30,000 fans thronging the stadium. Looking forward to a successful roll out across the rest of India."
Sunburn Arena is co powered by Zee5, Britannia, Fastrack. Good times partner Kingfisher packaged drinking water. In-association with Skybags, SpiceJet, MagicMoments Music Studio, Bourbon, Little Hearts, Captain Morgan Cola, Havmor, and Shein are the partners to the event.
Tickets can be purchased on www.bookmyshow. Prices start INR 500/- onwards.
ABOUT SUNBURN
Sunburn, a Percept Intellectual Property, is Asia's Premiere Electronic Dance Music (EDM) Festival, and is ranked amongst the world's biggest music festivals. Started in 2007 as a 3 day music festival in Goa, Sunburn has grown to become an aspirational lifestyle brand boasting an eclectic mix of music, entertainment, experiences and celebration that has seeded music tourism in India. Over the past decade, Sunburn has brought together renowned International and Indian artists to entertain hundreds of thousands of dance music lovers across the country and overseas, and positioned India as a prime dance festival destination to the world.
The Sunburn Festival, Sunburn Reload, Sunburn Arena and Sunburn Campus formats have enabled a wide geographical and demographic reach pan India and abroad. Sunburn has the distinction of having brought down to India the world's top 10 DJs, including Swedish House Mafia, Martin Garrix, Tiesto, Avicii, Hardwell, Deadmau5, Armin van Buuren, David Guetta, Afrojack, Above & Beyond, The Chainsmokers, Dimitri Vegas & Like Mike, Marshmello, Paul Van Dyk, Skazi, Pete Tong, Dash Berlin, and Nicky Romero. Sunburn has also made its successful debut overseas across Colombo, Sri Lanka; Khatmandu, Nepal; Dubai; Muscat; and Melbourne, Australia, thereby creating history to become the first successful indigenous Music IP to cross international shores.
Sunburn is ranked as big as Tomorrowland and Ultra Miami festival as per the IMS APAC Business Report 2014, and has won numerous awards and accolades around the globe including the WOW Awards, BW Applause Awards and Palm Expo Awards.
Sunburn is a Percept Intellectual Property. With capitalized billings of INR 9.35 billion (FY'18), Percept is at an enviable leadership position in the Entertainment, Media and Communications domain with a team of over 400 people and 32 offices across India and the Middle East.
ABOUT PERCEPT LIVE
Percept Live, established in the year 2012, is the live entertainment division of Percept Limited. It owns and manages all the Intellectual Properties created in the Live Entertainment, Sports, Fashion, Digital and Media space.
Percept has been in the 'Ideas' business for the past 35 years and has been instrumental in creating many legendary 'Intellectual Properties' in the past for its clients. The creation of a dedicated 'Intellectual Properties' business was but a further extension to Percept's existing knowledge and expertise in the Entertainment, Media and Communications domain with a vision to convert path breaking innovative ideas into Assets in order to create long term value for all its Stakeholders.
Intellectual Properties owned by Percept Live:
Sunburn – Asia's biggest and most popular Electronic Dance Music Festival
Bollyboom – World's first and biggest Bollywood Dance Music Festival
Eat Play Love – India's first Multi-Cultural Food, Music & Art Festival
Windsong – Adventure Music Festival
FLY – International Live Music Festival cutting across multiple genres
Fight Night –India's first indoor boxing bouts between leading Indian and International boxers
Champions of the World – A platform that brings together the most celebrated super icons in the arenas of Sports, Cinema, Music, Business Entertainment and Entrepreneurship
Percept Live is a Percept company. With capitalized billings of INR 9.35 billion (FY'18), Percept is at an enviable leadership position in the Entertainment, Media and Communications domain with a team of over 400 people and 32 offices across India and the Middle East.
SUNBURN ARENA NUCLEYA TOTA MYNA ALBUM LAUNCH TOUR DETAILS
17th November 2018 – Aadya Farm House & Leisure, Bengaluru
18th November 2018 – Greenwood Resort, Guwahati
25th November – VJP Beach Resort, Chennai
16th December 2018 – JECC Grounds, Jaipur
22nd December 2018- Bolgatti Palace, Kochi