BY SONIA WEST
"Work hard in silence, let your success be your noise" – Frank Ocean
Dr. Michelle Mann celebrated the grand opening of her practice, Mishe Optometry, this year.
You will be at ease when you walk through the doors of Mishe Optometry for the first time. The design is a welcoming, well-organized, serene space that accurately reflects the owner's demeanor, Dr. Michelle Mann. "This clinic is my DNA, and it has to have a flavor of me, and that's what I wanted," she said with a smile. "I want to be present and personable, and I had fun being creative with specific designs."
After realizing her dream of becoming a doctor early on, she set on a path less traveled by most females, especially in the South Asian community. There were challenging times throughout her journey, but she remained focused and determined to establish herself on her own terms.
Michelle comes from a family where there is immense support and encouragement. She is the eldest of three children, all thriving due to parents who modeled a strong work ethic. "My parents never told me 'no,' and never discouraged me." Her nurturing mother was constantly checking in with her, always worrying. Her father, a successful businessman, showed her that she could achieve anything she wanted. She is from an affluent family with an established business. Still, she wanted to create her own success and follow her passion for helping people. She always knew she wanted to be a doctor, and she chose Optometry because it allows for a work-life balance.
Michelle is so hardworking, resilient, and optimistic. These traits have enabled her to become what she always envisioned herself to be: a strong, independent woman who breaks barriers. "I didn't only imagine myself to be the best woman; I wanted to be the best," she said with a palpable conviction.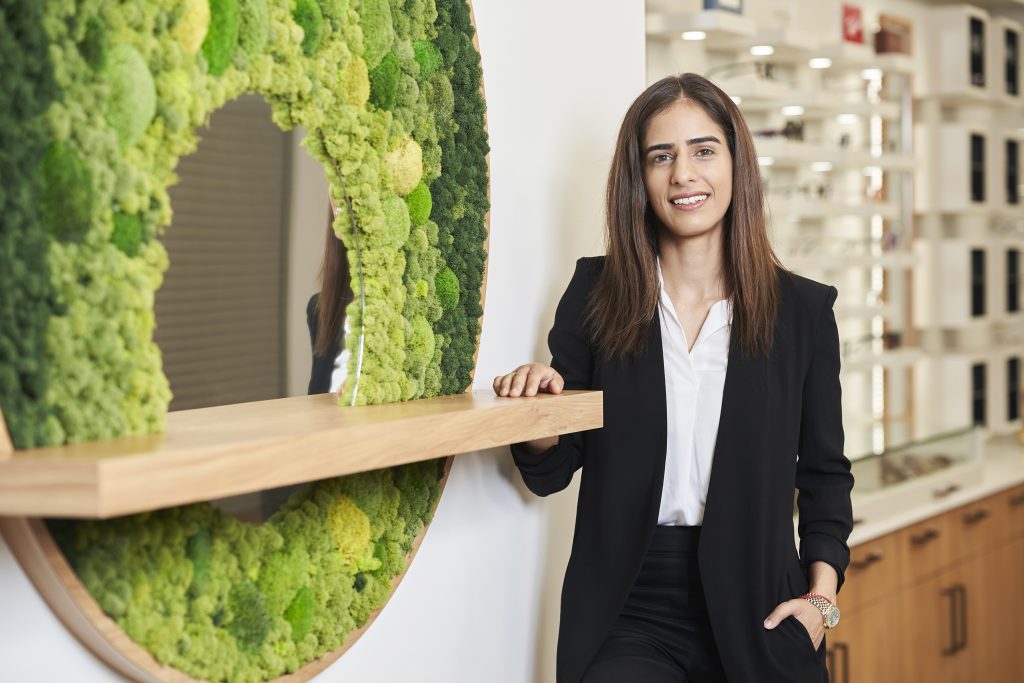 Many naysayers tried to influence her decisions, but she remained steadfast with her family behind her. She talks of women's pressure to conform to societal expectations: "There's so much pressure if you're not married. I'm trying to break the stereotype of South Asian women, and I've never settled to be a typical one. We need more strong females (in the workforce, at higher levels), particularly South Asian women."
Michelle is an avid sports enthusiast who has played soccer since she was five, which helped her gain confidence.
"I love running and working out. In sports, you are just on the field, no judgment." The field is the one place where she could get a reprieve from society imposing their beliefs, "Girls don't do this, you can't, you can't, you can't."
She was fortunate that her family did not subscribe to the same archaic ideologies.
Optometry school was a big wake-up call for Michelle. In high school, she had always been at the top of her class, whether in academics or sports. When she attended MCPHS (Massachusetts College of Pharmacy and Health Sciences) in Boston, she was in a milieu where everyone was at the same level of accomplishment.
"Everyone is like you. You're not special. I struggled to catch my groove, wasn't getting the grades I was used to, was miserable, and lost weight."
Rather than quit, she resorted to self-introspection. She asked herself when she was the happiest and when she was doing well. She remembered her high school years when she had been a teacher's pet.
"I got to know my professors, asked for help, and went to their office hours. In doing so, I relatively found myself again."
She noticed a significant disproportion in her school's ratio of males to females. "As you achieve a certain level of education, you start to look around and ask—why am I the only female here? The more you go up and up, you start to see less and less of us, and that's a problem."
To stay motivated and anchored, Michelle likes to read quotes and draws inspiration from strong women. She favors Amal Clooney, Michelle Obama, Oprah, and Bethany Frankel. "I gravitate towards these strong women. One of my favorite quotes is, God gives struggles to the most resilient warriors."
On a personal note, she would say to anyone reading this article. "You can have it all, sometimes you can't have it all at once, and that's fine."
She advises women struggling and contemplating their future path, "Don't give up. I'm a big believer in the universe. Whatever you wish to do, set your mind and just go for it. The path will never be straight, and you might have to make some detours. But you have to be patient and resilient."
Lastly, and most importantly, she leaves us with her personal motivational mantra, "Don't let other outside voices discourage you. If you genuinely believe it, you can definitely achieve it."
Perhaps a young female reading this article will one day get to quote the wisdom of Dr. Michelle Mann.
MICHELLE MANN'S CURRICULUM VITAE
Education
MCPHS University| Worcester, MA |  September 2014 – May 2018
Master of Public Health – May 2018
Doctorate of Optometry – May 2018
Simon Fraser University | Burnaby, BC | September 2008 – May 2013
Bachelor of Sciences
Major: Health Sciences – Life Science and Biostatistics
Licensure & Certifications
British Columbia optometry licensure | LIC #1812
Memberships
Township of langley committee member | 2021 – present
Agricultural Advisory + Economic Enhancement Committee
Heritage Advisory Committee
College of optometrists of BC | 2021 – present
Discipline Committee
Quality Assurance Committee
BC Doctor of Optometry | 2019 – present