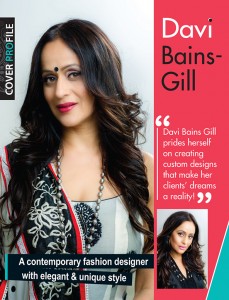 Davi Bains Gill prides herself on creating custom designs that make her clients' dreams a reality!
A contemporary fashion designer with elegant & unique style.
Armaan is a Hindi word that means "Desire" and to Davi Bains Gill the word not only represents her business but also her reason for being in the business of Indian Fashion.
"I was 16 years old when I discovered I had a love and a passion for creating Indian garments.  I began by buying fabrics and making outfits based on my original designs.  My driving motive was that I always wanted to be different, to have my clothing stand out as unique and separate from the crowd.  I found that my creations received plenty of compliments which encouraged me to continue."
Davi then found herself putting more time and energy into the art of fashion and design.  In High School she was already sewing and stitching skirts and other garments for her friends while looking for new ways to express her flare for the ideas brewing in her mind. Despite the positive feedback and the rewarding feeling she got at her early age, she did not yet realize the true potential of her craft.
"I never dreamed that my passion could actually be my occupation. So I worked for the government for nine years in the Department of Social Services.  It was during a trip to India in 1998 when visiting my friend Seema Khan (the sister-in-law of the famous Bollywood star Salman Khan) that I found the motivation to take on fashion design as a business.  Seema and I had found a way to bridge the fashion industry between India and Canada so we agreed to go into business together."
Davi soon learned that the "art" of fashion design and the "business" of fashion design are not one and the same.  She now needed to get licenses and permits, suppliers, shippers, seamstresses and much more.  The task had largely changed but the goal remained the same. My goal was to change the local Indian fashion market. I wanted to create stunning custom designs that would cater to all shapes and sizes.  I felt I could make a significant impact on the Indian fashion market in the Lower Mainland of Vancouver. I knew I had many original ideas to share but my biggest concern was to make the clothing a perfect fit."
Once Davi got to work, she began to deal with some of the unexpected struggles that arose.  Some were common business struggles while others were more unique to her situation.
"Being a new mother, a wife, a daughter-in law, and an Indo-Canadian woman with a career required a great degree of balance and effort.  Expectations and responsibilities are important to keep in perspective because success in one area and failure in another is not really success at all. I soon learned to find a rhythm of hard work and dedication which made it all possible."
Living in Canada and doing business with India is another hurdle that is not easily overcome.  There is a 12-hour time difference so when we are awake India is sleeping and vice versa.  This meant Davi had to learn how to run her local operations during the day and then run her overseas component during the night while still keeping the rest of her life in "balance."
In 2003 Davi officially opened Armaan DBG, her new boutique in Surrey BC.  Armaan DBG launched with the support of Bollywood celebrities Salman Khan and Sanjay Dhat.  Her initial theme consisted of a fine balance of "East Meets West".
"I wanted to introduce a fusion of the best India had to offer with the latest styles of North America. I designed corsettes and added indian embroidery. I created Saris using trending colors with backless Cholis. I made wedding gowns and jumpsuits with zardosi work and created kurtis to wear with western boots and tights. I made grad dresses that blended the best aspects of indian and North American fashion.  I custom fit wedding lenghas and incorporated it all into my own ideas and styles."
Davi then went on to make a name for herself by creating and organizing several high profile fashion shows which featured all of her lastest and most original designs.  She also built her shows around themes which played out during the evening festivities and entertainment. Her shows titles included Fashion Obsession, An Evening of Elegance with Armaan, November to Remember, Timeless and The True Colors of Armaan which featured a guest appearance from the Bollywood Star Siaf Ali Khan. Then in 2004 Armaan DBG was chosen to create a fashion show as the opening act for Sharukh Khan at the Pacific Coliseum. Davi also had the honour to appear in a Vancouver Sun article where she was named to a list which highlighted 100 of British Columbia's most influential Indo-Canadians.
With all the exposure Davi was getting, she soon found that she was being requested to appear with her fashion line as a guest in other events around Vancouver and the Lower Mainland.  Many of these requests had to be turned down due the  incredible amount of time and energy that goes into a fashion production but she still had time for the ones that had a fundraising component for a good cause.
In 2013 when The Times of India Film Awards decided to do a Women's Day celebration event, Armaan DBG was given the opportunity to be the local feature designer in an evening that championed the accomplishments of women around the world. The audience had full representation from local media and politicians. In addition, Davi was asked to create an outfit for Premier Christy Clarke for the TOIFA event. Today the Indian fashion market has seen a profound increase in the number of independent clothing shops and boutiques and Davi Bains Gill continues to move forward designing one outfit at a time based on the wishes of her clients.  The climate of the industry has changed and become much more crowded but    that does not seem to faze Davi as she believes in the individuality of all people and sees a future where there will always be room for her concepts and designs. I believe I have inspired many people to venture into the business of Indian fashion, and so I feel very much like a pioneer, especially in the area of custom made garments.  I was the first local designer to create and design fusion clothing and since then I have noticed a significant increase in other businesses popping up around the area.  I love to see that as it reinforces my belief that the industry is strong and growing.
As an outside observer one can see that Davi has come a long way since her beginning days as a teenager making pieces for family and friends.  When she reflects on her achievements she is quick to point out the love and support that has made it all possible.
"My Mom and Dad have recently both passed away but they had always believed in me and my hopes and dreams.  They are the main reason that I am the person I have become.  My husband has been my motivation, while my in-laws, my sisters, and my friends—have been a constant source of support. I have received wonderful appreciation from my clients which has also been a great source of encouragement to continue. Then finally there are my two beautiful daughters who I have often said have served as my inspiration.  These people all have a place in my heart and in my desire to continue to do what I do."