Musica Magnifica!
Vancouver, BC – Looking for the biggest celebration of Italian culture west of the Mediterranean? Italian Day returns to Commercial Drive for another exciting year to celebrate Italian heritage, community and life filled with song, delicious food and a lively embracing spirit as this year's theme – Musica –  honours Italian music, and the role it has played as a cultural marker in Italian history and identity.
For the ninth year in a row, Italian Day in Vancouver will show its green, white and red colours proudly in a 14-block vibrant celebration with over 120 street participants, lifestyle attractions and activities. Serving as Vancouver's largest cultural street festival celebration and one of Canada's biggest urban festivals, Italian Day on the Drive has become synonymous with live music, food, patios, fashion, family-fun and so much more.
Musica
The birthplace of the symphony, opera, the piano and the do-re-mi's themselves, music and dance has historically formed an important part of Italian culture.
From Italian composers like Giacomo Puccini and Antonio Vivaldi to Italian-styled operas written by George Frideric Handel and Wolfgang Amadeus Mozart, classical music originating from Italy had been a focal point for Europe for centuries.
But while Italy is known for its classical legacy, the country is also famous for its domestic genres such as Canzona Napoletana, the tarantella and regional folk music. A centrepiece for Italian heritage and culture, the sounds of Italy have evolved to include prominent pop rock and jazz musicians as well. With styles almost as diverse as the regional cultures of the country itself, the notes of Italy create a musical landscape that is unique to anywhere else in the world.
Edoardo Bennato – Celebrity Artist from Italy performing concert in the Park
This year, the Italian Consulate General in Vancouver, together with the Italian Day Festival Society, are proud to present one of Italy's most creative artists and innovative singer-songwriters of his time – Edoardo Bennato, whose music is distinguished in an imaginative blend of blues and rock' n roll, with folk influences and even opera; and who will be performing live in concert with his 10-piece band on the Grandview Park stage at 4:45pm. A once-in-a-lifetime opportunity for attendees to experience this free outdoor concert, like in la bella Italia, delivered by one of Italy's legends.
Many soccer fans too will be familiar with Edoardo Bennato whose song 'Un'estate Italiana' (performed with Gianna Nannini) was the official theme song for the 1990 World Cup. The song remained number one on the hit parade for more than four months and became well-known all around the world.
Since the 1990s he has played with classical themes, Italian rock opera and new recordings dedicated to human rights, including rock/blues 'Pronti a Salpare', which became the winning song of the Italian Amnesty International Award in 2015. In November 2017, a triumphant and completely sold-out tour – in 10 different cities – ended with an amazing concert in Naples accompanied by the Flegreo Quartet. In June 2018, the artist will be performing at the Comacchio Beach Festival (Italy), a music festival that takes place every year, showcasing internationally renowned artists, to celebrate the beginning of summer – and where just before coming to Vancouver, Bennato will present his latest work: "Mastro Geppetto".
Food
Authentic Italian Table Piazza
For the first time, Italian Day will feature an entire intersection dedicated to food and wine samplings presented by the Italian Chamber of Commerce as the 'Authentic Italian Table' Piazza, showcasing more than 10 stations with a variety of participants and products. Taking up the whole depth of the Grant street intersection, the attraction will offer attendees an opportunity to experience authentic Italian food products, fine wines and liquors, and gastronomic delights created in collaboration with local chefs. Tickets to enter the Piazza can be purchased in advance via the Italian Chamber website (www.iccbc.com) or on site at the festival.
More Food
It wouldn't be an Italian festa without a banquet of delicious food offered up by Italian merchants and vendors: fried Italian donuts, cannoli, pasta, wood-oven panini, meatballs, gelato, arancini, pizza, espresso-based beverages and more.  The festival will also include 15 extended patios, including Federico's Tuscan style Italian Terrace, food trucks and other ethnic favorites dished up by the Drive merchants and visiting vendors.
Did someone say free samplings? Bosa foods and Choices will also be doing free Italian cheese samplings at Napier intersections!
Other attractions, highlights and activities
Piazza Moda
Translating to "fashion square" the Piazza Moda is an exclusive look at another aspect Italy is known for – fashion. Festivalgoers and fashion lovers can look forward to three separate fashion shows throughout the day with live entertainment in between sets. RozeMerie Cuevas, the featured designer behind the Vancouver-turned-international line, JAC by Jacqueline Conoir, will be exhibiting her creations for a showcase of la bella figura.
Raffle – Italian Day takes you to Italy
Italian Day will be giving away TWO trips to Italy courtesy of Air Canada. Among the prizes is a trip for two to Rome with a three-night stay at the Marcella Royal. Other prizes include an exclusive Italian jewellery set provided by San Marco Jewellers and a Taste & Shop Little Italy on The Drive experience. Raffle tickets will be available for purchase at the event by the 2nd Avenue stage, the Grandview Stage, Da Vinci Travel and at the Little Italy Bocce Court on Graveley.
Entertainment
Sing, dance and enjoy live music at 2nd Ave and Grandview Park main stages throughout the day, as well as at a variety of other locations, including the Jack FM and Whitecaps Parker piazza, and at 5th and 7th Avenue where DJs look to entertain.
On Graveley-East, experience the Commercial Drive BIA's "Little Italy Bocce Court Piazza", complete with a bocce court, Motorino electric bikes, tasting tours and a sitting area. Visitors will also enjoy local Italian-Canadian music performances on the 2nd Avenue and Grandview Park Stages, including those from the crowd-favourite restauranteur and showman, Federico Fuoco, and a new generation rising artist, Antonio Larosa. These, plus Italian Design on Wheels – Fiat, Alfa and Ducati showcase at 4th Ave, children's amusement zones, food eating contests, pizza tossing, stilt walkers and more.
Event:                          Italian Day on The Drive
Location:                     Commercial Drive (Venables St. to Grandview Cut)
Date:                           Sunday, June 10, 2018
Time:                           12:00pm – 8:00pm (opening ceremony at noon @ 2nd Ave)
As the street will be closed to vehicle traffic between Venables St. and the Grandview Cut, it is recommended that visitors walk, cycle, or transit to get to event. Bicycle Valet will also be on site. Given the volume of attendees and summer heat, it is advised that attendees leave their dogs at home.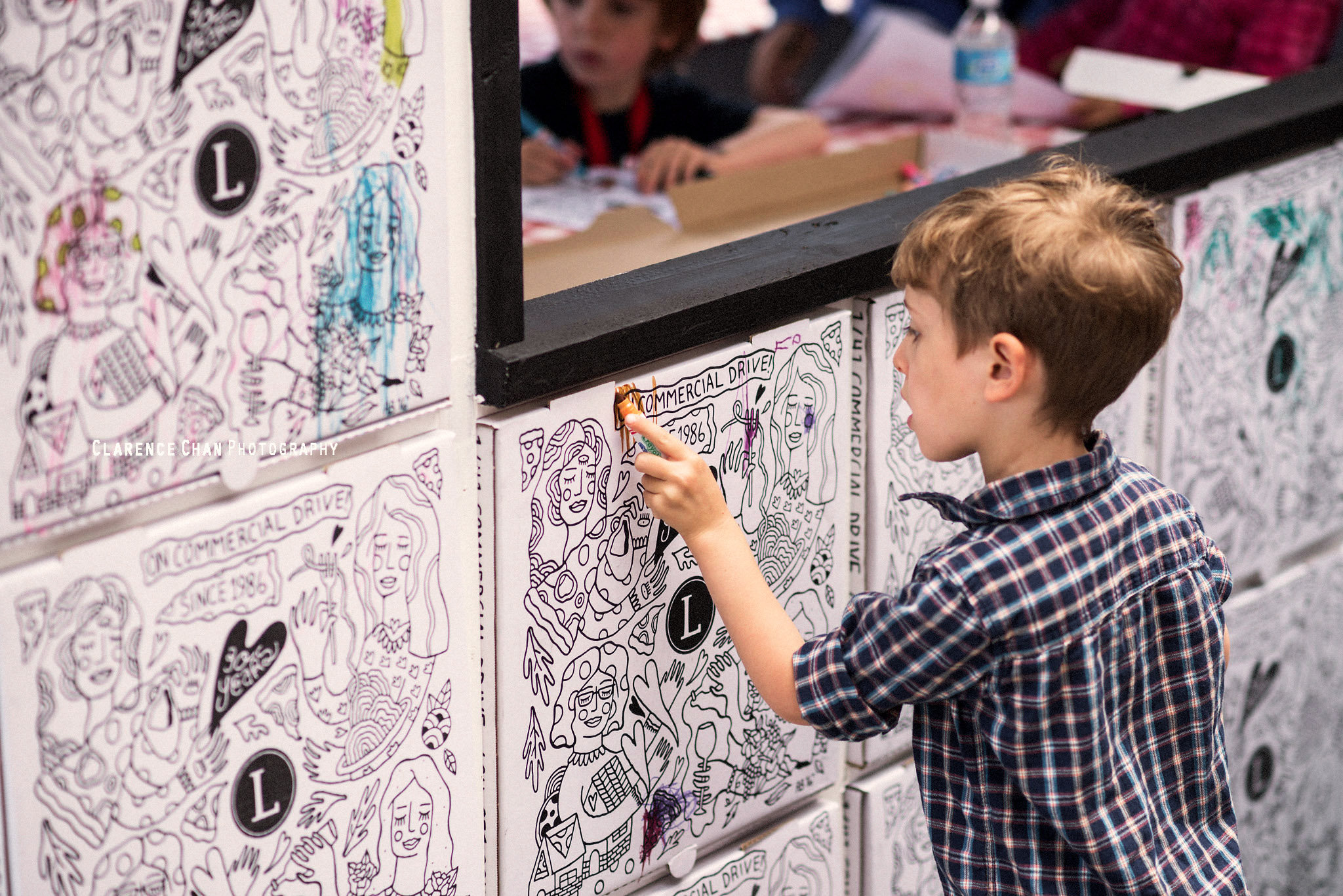 For more information visit www.italianday.ca. Find us on Twitter and Facebook at @ItalianDay, and on Instagram at @italiandayonthedrive, and join the conversation using the hashtags #ItalianDay  #musica