1. Fraud Saiyaan
18th January 2019
Starring Arshad Warsi, Saurabh Shukla, and Sara Loren! The film is all set to tickle your funny bones this January!
Fraud Saiyyan movie a crazy comedy set in North India, Fraud Saiyyan is the story of a con artist whose business plan is marrying woman after woman and living off them. He has 13 wives, but in a potential 14th wife, he meets his match. A woman who also marries for money!

2. Super 30
25th January
The movie revolves around Anand Kumar who is one of the most respectable names in the field of education today. His program Super 30 is credited with making IIT dreams come true for people who cannot afford to study. Based on the life of this mathematician, Super30 is a movie that is all set to release in January 2019. The film stars Bollywood heartthrob Hrithik Roshan and debutant Mrunal Thakur in lead roles. A gripping show to start the new year!

3. Uri- The Surgical Strike
9th January 2019
Following the roguish terrorist attacks at Uri Army Basecamp in Kashmir, India takes the fight to the enemy, in its most successful covert operation till date with one and only one objective of avenging their fallen heroes. On 18 September 2016, 19 unarmed Indian soldiers were martyred at Uri base came, Kashmir. Determined to take revenge for the deadliest attack in two decades, Vicky Kaushal who plays the role of an army officer Vihaan Singh Shergill takes a pledge to destroy the enemies and bring home all his soldiers safely. Featuring Vicky Kaushal, Yami Gautam, and Paresh Rawal. A promising military drama to offer after a long time.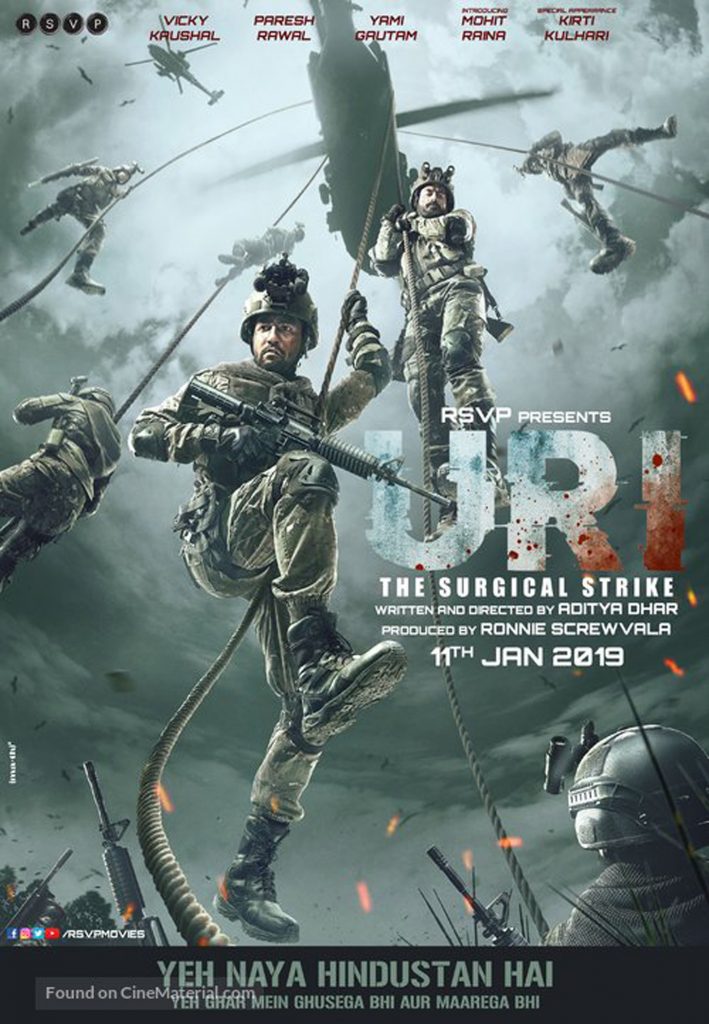 4. The Accidental Prime Minister
(11th January)
The Accidental Prime Minister is an upcoming 2019 biographical, political drama starring Anupam Kher as Manmohan Singh, the economist, and politician who served as the Prime Minister of India from 2004 to 2014. Anupam Kher plays former Indian Prime Minister Manmohan Singh in the movie, which is based on the book of the same name by Singh's media advisor Sanjaya Baru. The book was controversial, and the film is touted to overtake the book as far as controversy is concerned. While the memoir, on which the film is based on, alleges that Manmohan Singh was not entirely in control of his powers, as most of it was wielded by then Congress president Sonia Gandhi, we need to see how much of this has been retained in the film's
The film has been making headlines for the striking resemblance and mannerisms Anupam Kher has imbibed for the part. Also, Akshaye Khanna essays the role of Sanjay Baru.
5. Ek Ladki Ko Dekha Toh Aisa Lava
1st February
The film is the story of a young girl named Sweety (Sonam Kapoor), who has thought about love since childhood and has grown with the belief that if love comes easy, it's not true love. But her father (Anil Kapoor) and other family members seem to be in a hurry to get her married with the first best match they find. Portraying a typical Indian family mindset, the men Sweety is made to meet are rich, well settled and good-looking but nothing that she wants them to be. Set in Punjab, we get to experience a colorful extravaganza and some ear-soothing music. A great romantic movie in the pipeline this year!