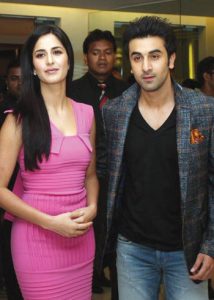 Their alleged relationship has always been the talk of B-town and only sometime recently there had been reports that the couple are on the verge of a breakup owing to difference of opinion. The couple had public spat when they came back from their vacation in New York. Interestingly now we hear that last week the couple had partied together at a bash hosted by Kiran Roa at her residence.
Aamir wasn't present during the bash, as the actor is off on a European holiday and that is why Kiran threw a low-key get-together only for both these lovebirds. It was only an impromptu get-together with just a meet up and dinner. The only reason the film maker chose to have a quite get together at her Pail Hill residence was to sort out the difference and get them back together.
Five of Kiran's close pal attended the dinner on Thursday night. Katrina was the first one to have arrived for the bash and later; Ayan Mukerji, Karan Johar, and Ranbir Kapoor followed it.
Katrina was the first one to leave the party at around 1:30, while Ayan Mukerji who had Aarti Shetty for company had left the party together in the latter's car.
According to some rumors, the couple had major showdown while they were holidaying in New York and because of the tiff they couldn't shoot for Anurag Basu's film, 'Jagga Jasoos'.
However, the source has revealed that the couple is still very much in love and will never spilt up because of a small argument.
The source stated, "They did not break up in the first place. It was a minor tiff and every other couple goes thorough this. They have been together for the past four years and they wont break up because of a small argument."