Victories by both the Black Fish and the Sea Spray on Sunday afternoon at Langley Events Centre have tightened the standings in the Arena Lacrosse League West Division standings with the Sea Spray and Grizzlies sitting with 4-3 records while the Black Fish and Shooting Eagles are right behind at 3-4.
Black Fish 12 Grizzlies 9
Consider it a lesson learned.
For the second straight game, the Black Fish built a large lead. But while they squandered a 7-1 loss the week prior, losing 13-11, they would not repeat the same mistake.
On Sunday afternoon, the Black Fish scored five of the first six goals but then watched as the Grizzlies responded with three straight to make it 5-4. It prompted a goaltender change as coach Rod Jensen swapped Moose Whinery for Matt Hills.
"Last week I didn't do anything (when) we had a five goal lead; I didn't change the goalie, I didn't take a timeout, so I wanted to make sure I did something different. I was going to put him back in, but Hills seemed comfortable in there," Jensen said.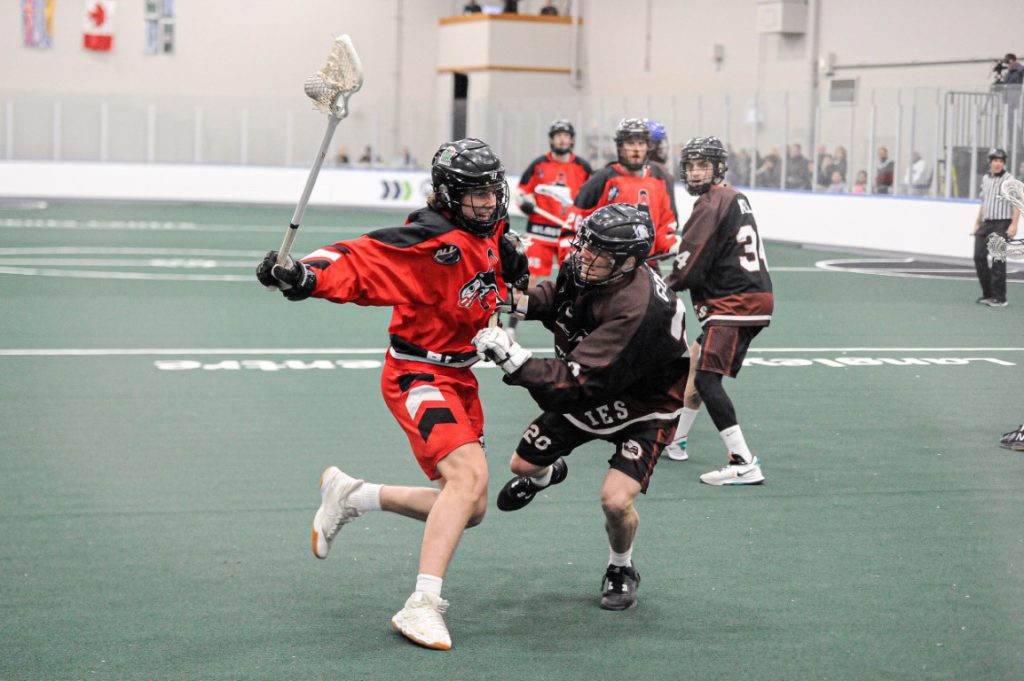 The decision paid off as the Black Fish defeated the Grizzlies 12-9 on Sunday at Langley Events Centre in Arena Lacrosse League West Division action. The Grizzlies fell to 4-3 while the Black Fish improved to 3-4, with two of those victories coming against the league-leading Grizzlies.
The Black Fish took a 6-4 lead into halftime, but the Grizzlies responded with a pair of goals less than a minute to tie the score midway through the third quarter. And the Grizzlies were looking for their first lead when they were on a power play, but instead it was the Black Fish capitalizing while playing a man down, scoring short-handed tallies 45 seconds apart.
For the game, the team scored four times while playing shorthanded, with Jensen saying the have made a concerted effort to be more aggressive on the PK with the top two players ready to take off for breakaway attempts.
The coach was also happy with his team's effort on the defensive, especially holding their opponent to single digits.
"We definitely played some good defence and kept them to the outside. I thought we controlled the middle of the floor, no question," Jensen said.
And on offence, the Black Fish attack was keyed by Ryan Jones, the game's first star with a goal and six assists.
"The righties were doing a very good job of setting the pick and getting open on the backside. It made my job easy: pretty easy assist when they are wide open with their sticks open," Jones said. "And it is easy to win when we have goalies playing like they did today."
Hills finished with 17 saves on 22 shots while Whinery had 14 saves on 18 shots. Offensively, Matt Symes scored a hat trick while Drew Kask and Laszlo Henning each had a pair of goals and an assist. Nick Jensen also finished with a pair of goals with Justin Gurney (1+2) and Ryan Jensen (1+0) had the other goals.
For the Grizzlies, Sekawnee Baker (2+4), Steve McKinlay (0+5) and Pearson Willis (3+2) led the way. Connor Whyte (2+1), Alex Dozzi (1+1) and Brian Smith (1+0) had the other goals. Kyle Mooney made 31 saves on 43 shots.
Sea Spray 16 Shooting Eagles 15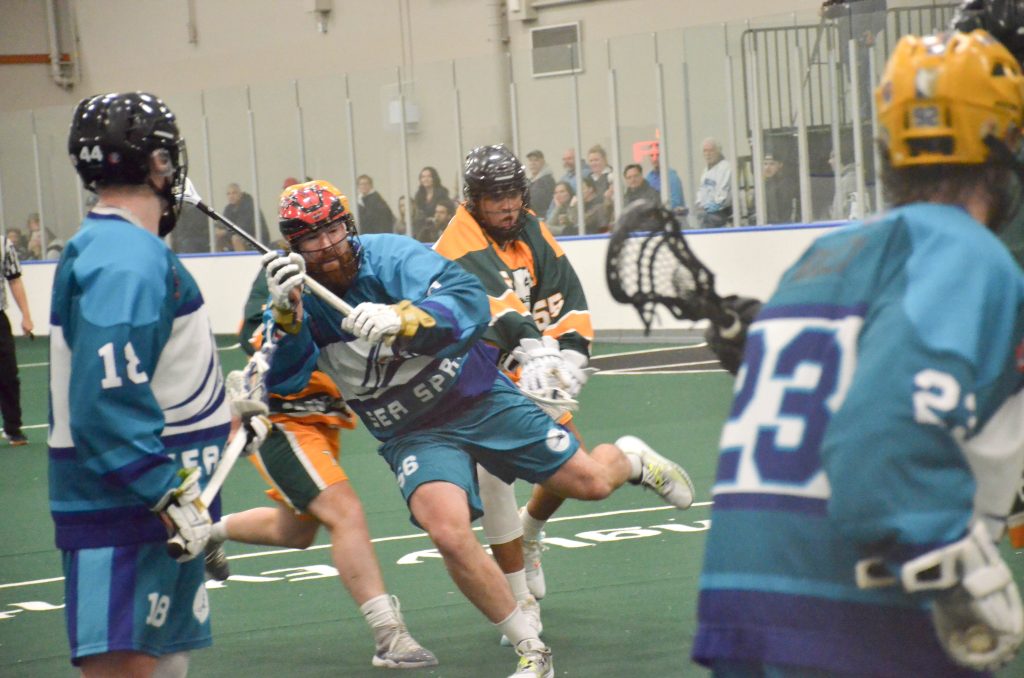 For the fifth straight game, it was a one-goal game and for the fourth time in that span, the Sea Spray proved victorious.
The Sea Spray fell behind 6-2 after a quarter before battling back and then hanging on for a 16-15 win over the Shooting Eagles on Sunday afternoon in week 7 action for the Arena Lacrosse League West Division at Langley Events Centre. The Sea Spray improved to 4-3 while the Shooting Eagles are 3-4.
Keegan Bell's power-play goal with 5:01 to play snapped a 14-14 tie with Tyler Kirkby potting the eventual game-winner with 3:07 to play. Garrett Winter did bring the Shooting Eagles back to within a goal with 51 seconds to play and his team had two cracks at forcing overtime, with Lee Jackman making the first save before Aidan Ellis soaked up the last-second attempt.
"Our one-goal game last week was flattering to us because we played poorly; we crawled our way back into the game. Today, we played with a lot more resolve: we kept getting down but coming back," said Sea Spray coach Russ Heard.
"I think we thrive in these situations; we like them. We just power through," added Adam Dickson, on the fact five of the team's seven games have been decided by a single goal.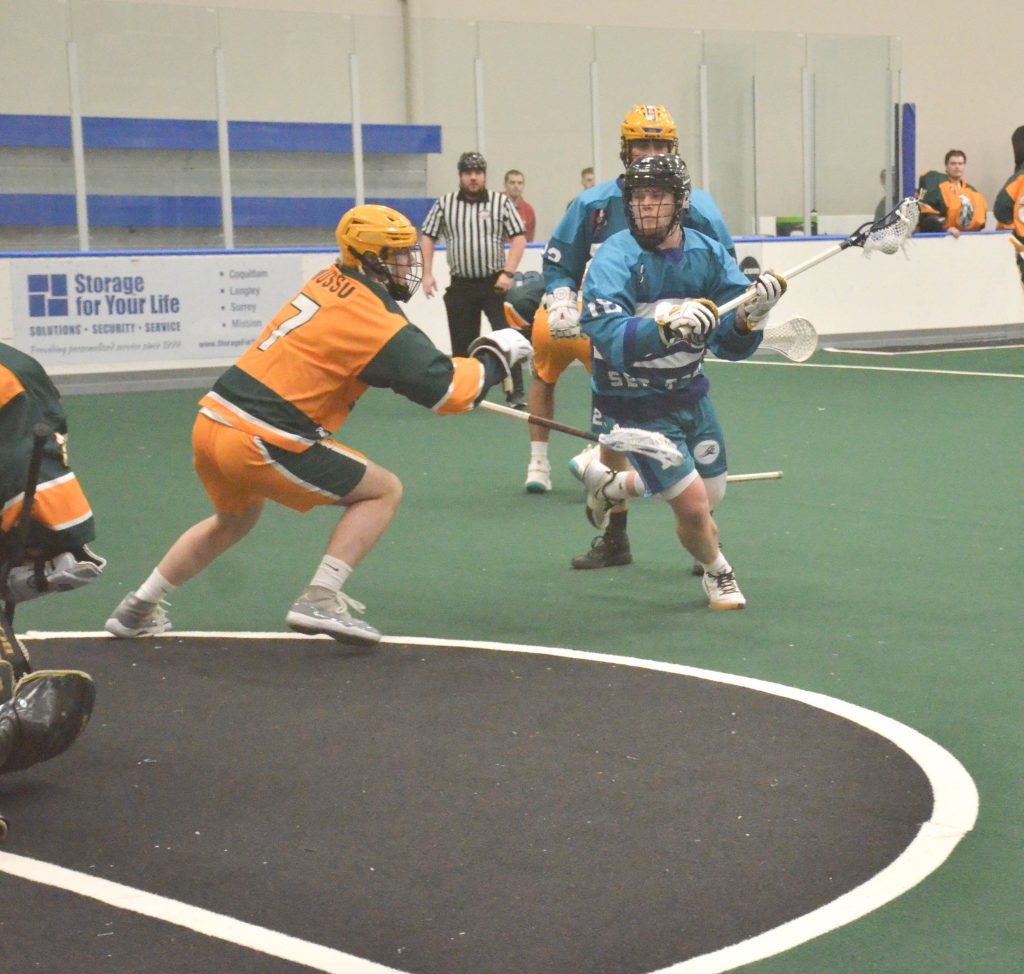 Dickson was one six Sea Spray players with multiple goals and four or more points as he finished with a hat trick and four points. Marcus Klarich and Keegan Bell each had four goals and five points, while Tyler Kirkby (2+3) and James Rahe (4+1) both had five-point games. Tyler Ewen finished with two goals and two assists while Jared Moloci had a goal and a helper. Vinny Ricci also had three assists and Jackman finished with 38 saves as the Sea Spray were outshot 53-45.
Heard said the team had a good practice this week with most of the offensive players able to attend and the importance of practice time showed on Sunday.
"They laid a bit of an egg last week and came out with a little more resolve," he said. "We had some miscues out of the back end, but (the Shooting Eagles) have a strong offensive team, so you have to give them credit."
"We were getting the ball swinging. We have a lot of offensive talent but only one ball out there, so it is easy to move it around. Everyone is capable of shooting, so it makes it easy when everyone is capable of shooting," Dickson said.
The Shooting Eagles were led by matching eight-point efforts from Adam Noakes (3+5) and Mark Yingling (4+4) while Spencer Bromley, Garrett Winter and Dylan McIntosh each had two goals and two assists. Dylan Lacroix (1+2) and Cole Catton (1+0) rounded out the scoring while Justin Digby had a trio of assists. Brody Harris made 29 saves in goal.
Klarich, Winter and Ricci were chosen as the three stars.
Next week
The Grizzlies (4-3) and Shooting Eagles (3-4) kick off week 8 on Sunday, January 22 at 1:00pm before the Sea Spray (4-3) and Black Fish (3-4) take the floor at 4:00pm. Both games are at Langley Events Centre.
About the Arena Lacrosse League: Formed in 2017, the ALL is regarded as the National Lacrosse League's minor league, and with seven Ontario-based teams in the ALL prior to the launch of the ALL West, 15 per cent of the current NLL players have played at least one game in the ALL.
The ALL plays under the same game rules as the NLL, providing high-level competition and exposure that provides NLL management and executives the opportunity to monitor individual progress through game webcasting and statistics. Game evaluations from ALL West coaches will assist in development of players who are currently on NLL practice rosters or are ready for in-season call-ups.
To learn about the league, visit www.arenalacrosseleague.ca.
Photos property of Langley Events Centre