Eyebrows are arguably the most important feature on a woman's face. If you're not satisfied with the ones you have, there are so many ways to update them, including brow gel, pencils, and even tattooing. Now there's a very natural option that delivers semi-permanent results: microblading. Unlike the blunt effects of permanent makeup, microblading is more of an embroidery method through strokes that look just like real hairs.
The process of microblading differs from semi-permanent tattooing. Instead of using a tattooing machine, a microblading pen is used, and hair is drawn on in individual strokes, one by one. It is an extremely meticulous process that takes up to 3.5 hours to complete, and the results will last for up to two years before beginning to fade.
We sat down with microblading expert, Kami Jheeta, who explained the process from start to finish. When a client comes in for a consultation, a thorough medical history is taken, which includes health matters and previous skin treatments including botox and fillers. "It's important to determine if the client has iron deficiencies because the ink will be absorbed quicker as most are made with iron oxide. An iron deficiency will also result in the microbladed strokes lightening faster," says Jheeta. There are a variety of ink colors that can be matched and used in each treatment, and most technicians will also have organic inks. During the consultation, a client is also fully informed about the do's and don'ts before treatment such as avoiding alcohol consumption and blood thinners. Face creams containing glycolic acid or retinol should be avoided, and it's essential not to thread or wax one week before treatment.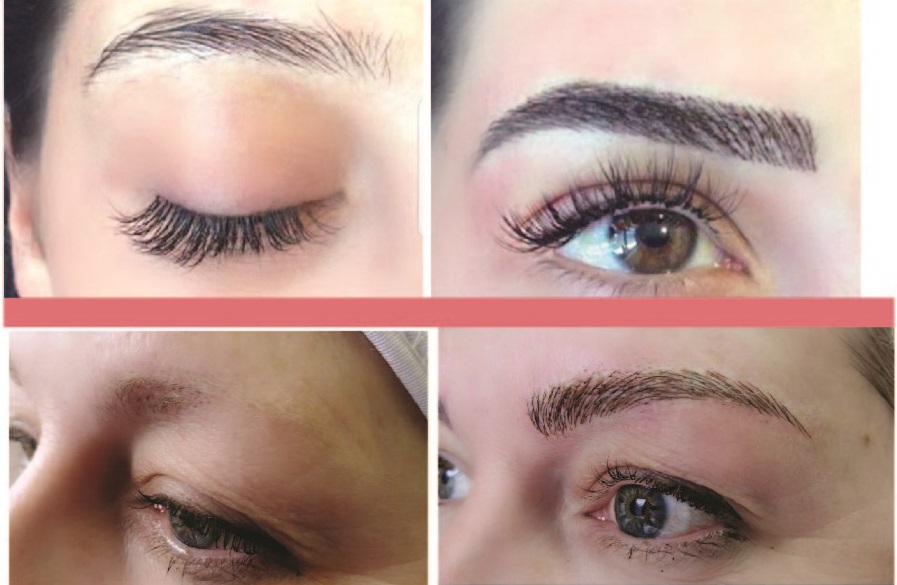 The day of the procedure, your technician will design and shape the perfect brow shape that best enhances your face. The client's opinion is of the utmost importance when it comes to decision-making and approval to proceed with the design. Before the microblading begins, a topical numbing cream is applied to the area to minimize discomfort, followed by a liquid anesthetic. If you're worried that the process is painful, Jheeta assures, "some clients may feel a slight discomfort, but it's relatively painless."
The client then approves the finished work and is sent home with aftercare instructions along with aftercare ointment. Step by step home care is outlined. The best part of the technique is that there is no down time. Your new set of brows will be ready for a selfie immediately after the process. Aftercare is unique to each client, as no two clients will have identical skin. Six-week post-treatment, a client will return to their technician for a touch-up procedure, which takes about an hour, to an hour and a half. Strokes that may have lightened are reinforced, and a few more may be added depending on the individual client. The procedure is exactly as the first treatment except for designing the brow shape.
The best part of microblading is that they're low maintenance. After healing, you can rub them and enjoy swimming. No special care is required, except for a brief touch-up once a year. The smudge-proof solution will cost you anywhere between $500 and $700. But waking up every morning with perfect brows is entirely worth it!