By Kim Basran
Photography: Dal Dehal, DR Photography
Creating the perfect messy updo seems like an impossible task but with these easy to follow steps, you can create your own messy updo at home. Remember to give yourself enough time to complete these steps – we recommend around 40 minutes. The nature of a messy updo is that it doesn't need to be perfect, so relax, have fun and send us your own version of the perfect messy updo at @kimbasran
For this look, you'll need: bobby pins, hair donut, comb or bristle brush, curling iron or wand, setting spray, rubber bands, sectioning clips, and a blow dryer.
Step 1: From ear to ear, section your hair. Everything from the ear to your forehead is your front section – which is the section you'll want to start with first. According to your middle part, evenly start sectioning one side in 1-inch curls. Curl, spray and secure the hair in 1 inch curls on both sides of your middle part. Pro tip: you can play around with your part and create a side part – just leave the section with less hair loose enough and backcomb the section to give yourself enough volume.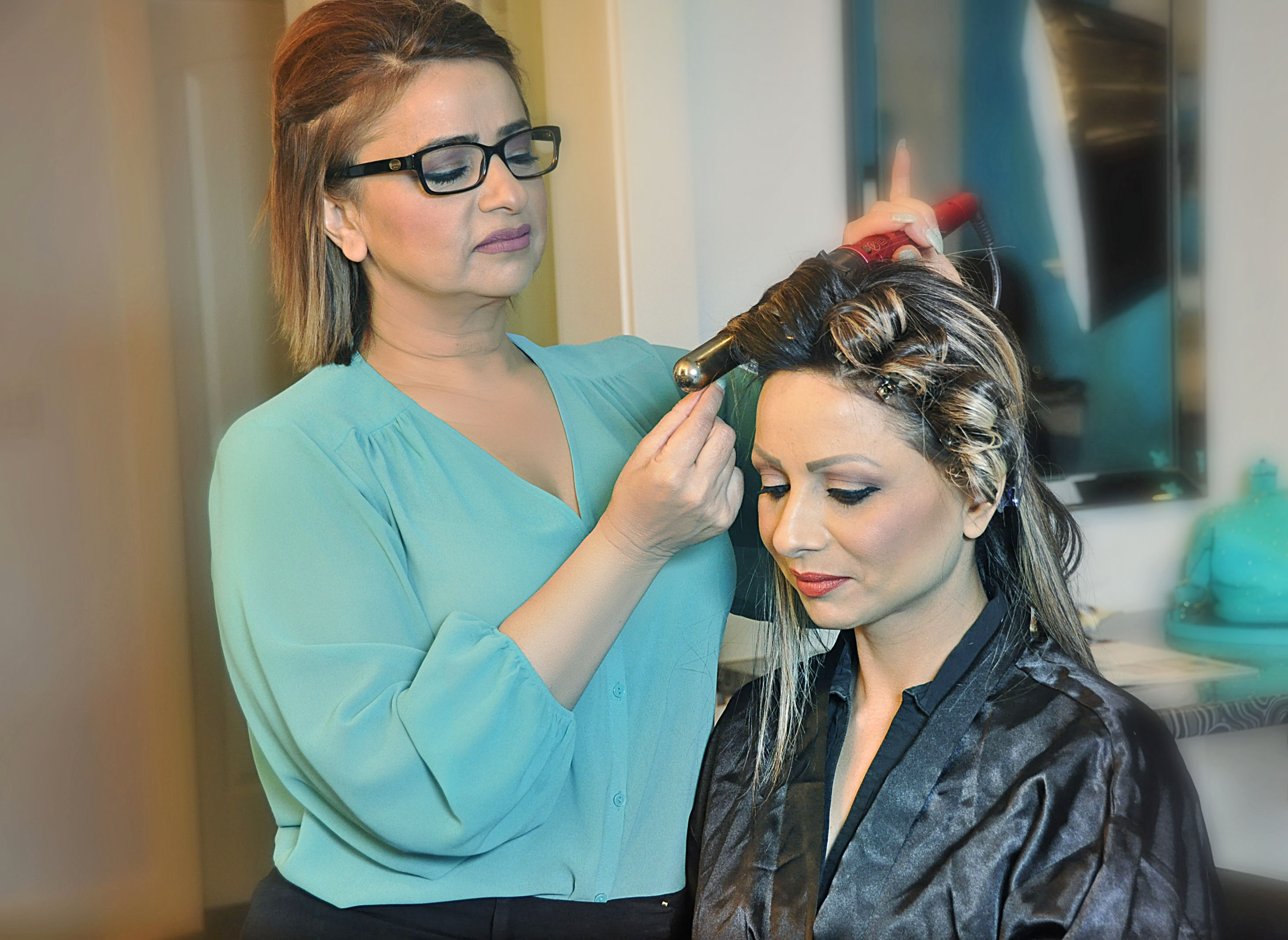 Step 2: Section out the crown and clip away from the bottom of your hair, and secure it towards the curls that are setting.
Step 3: Secure the rest of your hair into a ponytail with a rubber band. Where you place your ponytail will be where your bun will sit so you'll want to adjust to a position that you're comfortable with. The lower your ponytail, the lower your bun. Place a hair donut around the base of your ponytail and secure the donut to the rest of your hair with bobby pins – we don't recommend crisscrossing the bobby pins unless you're wearing a heavy dupatta.
Step 4: Section your ponytail into four even sections in a north, east, south, west fashion.
Step 5: Taking one section at a time, pin the section around your bun to your actual head in the north, east, south, west manner. The remaining pieces at the ends of your sections will be brought back down over the bun to cover any parts of the donut that are still visible – secure with bobby pins.
Step 6: Unclip the crown section of hair – using a comb/bristle brush and your setting spray, begin backcombing the hair. Place backcombed hair over the center of the bun, smoothing the top of the hair to avoid fly aways, twist the end of the hair, and using this twisted section, pin and secure this hair to the center of your donut bun. Avoid being too high on your donut bun, or too low, aiming for the center.
Step 7: Release your curls which should have set by now. Smooth out each side, sweep and blend hair from each side to the center of your bun, where the twisted section from step 6 has been pinned. Any leftover strands, tuck into your bun wherever you'd like to place for volume or coverage.
Step 8: Comb any flyaways with a bristle brush, spray with your setting spray, and apply gentle heat from your blow dryer to complete setting.
Your final version of your messy bun may not look completely like ours but again, messy updo's don't need to be perfect. Need some extra help? We offer one-on-one lessons to help perfect your existing skills at any level.