By Veeno Dewan
"The changes and updates coming to Aston Martin are also part of a bigger plan to increase sales of their front-engine sports cars and sell at least 4,000 cars per year."
Storied pedigree British carmaker Aston Martin has a slew of updates to its Sports Cars in 2023. The legendary British automaker and supplier of the iconic James Bond movie cars has announced significant changes to models, including the Vantage, DB11, and the new DBS SUV.
As high-class supercar rivals from Porsche, Ferrari, and Lamborghini up their stakes in technology, electric-only power, and hybrid engineering, Aston Martin is making a big push to compete. Aston Martin's chairman, Lawrence Stroll, said in a recent Autocar magazine interview "that changes coming will produce "all-new cars."
The changes and updates coming to Aston Martin are also part of a bigger plan to increase sales of their front-engine sports cars and sell at least 4,000 cars per year.
On the engineering front, there will be updated engines from Mercedes-AMG. They have been supplying the drivetrain components to Aston Martin for the last three years. However, the DBS will retain the Mercedes AMG sourced 5.2-liter V-12 engine with some serious updates to make it competitive with rivals until at least 2026. The 4.0-liter V-8 engine found in the Vantage and DB11 will receive the very latest technology from AMG for the 2023 model year.
"Aston Martin plans to introduce more than 10 cars before the end of 2023, including more electrified models, plug-in hybrid, and all-electric models across all its segments and body styles."
The current Vantage and DB11 AMG engines can produce up to 528 horsepower. Still, the hope is that newer versions of the same engine as found in the recently revealed Mercedes-AMG SL63, currently rated at 577 horsepower, will be available to Aston Martin. Also, new will be updated, more performance-orientated transmissions, and revised suspension and handling mechanicals for the Aston Martin Vantage, DB11, and DBS models.
One of the most significant changes on the technology front is a new infotainment system. Instead of a Mercedes- Benz old-school tech trackpad will be replaced by a fresh new touchscreen interface.
There will also be a new voice-activated concierge system similar to the Mercedes-Benz MBUX system, which has received widespread acclaim. However, Stroll says the new voice interface will be "a differentiated platform from Mercedes with "our own faces, our own voices – and with a proper English accent."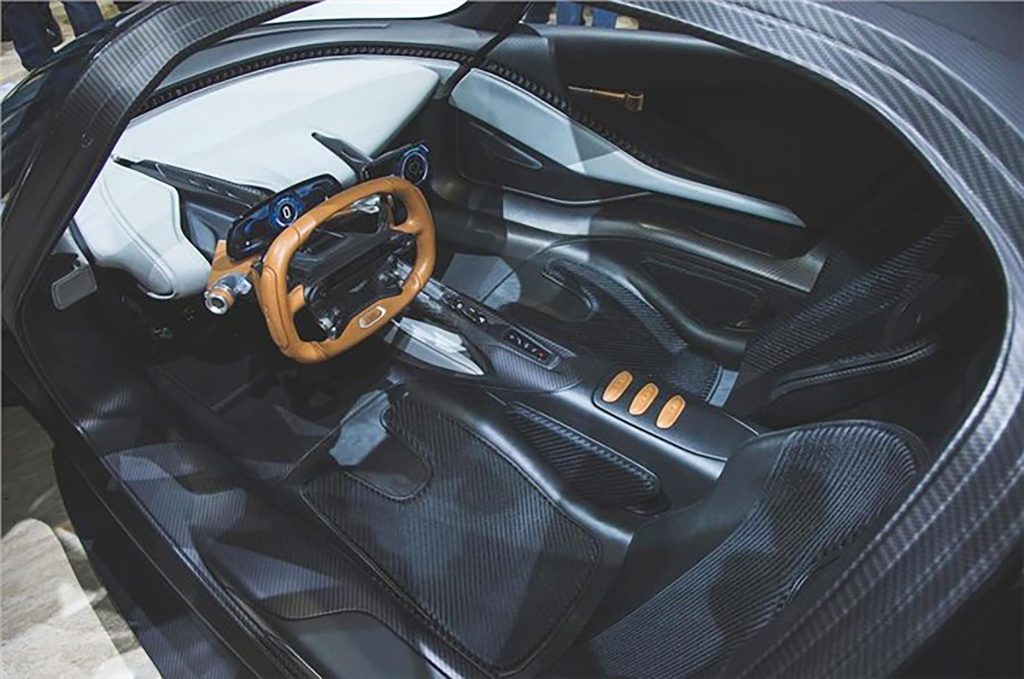 Interiors will also be updated with swanky but typically restrained Aston Martin design, colors, and textures to keep up with current offerings from the competition.
Aston Martin CEO Tobias Moers says the company plans to introduce more than 10 cars before 2023. It includes more plug-in hybrids and all-electric models across all its segments and body styles.
The recently introduced hybrid DBX will debut in September 2022 and will reportedly be powered by a mild-hybrid inline six-cylinder engine. The mid-engine Aston Martin Vanquish and Valhalla supercars are now in the development phase in terms of new and future models. They will also be powered by hybrid drivetrains sourced from Mercedes-AMG. Aston Martin retains and will maintain close ties for the foreseeable future.
In terms of supercars, the 2032 Valkyrie joins the Aston Martin lineup and is composed entirely of carbon fiber. The Valkyrie's hybrid powertrain consists of a naturally aspirated 6.5-liter V-12 twined with an electric motor, producing 1160 horsepower.
Looking to the future, the 2024 Aston Martin Valhalla will be a mid-engine hypercar with a hybrid powertrain and carbon-fiber panels. Power will come from a twin-turbo V-8 (sourced from Mercedes-AMG) and a plug-in hybrid system that generates over 1,000 horsepower.
Moers elaborated, " In addition to focusing on expanding the Aston Martin lineup, they're also pushing toward improving the quality and performance of its models—while still making "more room for luxury."
The updated sports cars should be revealed towards the end of 2022 and aim to make Aston Martin a genuine rival to Ferrari, Lamborghini, and Porsche. New pricing for Canadian spec Aston Martins is yet to be announced but is estimated to range from $250,000.