Preview by Veeno Dewan
The all-new Shelby GT500 – the pinnacle of any pony car ever engineered by Ford Performance – delivers on its heritage with more than 700 horsepower for the quickest street-legal acceleration and most high-performance technology to date ever offered in a Ford Mustang.
"Carroll was always working on the next faster Shelby, I think he would love this Mustang more than any other," said Jim Farley, Ford president, global markets. "A takedown artist, the new Shelby GT500 will surprise supercar owners with its Ford Performance racing tech, supercharged engine and visceral swagger."
Joining its Shelby GT350 stablemate, Shelby GT500 is engineered to attack on all fronts. At the drag strip, it's set to produce a projected 700-plus horsepower via its first-in-class dual-clutch transmission.
The Mustang Shelby GT500 is engineered to attack on all fronts. At the drag strip, it's set to produce a projected 700-plus horsepower via its first-in-class dual-clutch transmission.
Shelby GT500 starts with a supercharged 5.2-litre aluminum alloy engine built by hand. To keep the intake air cooler and deliver a lower center of gravity, the team inverted a 2.65-litre roots-type supercharger with air-to-liquid intercooler tucked neatly in the V8 engine valley.
To channel power and torque to the unique carbon fiber driveshaft, Ford Performance leveraged learnings from the tuning of its Ford GT supercar's dual-clutch transmission. A TREMEC® 7-speed dual-clutch transmission, which is capable of shifts in under 100 milliseconds – markedly faster than any manual gearbox. This dual-clutch transmission is designed for a number of drive modes, including normal, weather, sport, drag and track, and activates features like line-lock and launch control through selectable Track Apps.
Two handling packages with increasing levels capability are offered for the all-new Shelby GT500. Shelby GT500's purpose-built cockpit boasts race-inspired premium materials and unique finishes worthy of its world-class power. Premium touchpoints include an available exposed carbon fiber instrument panel appliqué and new door panel inserts in Dark Slate Miko® suede with accent stitching.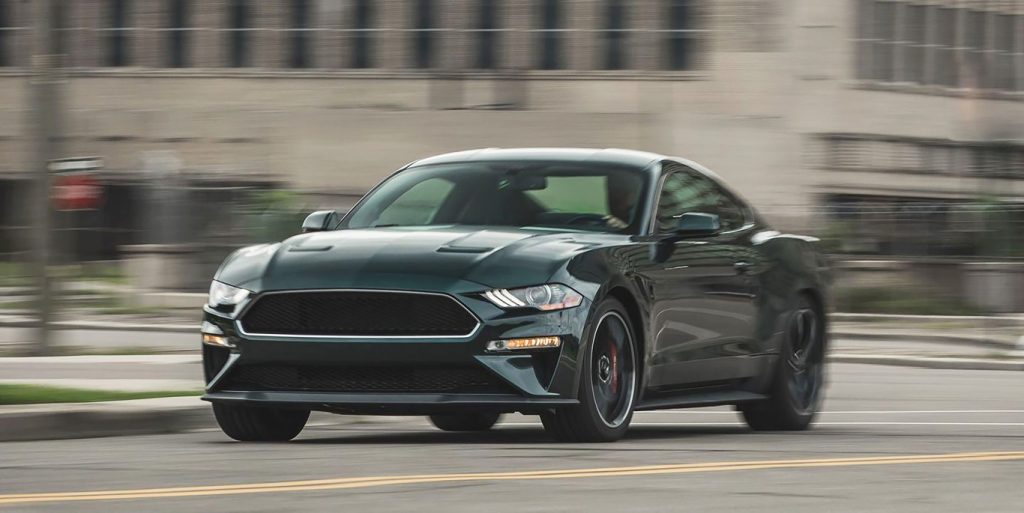 The 2019 Ford Mustang Bullitt is based on one of the most iconic cars ever portrayed in popular culture. Along with actor Steve McQueen, a Highland green Ford Mustang GT was the star in the 1968 thriller movie Bullitt, first up is the trademark customary Dark Highland Green metallic paint – this mix is simply beautiful with a rich sparkling hue in daylight that turns to a menacing dark tone at night. There are other subtle differences- a plain black grille with the Ford pony and a chrome surround, more chrome trim around the side windows, and dark-finished 19-inch wheels that look like the iconic five spoke Torq Thrusts as on the 1968 version. Four black finished exhaust tips exit the rear.
The Bullitt has special engine upgrades. The 5.0-liter Coyote V-8 offers 480-500 horsepower and 420 lb-ft of torque thanks to a larger 87-millimeter throttle bodies, a recalibrated engine management computer, and a performance intake manifold borrowed from the Shelby GT350. There is also a larger radiator to handle extra cooling duties. Also added are: Brembo six-piston front brake calipers shrouding 15.0-inch brake rotors, a Torsen limited-slip differential with shorter 3.73:1 gears, along with a stiffer rear anti-roll bar. A six-speed manual is the only transmission offered. The rubber is a set of Michelin Pilot Sport 4S summer tires, sized 255/40R-19 in front and 275/40R-19 in back.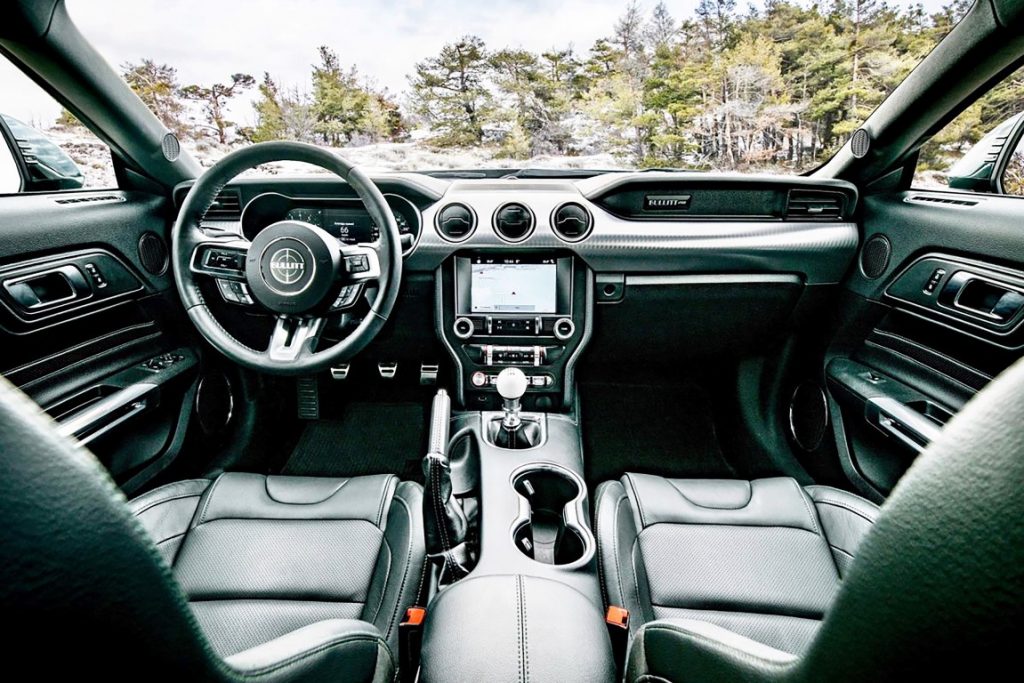 Handling wise, the Bullitt hunkers down and snarls forwards with each upshifts. The steering is direct with a nice progressive feel, offering tactile, satisfying feedback. The ride is an uneven thing – the limited travel of the suspension, especially in the rear, resulting in skips and hops on less than perfect roads and bumps.  Nevertheless, the Bullitt is so much fun to drive with wonderful dynamics – slightly old school muscle car, but with infinitely better brakes, safety and performance. The 2019 Bullit is my favourite Mustang for now with an excellent blend of style performance and understated desirability. A muscle car that to be enjoyed every day you own it.
2019 Ford Mustang Bullitt: Priced from $57,525. Price as tested with options and destination delivery – $61,650
More info at www.Ford.ca