"This is a very fast, terrifyingly efficient smooth bruiser of a sports sedan."
"The M550i is the current top dog in the BMW 5 Series lineup.  The power behind this stormer is a twin-turbo 4.4-litre V8, re-tuned from delivering a mighty 445 horsepower."
Auto review by Veeno Dewan
With the much-awaited arrival of the iconic BMW M5 on the horizon, it is an excellent time to take a look at the M550i xDrive sedan. Until the new M5 arrives– which, I will have you know, is the world's best performance sports sedan bar none- the M550i is the current top dog in the BMW 5 Series lineup. And what a car! The power behind this stormer is a twin-turbo 4.4-litre V8, re-tuned from delivering a mighty 445 horsepower to a whopping 456 hp via an 8-speed transmission and all-wheel drive. Peak torque rating is a tire shredding 480 lb-ft. With that spec, the M550i can do the 0-100 km/h dash in only 4.0 seconds, fully laden with five people that is.   The 550i's eight-speed gearbox is an M Performance unit that can be engaged using the steering wheel shift paddles or the shifter in the center console.
The BMW M550i xDrive also differentiates itself with a few extras. It sits around 100mm lower, thanks to the Adaptive M Sport suspension. It features an M aerodynamic kit, with an airflow optimizing rear spoiler on the trunk lid. There are M Performance design accents on the front kidney grilles, air intakes, and vents on front fenders that feature an exclusive Cerium Grey metallic finish. This color is also carried over to the door mirrors caps. Meanwhile, high-gloss Shadow Line black trims the windows.
The M550i has an M sports exhaust with black chrome tailpipes, and M Sport brakes — with blue metallic brake calipers peek through the big 19-inch wheels. On the inside, there are more M performance parts to keep things exclusive. Buyers gain 20-way-adjustable power multi-contour seats. Blue contrast stitching comes with the black leather trim option or a fantastic, deep, luxurious, brown leather interior seats as on our tester. One also gains: M Sport steering wheel, special cross-hatched finish aluminum trim on the doors, dash and center console. Aluminum pedals, M floor mats and illuminated "M550i xDrive" doorsills finish the look. The  M550i  at $82,000 arrives very well equipped with some option packs including the $6,500 Premium package that adds ventilated and massaging front seats, soft-close doors and ceramic controls for the iDrive and audio buttons, 360 surround-view camera, and satellite radio. The $1,500 Advance Driver Assistance package, is a must have, I think with its features including driving assistant plus, steering and lane control, evasion assist, front cross-traffic alert, and active cruise control with stop-and-go lane keep assist.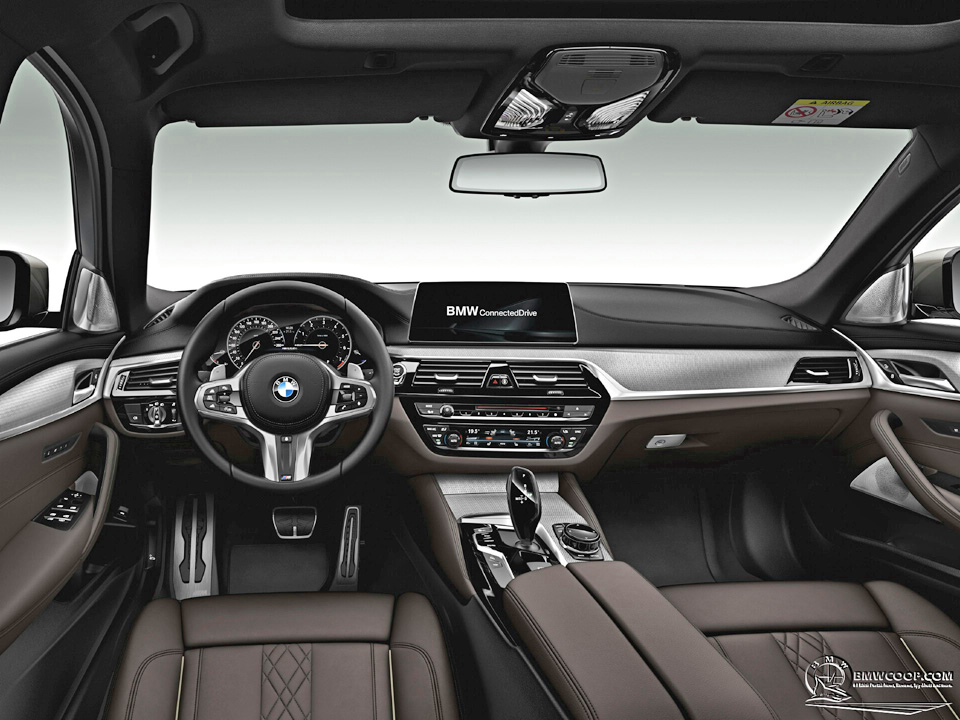 On the road, the M550i is a real Jekyll and Hyde of a car. When cruising and set to Comfort mode the suspension acts silky smooth, with a soft, compliant ride, courtesy of the Adaptive M suspension, with its lower ride height. The V8 engines rumble is more muted, and the steering is effortlessly light, while gear shifts are smoother. Press the go-pedal and alter the setting to Sport or Sport+ and boy do things change! The V8 revs freely with no discernable turbo lag and keeps dumping torque endlessly in a thundering roar. The overall sensation when you push the 550i hard is visceral, as the exhaust note changes to a growling, road shaking rumble.
This is a very fast, terrifyingly efficient smooth bruiser of a sports sedan. Despite its weight and size, the 550i wants to defy the laws of physics on fast bends and behave like a smaller sports sedan. However, the big M Sport brakes, are well up to the task of stopping with a firm pedal feel and well-calibrated modulation.  Around town, the 550i is docile, a fantastic everyday family hauler. Unleash the beast in the V8, and it is every sport driver enthusiast's dream: Imposing, a little scary, haughty, and aristocratic- looking, the 550i commands everyone's attention everywhere, even if it doesn't try!  With an expensive, although not ridiculous price tag for what you get, the 550i is well worth the money in my opinion. Fast, powerful with an immaculate specification and interior this is one BMW for those who aspire to an "M" should seriously consider.  Terrific in every way!
2018 BMW M550i Xdrive- Priced from $82,000 plus options, taxes, and fees.