UNIQUE AUTO FEATURE
TAKING A LOOK AT ROLLS ROYCE
The turn of the 20th century marked the beginning of an extraordinary partnership between two of the most innovative minds of the moment. Henry Royce, a successful engineer and Charles Rolls, owner of one of the UK's first motor car dealerships, agreed to sell vehicles under the name Rolls-Royce. The aim to sell to build and sell the best cars in the world. Now over 100 years later, Rolls-Royce is still the final name when it comes to the world's best luxury cars.
It doesn't get much more stately, opulent and luxurious than a Rolls-Royce. For decades, the marque has set a standard that other luxury carmakers have aspired to reach, a symbol of automotive excellence for most of its 100-plus years in the business. The current lineup of Rolls-Royce comprised only a few models, but they are all sumptuous with breathtaking lines and luxury and engineering that is beyond imagination.   With the iconic Spirit of Ecstasy hood ornament; (Now retractable into the grille—for security and safety) is still a testament to aspiration. People don't strive for a Rolls Royce; they either have them, or they don't. And what range it is, you can have a coupe in the form of the Phantom Drophead Coupe, a $553,000 convertible, powered by a 6. 0 liter V-12 and 531 lb-ft of torque. There is a Rolls-Royce Wraith model that adds some sporting pretensions. The Wraith now features the most powerful engine in any factory Rolls Royce, Namely a mighty 6.6-litre V12 that creates a massive 624 horsepower and an equally huge 590 lbs-ft of torque. The Wraith may be more than five meters long and weigh almost 2.5 tons, but has a Cheetah like acceleration figure of zero-to-100 km/h in just 4.4 seconds! There is also the new Ghost sedan, and the Dawn convertible. The Ghost four door sedan is priced at $438,325 – $587,223. There are of course so many unique features on a Rolls Royce and the design of all their models have changed with time. For example, the new Wraith two-door coupe features a fastback profile, and the two doors are rear-hinged, so they open forwards, not backward. They close automatically with the push of a button on the A-pillar. In all Rolls Royce's, the interior is works of art unto themselves. The leather is superb, and the fit and fittings of the highest possible quality. Details abound, there is the "Starlight Headliner" option that has 1,340 tiny LED lights on the roof that look like a night sky. It cost an extra $16,775 and takes three days for a worker to assemble! You also get quaint British feature such as umbrellas in the door jambs that emerge from storage cubbies with dryers in them. If you want a large sedan, you could not do any better than the commanding Phantom four-door that totally encapsulates contemporary luxury. Born of the desire to build The Best Car in the World, the Phantom is priced from $438,325 – $587,223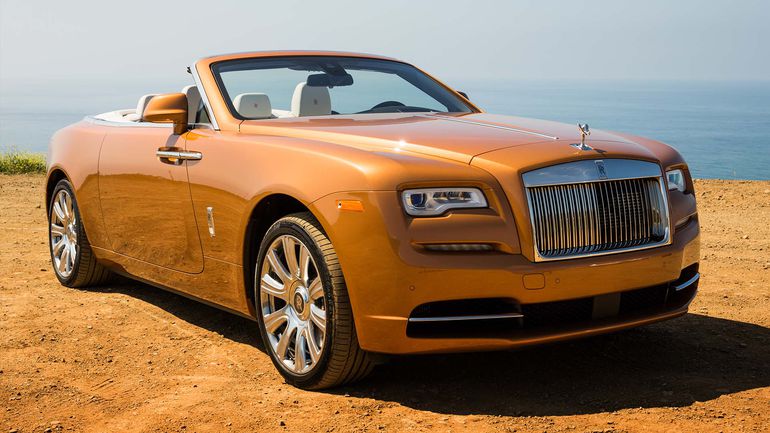 Meanwhile, the Rolls Royce Dawn, at $388,900 is a smaller, but no less dramatic two- door convertible offer full customization like all Rolls Royce's with the British Company's exclusive Bespoke team- dedicated craftspeople can create a color palette for the exterior and interior matched to whatever inspires you. Crests, initials or insignia, can be embroidered on to the seat headrest, inlaid into the veneer and even hand-painted onto the exterior. The most recent dramatics offering from Rolls Royce is the Rolls-Royce, Black Badge, a scary, dramatic totally blacked -out version of the Wraith Coupe (also available on the Ghost). It is a made-to-order special factory custom car coated in 16 layers of black paint and superb drivetrain, suspension and brake upgrades, and rides on unique 21-inch aluminum/carbon fiber wheels. Exclusive to the Black Wraith are high-gloss carbon fiber interior trim panels that have great aluminum threads woven into them, and the metal interior trim is outfitted in shiny black chrome. Its 6.6-litre V12 claims the same 624 horsepower with torque at an amazing 642 lb.-ft. The Wraith Black Badge starts at $399,000. Does it go without saying, whichever Rolls Royce you buy, prices will be as much as a modest apartment or a house in some parts of the country? But, we can all dream, can't we?