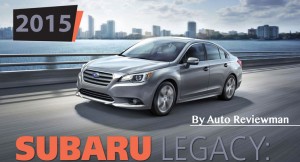 The 2015 Subaru Legacy was recently named the Canadian Car of the Year by the Automobile Journalists Association of Canada (AJAC) at this year's Canadian International Auto Show in Toronto. The Mid-sized Legacy sedan outfought formidable competition from such players as the Volkswagen Golf, the Hyundai Genesis and the Mercedes-Benz C-Class, the three other finalists vying for this year's Car of the Year award.
So why did it win? Well ─  the 2015 Legacy, arrives with as standard All-Wheel Drive, excellent safety credentials, and balanced performance and handling. The styling may not be as slinky and adventurous as the some of its competitors, but overall it ticked all the boxes at AJAC's demanding Test Fest.
Interior wise the Subaru Legacy passenger compartment and dashboard has been redesigned and features controls that are ergonomic, logical and precise. All new is a standard 6.2-inch display screen to monitor and control certain functions. In addition there is now a plethora of ports for MP3 players, and USB Connectivity.  Subaru have significantly upgraded its infotainment systems with its new Starlink connectivity unit features 'Aha' smartphone integration, rear-view camera, Bluetooth hands-free phone connectivity and audio streaming, iPod control capability, USB port and an auxiliary input jack. The optional bigger 7.2 multi-touch display offers swipe and scrolling gestures, like you would find on most modern tablets.
In term of comfort, firm yet comfortable seats are provided which allow for plenty of adjustment.   The new Legacy also comes with more accessories and safety systems than before which have made it a class leader in US safety tests. There are now thigh airbags and a third generation of the EyeSight crash prevention system, whose new cameras are more compact and powerful. Also new is superb radar system for rear cross-traffic detection.   I have to speak a little more on Subaru safety options which are outstanding.  The EyeSight system includes pre-collision braking, pre-collision brake assist, pre-collision throttle management, adaptive cruise control; lane departure warning and lane sway warning.   The EyeSight uses two small front-facing cameras mounted on either side of the rearview mirror, the system, among other things, can bring the Legacy to a full stop before a collision with a car in front. It's very clever and very effective.
Handling and control is also much improved tanks to  stronger torsional rigidity ─ up by 43% and the flexional rigidity has increased by 35%, allowing the Legacy's engineers to modify its suspension and refine the settings for better road hold and handling.
The Legacy is powered by choice of two flat-cylinder boxer engines. The   2.5-litre four-cylinder mill   (175 hp, 174 lb/ft of torque) is now lighter, more fuel efficient, and has a few extra horsepower. City/highway fuel consumption rates are much improved at 9.0/6.5 litres per 100 kilometres, which is very good for an all-wheel drive vehicle.
The bigger engine is the 3.6-litre cylinder (256 hp, 247 lb/ft). – with a city/highway fuel economy figure of  11.9/8.2 litres per 100 kilometres. In term of transmissions there is a choice of a revised six-speed manual transmission, or the Lineartronic continuously variable transmission. The CVT is now the only transmission available with the 3.6 liter engine. All models are equipped with an Eco gauge between the speedo and tach so that drivers can monitor and aim for better fuel economy.
For 2015, the Legacy's suspension geometry, spring rates and damper tuning have all been revised with a new electric power steering system giving better feedback. Also new is the sophisticated torque vectoring technology, first seen on the WRX and STI performance cars.  Torque vectoring automatically integrates the stability/traction control system and braking on the inside front wheels when needed to handle corner much smoother.
To sum up with a raft of improvements, top safety, better fuel economy, technology and an excellent chassis combined with Subaru's new Torque Vectoring AWD system – the Legacy is a brilliant choice for Canadian drivers.   No wonder it is an award winner.
2015 SUBARU LEGACY BASE PRICE: $23,495 –   $35,395. ALL PRICES ARE PLUS TAX AND DELIVERY FEES.  
2015 FORD F-150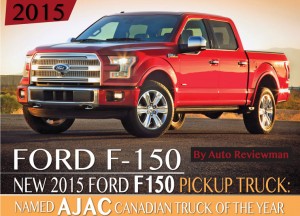 passengers. Buttons and controls are optimized so they can be operated while wearing work gloves.  Storage options include laptop stowage in the center console, as well as quick storage solutions 
The 2015 F-150 has added some very cool features, though some are only available on certain trim levels, which range from XL, XLT, Lariat, Platinum and King Ranch. Chrome packages are available on XL, XLT, Lariat and King Ranch. Monochromatic packages are available on the XL, XLT and Lariat. Pricing starts at $21,399 for the base 4×2 model and climbs to $66,999 for the top line Platinum Super Crew 4×4. The FX4 off-road package can be added to most four-wheel-drive models, improving off-road capability with an electronic locking rear axle, skid plates and off-road-tuned shocks.  All around versatility and improvement make the F-150 the best pickup truck money can buy.
2015 PORSCHE 911 TURBO S:  THE 'S' STANDS FOR SPECIAL!
The Porsche 911 range is probably the most famous sports car ever made with a lineage going back over fifty years. The 2015 range starts with the base 350-horsepower engine and then peaks at the Turbo S's 560-hp monster and is offered as a coupe, retractable-roof coupe (Targa) or soft-top convertible (Cabriolet) in a wide variety of models, engines and performance variants.
For 2015 the 911 Turbo gets a major upgrade in the engine room, all-wheel drive, a power-retractable front spoiler, a fixed rear spoiler with articulating wing elements, various other aesthetic and functional body revisions, a rear-wheel steering feature (which both tightens up the car's turning radius and improves stability in quick transitions), a more advanced torque-vectoring rear differential, adaptive headlights, more supportive seat bolsters (or 10-way power seats with four-way power lumbar and memory settings), extended leather trim and a 12-speaker Bose surround-sound audio system.
The Turbo S is a star in the lineup offering added power, performance and equipment. It adds the Sport Chrono package, LED headlights with automatic high-beam control, active stabilizer bars (PDCC), ceramic-composite brake rotors (PCCB), 10-way power-adjustable front seats and carbon-fiber interior trim. Both the Turbo and Turbo S are available in either coupe or Cabriolet body styles.
The 911 Carrera, Carrera 4 and Targa 4 models are powered by a 3.4-liter horizontally opposed six-cylinder engine rated at 350 hp and 287 pound-feet of torque, while the Carrera S, Carrera 4S and Targa 4S upgrade to a 3.8-liter six-cylinder with 400 hp and 325 lb-ft of torque.
Rear-wheel drive is standard except on the Targa, Turbo and Turbo S. The base, S and GTS models start with a seven-speed manual transmission, however Porsche's PDK seven-speed automated   Turbo S has an 40 horsepower  at 560 hp and 516 lb-ft and arrives solely with the PDK transmission.
All Turbo S models feature the Sport Chrono package that includes a more aggressive shift program and launch control feature for faster off the line acceleration
On the road, with the big wheels and ultra-low-profile tires, the ride in the Turbo S can be harsh. You can mitigate this by activating the adjustable PASM adaptive dampers.  As always the control and steering on the 911 is amazing – with a complete point and shoot feel. Everything happens so much faster, smoother and with no effort in the 911. It really is a race track ready sports car for everyday use. Meanwhile the leech-like grip means a harsh ride with the 911's suspension. Activate the Sport or Sport Plus modes, which stiffen the dampers as well as delay upshifts and you are rewarded with even more road feel and handling dynamics.  The PDK is a superbly precise, fast transmission and yet when conditions allow you can use the paddle shifters to go into manual mode and have fun making use of the phenomenal torque. It is pretty hard to describe the feeling of driving such a beautiful car. The legend continues out of this world.
2015 PORSCHE TURBO S PRICED FROM $208,500