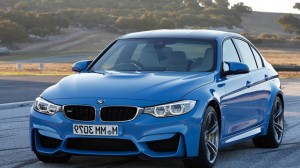 The fifth generation of the BMW M3 Sedan  is cause for celebration for performance fan everywhere. These beautifully built, fast and brutally efficient cars have delighted serious drivers for many years  and the magic is set to continue. Note however that for the new 2014/15 model year  that the coupe and sedan will get different designations. The four-door sedan will retains the M3 moniker, while the two-door coupe now spins off as the new M4, now the 3-Series coupe line becomes knows as the 4-Series.
The M-designated styling and visual cues that make the M3 rare and coveted are all present and correct with:  a bulging power dome hood, flared fenders housing huge high performance, low profile tires, hoods, an aggressive lower front apron and spoiler package, and race- car style rear diffuser trays and trademark front fender vents. Discreet, but oh so important M logos are placed strategically.  The body profile remains sleek, although various vent dams and all aid to improve aerodynamics and cooling. But, let's forget the M3 still has four-doors a full trunk and all the luxuries and feature you could possibly want.
The M3   will be powered by a new 3.0L, twin turbo inline 6-cylinder engine capable of generating (Depending on state of tune) a stupendous  431 hp  and   406 lb.-ft. of torque.
Two transmissions are available- either a six-speed manual allowing for a 0-100 km/h dash of  4.3 seconds, or the optional 7-speed M double clutch transmission that offers a sprint time of a blistering 4.1 seconds.
The technology is all there and improved with the use of dedicated engineering to provide lighter, stronger and more effective materials and parts.
The new M3 features aerodynamics honed at the famous Nürburgring race track in Germany where BMW professional racing drivers and engineers did exhaustive and intense development work to shape the body. Lightweight materials help to reduce the overall curb weight   by 80 kg (175 lb). Even the roof is five kilos lighter thanks to the use of BMW's CFRP (carbon fiber reinforced plastic.
The result is an effective suite of aero aids, underbody trays and a special front spoiler dam to reduce lift and improve handling at high speeds.  Special suspension geometry and set up in the M3 has been improved through AN active differential that is integrated with the dynamic stability control system to optimize traction and directional stability. Suspension systems comprise of the front strut setup with performance dampers and a tuned multi-link rear end set up with an available "Adaptive M" which allows the driver to specify soft or firm damper settings depending on preference driving style and road conditions
Also new is a recalibrated speed-sensitive electric power steering set up which adjusts the level of assist depending on the car's speed and driver input. Three driver selectable settings – Comfort, Sport and Sport+ – allow the driver to determine and select the right amount of power assist depending on the road and driving situations and personal preference. High performance and expensive racings style carbon ceramic brakes are optional for better braking.
The 3.0L, twin turbo inline 6-cylinder engine has a very wide torque band with the peak 431 hp available between 5,500 and 7.300 rpm and 406 lb.-ft. of torque   from 1,850 to 5,500 rpm. Changes to the engine also mean it is lighter (by 10kg) and more powerful than the previous unit with a power increase of 25 more hp and 111 lb-ft.
As noted before, the use of weight-saving measures combine to help the M3 and M4 race  from 0–100 km/h in 4.1 seconds for the manual and 3.9 second sprint for the automatic – which is also fitted with a driver selectable launch control function for quicker standing starts.
Performance driver will also note that the M Dynamic Mode system also gives driver control over the stability and traction control functions to custom tune the parameters and – including the ability to manually turn the system off.
With higher speed, more power, lighter weight, and more refinement the new M3 is an even more polished gem of a performance car than ever before.  It is an icon and thankfully has been made better and even more desirable as one of the greatest all round performance sedans on the planet. The new M3 is in showrooms now.