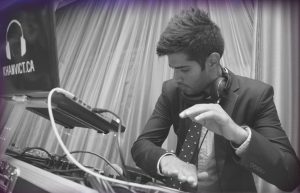 Asad Khan is an Electrical Engineer turned Real Estate Project Manager by trade. But that's what you will see him do during the regular man's work hours. As soon as evening strikes, Khan takes on the role of DJ Khanvict: Vancouver's number one South Asian Indian Wedding DJ and the principal of BC-renowned DJ company, Decibel Entertainment.
DJ Khanvict is a multi-genre west coast DJ hailing from Vancouver, British Columbia. Starting out as everyone's favorite local block DJ at private house and college parties, Khanvict decided to venture deeper into the industry, performing at local shows and fundraisers, all while pursuing his Bachelor's Degree at UBC. Developing a strong passion for the art, DJ Khanvict decided to turn professional after heavy recruitment from various Vancouver-renowned entertainment companies. Under their steady tutelage and guidance, Khanvict was able to make a name for himself, spinning at various wedding receptions and nightclubs across Vancouver. His comprehensive music library, natural feel for the crowd, and his everlasting love and passion for a good beat meant that the progression from an underground enthusiast to a heavily recruited DJ happened swiftly.
DJ Khanvict has now established himself as the top South Asian/Fusion wedding DJ on the west coast, as confirmed by several industry professionals and credible client feedback. He became the first South Asian DJ to win the Best Wedding DJ Award for 2014 at the BC Professional Wedding Awards, adding to his Best Wedding DJ Award for 2013 at the South Asian Wedding Awards. He has performed both locally and internationally, and alongside several heavyweights in the South Asian music industry. His ability to mix between a diverse range of music genres such as Bhangra, Hindi, House, R&B, Hip Hop and Top 40 has seen him earn nothing but rave reviews from clients across the land.
Integral to the success of a critically acclaimed wedding DJ is their mic presence, an area where DJ Khanvict especially excels. Elevating his MC skills with an unprecedented display of crowd interaction through dance-offs and Decibel Contests, several clients claim his sense of humour and composure alone are enough to entertain a crowd. Complementing his ability on the mic, his distinguished stage presence tops off the overall vibe of the event with dazzling DJ setups ranging from DJ Consoles with Truss to full LED wall setups named Miami, Vegas, New York City and The Dubai Package. He strives to ensure that each and every guest has an unforgettable experience and the dance floor remains bumpin' throughout the night.
In November 2013, DJ Khanvict took his enterprise to the next level by launching his own DJ and Event Production company called Decibel Entertainment, which he has since established as the premier South Asian wedding entertainment company in all of BC. "I have a very strong team of DJs with me, there is no way I could have done any of this on my own," says Khan.
"There is absolutely nothing that feels better than making hundreds of people happy every weekend through music. The key to success in the wedding industry is to remember the fact that each performance is part of the most special day in the lives of the person that has hired you, even though to a vendor a wedding or event occurs every other day. When you keep this in mind at every event, it becomes second nature to want to put your best foot forward each time. It's for this reason that, while I wanted Decibel to have talent, it was more important for me that Decibel was recognized as a pillar of professionalism in the wedding market," says Khan.
One of the main concepts at Decibel is that playing good music is only part of the solution. "We wanted to infuse crowd interactive entertainment with good music. We wanted our setups and stage presence to be innovative and consistent with the latest technology. And we wanted our name to be synonymous with utmost excellence when it came to client satisfaction and professionalism," says Khan. The vision came together and gave birth to three fundamental values that became the foundation of Decibel Entertainment: music, innovation, and excellence.
"I then approached some very recognizable and well-respected names in the Vancouver wedding market, and was able to assemble a star-studded & award winning cast of performers to represent our brand," says Khan. "But having talented DJs was simply not enough; success requires hyper organization, strategic branding, and excellent marketing. A combination of these attributes helped us move forward and within a few months, we went from newcomers to industry leaders. Even though most of our DJs have full-time jobs or are full-time university students, they love music enough to stay up until dusk on weekends to entertain others. Their passion for the craft radiates through their performances."
DJ Khanvict continues to serve his sentence of entertaining crowds and the passion for the craft remains ever-strong.