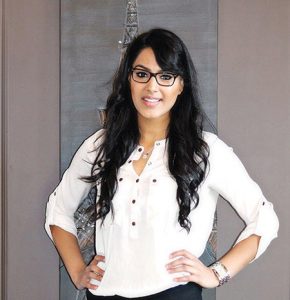 Amneet Athwal an 18-year-old extremely well oriented student currently attends post-secondary pursing an undergraduate business degree. Amneet Athwal has won many scholarships after graduating from Panorama Ridge Secondary in 2013 as one of the top students.  She is a young entrepreneur and philanthropist who has co-founded four organizations that work at the local, national, and international level. More specifically for the young community, especially the women she is seen as an extremely inspiring role model. Currently she sits on the board of directors for SOAR Philanthropic Society (Co-Founder and Vice President), Youth Transforming Society (Co Founder and President), I AM (Co Founder and President), and National Battle for Change (Co Founder and President). Her recent organization that she co-founded was SOAR Philanthropic Society, where she manages the registered non-profit organization seeking to build funds to provide scholarships to graduating high school students every year. This year along with her team she held a recent event, SOAR Banquet that gathered up about 300 people from the community. The money they made from the SOAR Banquet will be all given off as scholarship funds. All graduating students can apply at www.soarps.org where they currently have five $1000 scholarships for the categories of Sports, Adversity, Academics, Visual Arts, and Community Leadership. Amneet is currently working with SOAR for holding the SOAR Conference on May 10 at Panorama Ridge Secondary. The conference she is currently planning will have approximately 150 students from all over the Lower Mainland to come out to participate in workshops consisting of leadership, community involvement, scholarships, and careers. The workshops will be delegated by professionals from various different fields. The SOAR Conference is being designed where Amneet can have students learn about the significance of achieving their potential that they have within inside of them to greater heights.
Aside from serving as Vice President for SOAR Philanthropic Society, Amneet Athwal the young entrepreneur and philanthropist holds many other positions for organizations. With Youth Transforming Society, as the current Co Founder and President she started the organization with a group of friends to build funds and raise awareness for various causes globally. The organization today is being managed by Amneet Athwal and her friends where they have raised thousands of dollars and have a team of approximately 60 volunteers from the local community helping. Amneet has given off funds through Youth Transforming Society to various causes and continues to challenge more barriers as she feels it is an obligation to serve for humanity.
With I AM, Amneet serving as the Co Founder and President she started this organization during her senior years at Panorama Ridge Secondary to provide mentorship to young elementary female students. It is an organization that mentors girls on how to achieve a successful transition from elementary school to high school. They focus on the types of barriers students will be facing and along with the types of opportunities and life styles students will have to seize for what they wish to become in life. The business model of the organization Amneet started up became extremely successful that the headquarters of the Surrey School District approached Amneet and her team to have I AM running in every single elementary school across Surrey.
Amneet is only 18-years-old and has started up various organizations with her main focus growing her recent organization SOAR Philanthropic Society to become as the largest scholarship funding non-profit, one day. Amneet has faced many barriers, but they have never let her down serving for her community. She will continue to strive being a role model for the youth.