BY SONIA WEST
The 2021 Rolls-Royce Ghost made its official press debut in Vancouver with an exclusive unveiling and special presentation at Rolls-Royce Motor Cars Vancouver.
Drishti Magazine was among the VIP media guests invited to the showroom to witness the unveiling of a bespoke twilight purple Ghost, valued at $616,000. We had the pleasure of speaking with Aly Jiwani, Vice President, Regional Operations at OpenRoad Auto Group Ltd.
Jiwani oversees Bentley, Lamborghini, McLaren, and Rolls-Royce in Seattle. The BMW Store, MINI Vancouver, Rolls-Royce Motor Cars Vancouver, and OpenRoad Honda Burnaby in Vancouver.  Jiwani is also in charge of OpenRoad's locations in Toronto including OpenRoad Honda and Brampton East Toyota.
Jiwani recalls his humble beginnings at his very first job 23 years ago at Surrey Honda. He quickly felt that he was a natural fit in the automotive industry. He has come full circle, "I would say it's funny, we just acquired the dealership that I started my career at." The OpenRoad Auto Group bought Surrey Honda, Richmond Honda, and Richmond Acura.
"A Lot of the staff when I was there seventeen plus years ago are still there, and it's a little bit awe-inspiring to see their long-term loyalty and dedication. They remember me when I was nineteen years old selling cars. That was my first job. I'm forty-two years old now, and I feel they are proud of me." Jiwani is tenacious, which is evident from his successful track record. While he acknowledges his strong work ethic, he credits OpenRoad Auto Group and Christian Chia, CEO of OpenRoad for encouraging his growth and success. "This business and this company specifically, if you work hard and have goals, you can become extremely successful."
Jiwani has held many positions at OpenRoad dealerships beginning in 2004 at OpenRoad Toyota Richmond as a Product Advisor and OpenRoad Honda as a Sales Manager. He is the recipient of multiple Honda Canada Senior Sales Master Awards and their top Grand Master Awards.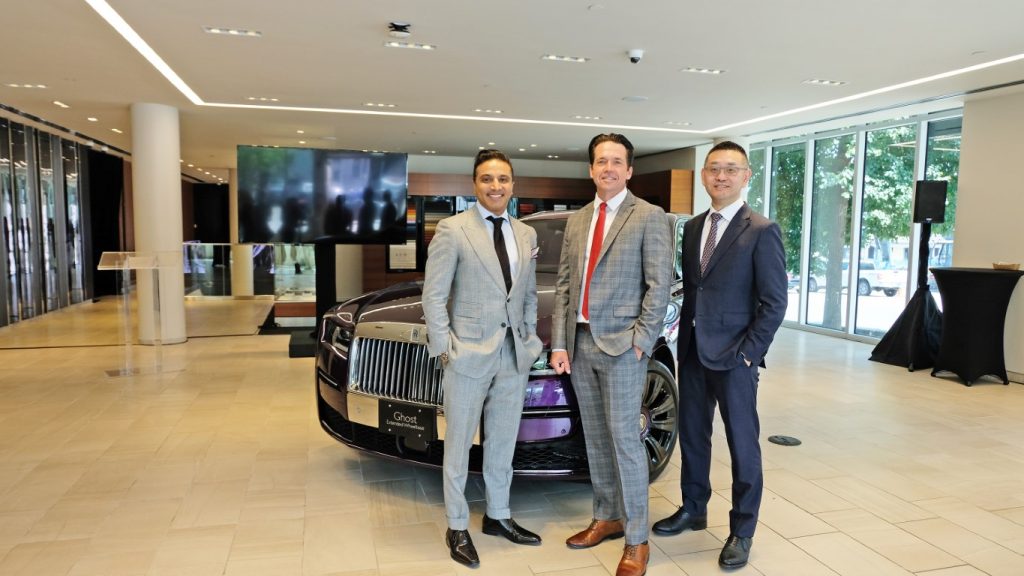 In 2008, he was promoted to General Manager of North Shore Acura, where they were honored with two Acura ACE Awards. In 2010, he became the General Manager of retail centers in OpenRoad's new Langley luxury auto mall, starting with BMW Langley and MINI Langley. Later, Infiniti Langley and the landmark Porsche Centre Langley.
In 2014, Jiwani became the first Canadian ever to receive the Automotive News Top 40 Under 40 Automotive Professionals Award. He was later promoted to Area General Manager of The BMW Store, MINI Vancouver, Rolls-Royce Motor Cars Vancouver, Karma Automotive Vancouver, OpenRoad Exotics, and OpenRoad Honda Burnaby in 2017. In 2020 he was promoted to Vice President where he then was tasked to lead OpenRoad into the Ontario market.
He describes the OpenRoad group as a family. "Many of us have been here for years. There is a sense of family," he explains. "OpenRoad has won many awards for being one of the best-managed companies and one of the best employers to work for." It has been a very successful open road for Jiwani, who has built his career on trust and integrity. Hard work, dedication, and cultivating relationships has been the key to his success.
"OpenRoad makes the buying experience very customer-centric," he says. This dedication to customers, despite a pandemic, allows Aly and his team to continue to excel. "Sales continue to be on a record pace this year with the new Ghost helping to drive the market here in Vancouver."
The demographic of customers buying Rolls-Royce has changed since Jiwani joined the brand five and a half years ago. Eighty-two percent of buyers were predominantly Chinese, and now the number one demographic in 2021 is South Asian buyers. They are primarily from downtown Vancouver, the North Shore, and the Valley. "This brand is truly a sense of accomplishment when someone gets one. This particular location is very near and dear to me because this was the very first stand-alone Rolls-Royce retail centre in North America.
Even with the highest taxation in North America, this will still be our record year. We are sold out until next year." says Jiwani.
Every car is made to measure. There is a fantastic selection of 144,000 colors with 3000 different shades in black alone.
"I was at the factory in Goodwood once, and a man brought 84000 euros worth of diamonds to be crushed and put into the paint – It's a pretty spectacular brand, it's that unique…whatever you want to have done, can be done."
Even picking the right interior leather gives specific attention to detail, such as the elevation of where the cows are, what they are fed, and how they are bred.
"When a person is successful, they then fulfill their goal of purchasing a Rolls-Royce, they feel it's time to reward themselves. It's very inspiring to others." 
Jiwani concludes the interview with a story and a smile on his face about driving a Rolls-Royce Dawn convertible, "I was driving on the Burrard Street bridge, and a guy pulls up beside me abruptly in a big F350 truck, and he points at me…and I asked myself what did I do wrong? The gentleman in the truck says, "Whatever you're doing, keep doing it!"
"This company has been very good to me." Jiwani is the epitome of success. You can expect to see him in a luxury vehicle on the open road, continuing to do what he's been doing.
"It's been a fantastic ride!"