By Veeno Dewan
"Lucid aims to build luxury EV cars that rival the best of German and other European makes with an air of quality, refinement, EV driving range, and luxury."
We rarely get a new automaker in the market. However, thanks to the advent of Electric battery technology, many new automakers have come onto the scene. One new North American company is Lucid Motors, a new All-Electric start-up auto manufacturer based in California and built in Arizona.
Lucid aims to build luxury EV cars that rival the best of German and other European makes with an air of quality, refinement, EV driving range, and luxury. The Lucid Line-up has three super luxury models: Air Touring, Air Grand Touring, and special edition Air Dream. Beautifully styled and luxuriously appointed, the Lucid Air starts at $121,500 for the "Pure" trim and goes up to an eyewatering $327,500 for the soon to introduced spectacular Air Sapphire model.
Like the Tesla or Genesis, you can buy online from the company. The range is claimed at up to 684 kilometers – 830 kilometers is helped by the aerodynamic drag coefficient of just 0.197, making it one of the most efficient on the road. It is a stunning-looking car with a dramatic roofline and looks more elegant than most of the somewhat "blocky"-looking EVS. The Air is exquisite in terms of the interior, with a premium interior decked out in exquisite-looking materials and innovative technology. The cabin is large and airy and features expansive passenger space, both front, and rear. An optional Executive Rear seating package also allows for two large reclining seats, like first-class airline seats. Lucid claims any production's most enormous front trunk with 7.1 cubic feet of additional storage. The rear trunk reveals a good 16.1 cubic feet. The rear seatbacks fold forward, and the trunk includes a lower storage well. It is a spacious cabin with lots of storage and wide-opening doors for easy entry and exit. The technology is good, and there is voice activation and all the toys one would expect.
"The Lucid Air Grand Touring competes against premium luxury EVs such as the Tesla Model S, Mercedes-Benz EQS, Audi E-Tron GT, and the Porsche Taycan. It will do very well- if you can find one!"
The Air has a handful of advanced driver safety aids such as adaptive cruise control, blind-spot monitoring, blind-spot cameras, and forward collision warning.
The Lucid Air Grand Touring is powered via 924-volt architecture to power a 112-kilowatt-hour battery, which produces a starkly impressive 819 horsepower and 885 lb-ft of torque in its two motors. You can also opt for the Grand Touring Performance, which ramps up to an astonishing 1,050 horsepower, while the upcoming Sapphire has three motors and a freaky 1,200 horsepower!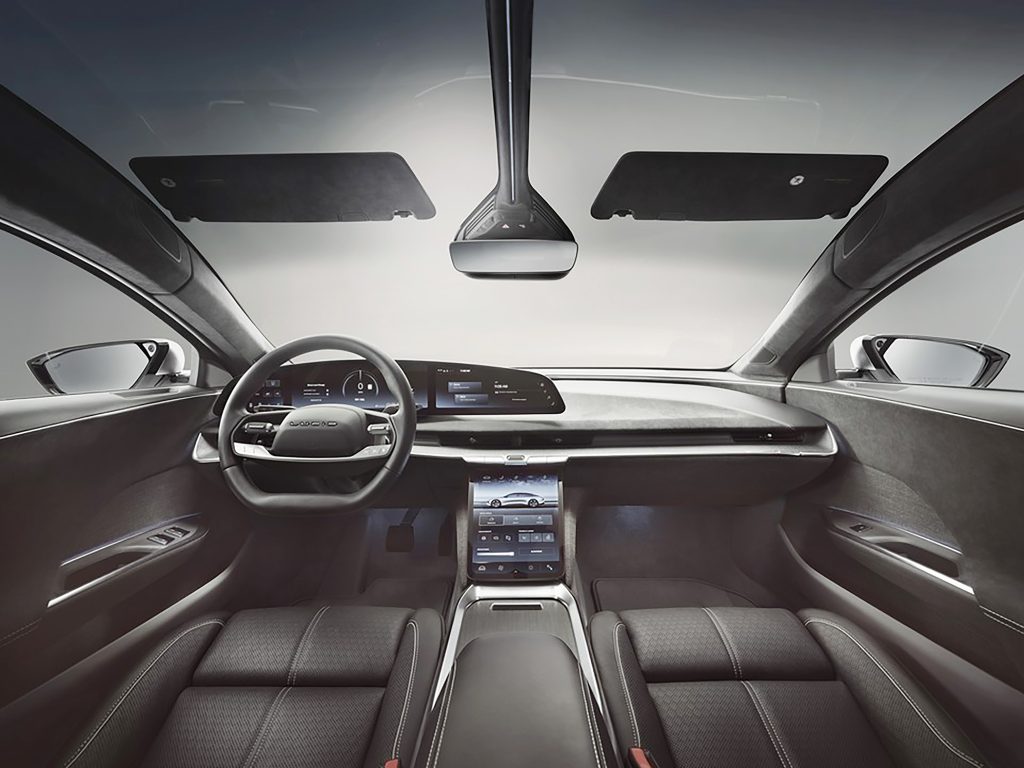 On the road, the Lucid Air GT will power to 100km per hour in a rapid 3.6-second in the special sprint mode, er, sprint to 100 kilometers an hour and still offers a Tesla thrashing 830 kilometers for the Grand Touring version, so it is a game changer right there. As for charging, the Grand Touring will take up to 300 kilowatts at a DC fast charger and 19.2 kilowatts at an AC charger.
Driving the Lucid is a sublime experience, smooth and confident whether you select the different drive modes such as "Smooth" or "Swift." Meanwhile, the enigmatic "Sprint" drive mode makes you "confirm" you want to engage it and enable maximum power and torque. It even recommends that you have a race car driving experience! All hell breaks loose in the sprint, well, not really. There is the instant whoosh of power, and everything blurs with a supercar-like zero to 96 kilometers an hour in a scant three seconds. The Lucid remains a comfortable, smooth everyday driving car and excels on the highway. The low point is few; for now, handling is not exactly sporty or agile, and the Air is a big heavy car. Straight-line performance is excellent, however. Key attributes are the excellent class-leading range, the exclusive luxury nature of the car, and its rarity. The Air Grand Touring competes against premium luxury EVs such as the Tesla Model S, Mercedes-Benz EQS, Audi E-Tron GT, and the Porsche Taycan. It will do very well—if you can find one. Impressive, fast, and luxurious.
2023 Lucid Air Grand Touring – Priced from $189,000. www.lucidmotors.com