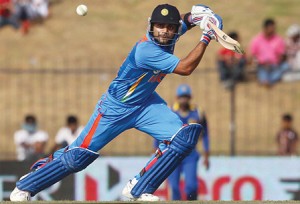 Let's just say it: Virat Kohli, the Vice-Captain of the Indian cricket team, is pretty darn cute. Adding to the fact how the gushing girls pursue him wherever he goes, he has more or less, figured out why.
So, girls, you're going to thank us for this little nugget of information we're giving away next about your crush.
"Contrary to popular belief, the best way to get my attention is not to give me any," Virat confides. "A girl who's not giving me any attention will attract me far more than the girls who give me a lot of it."
That's hardly the easiest thing to do, I tell him, finding it a little hard to be professional while sitting across from him.
"It's my defense mechanism," he says very seriously.
Sitting down for a quick lunch in between shots for Cosmo's man shoot, munching on a bowl of grilled veggies and some steamed chicken momos, Virat admits to being a very private person.
"Of course it gives me such a high every time I walk into the stadium and hear people cheering and chanting my name. But, my biggest weakness is that I'm very emotional. I fear that people can take advantage of this and that's why I only have a small bunch of friends who I hang out with."
In a country where pretty much every little boy wants to grow up to be 'Sachin Tendulkar,' what gave Virat the conviction that he would actually succeed?
"Honestly, when you're young, you just want to enjoy the game of cricket and that's what I did. It was only when I got selected for the Delhi under-15 team and then scored a double 100 for the under-17 team that I realized I could probably do more of this, much faster than the others in my age group."
His confidence may be mistaken for arrogance, but it's far from that. Virat has his head tightly screwed to his shoulders and understands well that things don't always go according to plan.
"I don't aim to succeed every time I go out to play, and that's what makes me successful. Earlier, I used to run after success all the time, and then get depressed when I failed. But now I've taught myself just to take things as they come, and consider failures as part of my learning curve."
When he's talking about cricket, Virat Kohli can go on and on with calm confidence-the way it has shaped his life ("I wouldn't have been who I am if I wasn't a cricketer!") and what it means to him. But try for a minute to shift the conversation to something like relationships or women, and he's suddenly all sheepish eyes and the cheeky smile. "I don't get women!" he tells me, with genuine concern in his voice. "I have never understood them, and it's weird! For some reason, everything is moulded around them and I don't know how to deal with it." What about relationship rules? Does he have any tips to making them work? "I don't know, because mine haven't worked at all." Clearly, I'm not getting very far, but I try one last time. How would Virat charm the woman of his dreams? "I wouldn't really go out of my way.