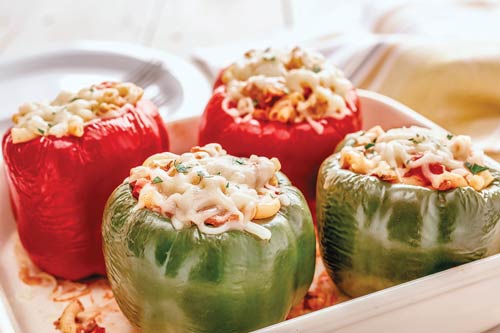 Prep. Time: 15 min.
Cook Time: 20 min.
Servings: 4
1 pkg. (340 g) Catelli Gluten Free Macaroni
• 1 tbsp (15 mL) olive oil
• 12 cherry tomatoes, halved
• 1/2 cup (250 mL) tomato sauce
• 1 tbsp (15 mL) cornstarch
• 1 1/2 cup (375 mL) skim milk
• 12 walnuts, crushed
• 1/4 cup (60 mL) grated mozzarella cheese
• 4 large red and/or green peppers
• Chopped parsley to taste
• Salt and pepper to taste
Instructions:
1. Preheat oven to 375°F. Bring 6 litres of water to a boil.
2. Cook pasta according to package directions. Drain well and set aside.
3. In a small pot, heat olive oil with cherry tomatoes. Add tomato sauce and cook for approximately 5 minutes.
4. In a small bowl, mix cornstarch with milk; pour into tomato sauce. Stir continuously and simmer over medium-low heat until thickened.
5. Add crushed walnuts and cooked pasta.
6. Cut peppers; remove seeds and membranes.
7. Stuff peppers with mixture and bake in oven for 20 minutes.
8. Remove from oven and top with cheese. Return to oven and broil until cheese is golden.
9. Add finely chopped parsley for garnish; serve immediately.