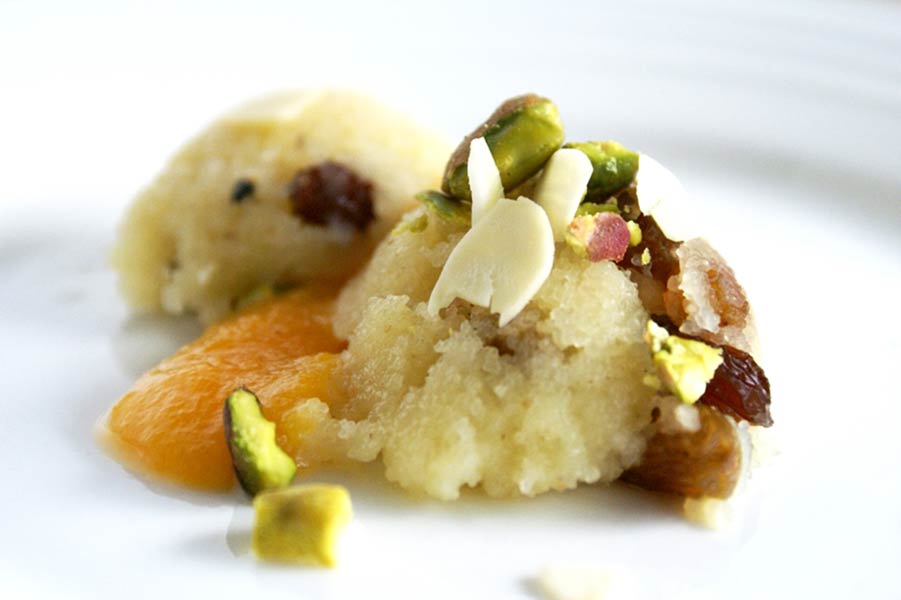 Ingredients
•    ½ Cup semolina
•    3T Ghee
•    25g Raisins (small handful)
•    2 Cinnamon sticks
•    2 Cardamom seeds (shelled)
•    1 Cup boiling water
•    ½ Cup sugar
•    ½ – 1 Cup cream
•    Pinch of salt
•    Puree
•    100g tinned peaches
•    For serving
•    30 g Pistachio nuts and almonds crushed
•    30g Almonds flakes
Instructions
•    Melt the ghee over medium heat and add the semolina, sultanas, raisins, cinnamon stick and cardamom seeds.
•    Let it cook to a point where the fruit is nicely swollen and the semolina turns somewhat of a pinkish color.
•    Add the water and let it simmer until the semolina is cooked. Remember to stir.
•    Add the sugar and allow it to cook for a minute or two.
•    Add the cream and salt and cook over low heat for a few minutes.
•    Blend the peach for the puree.
•    To serve – Make two quenelles per person.
•    Put some of the peach puree on the side of the quenelles and sprinkle with almond and pistachio nuts.
•    Serve luke warm.