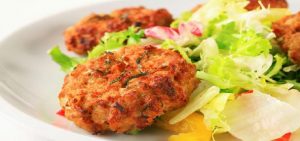 Ingredients
3 potatoes, boiled, peeled and mashed.
1 carrot , peeled and grated
1/4 cup  paneer or cottage cheese, crumbled
1 capsicum, de-seeded and finely chopped
2 tablespoon peas, steamed
1 large onion, finely chopped
5-6 pods of garlic, finely chopped
1/2 inch piece ginger, grated
1 teaspoon garam masala powder
1 teaspoon coriander powder
1/2 teaspoon red chilli powder
1/2 cup shredded cheese
1 teaspoon white vinegar
2-3 green chillies, finely chopped
a small bunch of coriander leaves finely chopped
salt to taste
1 egg, beaten
1/4 cup bread crumbs
oil for shallow frying
 Method
To begin take the mashed potato in a large bowl. Add in the carrots, capsicum, paneer, onion, garlic, ginger into the mashed potatoes. Mash all the ingredients well using a food processor, your hands or a potato masher until all the ingredients have come together and mashed well. There will be a subtle coarseness in the mixture, allow that to be as it adds to the texture.
Add in the remaining ingredients except the oil and mix well. Check for salt and spice levels and adjust to suit your taste. You can add more or less of the chillies if you find the recipe too spicy.
Shape this mixture into small lemon size balls and flatten them a little between your palms. Dip these flat cutlets in the beaten egg and then followed by the bread crumbs.
Preheat a skillet on medium heat; place the cutlets a few at a time on the skillet, drizzle oil on them and roast them on medium heat until they are crisp and browned on both sides. Continue the same process with the remaining cutlets.
Serve the delicious spicy hot Mixed Vegetabels Cutlets along with chutney or a yogurt dip.
I hope you liked the recipe of Mixed Vegetable Cutlets and do try it out in your kitchen. Please do give your feedback in the comments below.