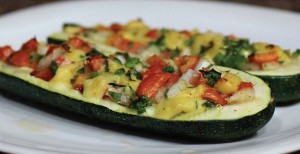 Ingredients
4 medium zucchini
1/2 tsp. salt, divided
1/4 tsp. freshly ground black pepper, divided
1 tbsp. extra-virgin olive oil
1 tbsp. unsalted butter
1 c. finely chopped onion
1/3 c. marinated (jarred) artichoke hearts, chopped
1/4 c. sun-dried tomatoes, chopped
1 tbsp. chopped fresh thyme
3 garlic cloves, minced
3 tbsp. dry white wine
1/2 c. panko
6 tbsp. grated Parmesan cheese, divided
1/4 c. chopped fresh flat-leaf parsley
3 tbsp. pine nuts, toasted
2 tbsp. chopped fresh basil
2 tsp. finely grated lemon rind
cooking spray or olive oil mister
Instructions
Preheat oven to 350°.
Cut zucchini in half lengthwise. Scoop out pulp, leaving a 1/4-inch-thick shell. Chop pulp and set aside. Place zucchini halves, cut sides up, on a baking sheet lined with parchment paper; sprinkle with 1/4 teaspoon salt and 1/8 teaspoon pepper.
Heat oil and butter in a large skillet over medium heat. Add zucchini pulp and onion. Saute for 5 minutes, or until softened. Add remaining salt and pepper, artichoke hearts, sun-dried tomatoes, thyme, and garlic; cook 45 seconds. Add wine and cook until liquid almost evaporates, about 2 minutes. Remove from heat.
In a large bowl, combine vegetable mixture, 1/4 c. of panko, 1/4 c. of Parmesan, parsley, pine nuts, basil, and lemon rind. Stir until combined. Divide mixture evenly into zucchini shells. Top with remaining panko and cheese. Spray tops of zucchini with cooking spray.
Bake at 350 degrees for 30 minutes. Turn on broiler and heat for an additional 5 minutes, or until breadcrumbs are golden brown.