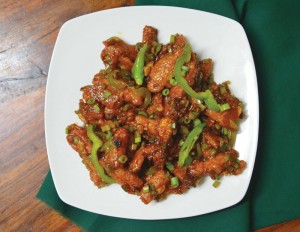 For Frying Baby Corn:
Baby Corn – 10 to 15 nos.
All purpose flour / Maida – 1/4 cup
Cornflour – 1/4 cup
Red chilly powder – 2 tsp.
Ginger garlic paste – 1 tbsp.
Salt to taste
Water to make the batter
Oil for frying
For the sauce:
Capsicums – 1 no.
Spring Onions – few
Green Chilies – 4 to 5 no.
Ginger – small piece
Garlic pods – 6 to 7 no.
Soya sauce – 1 tsp.
Red Chilly sauce – 1 tsp.
Tomato sauce – 2 tbsp.
Vinegar – 1 tsp.
Oil – 2 tbsp.
Method:
First cut the baby-corn diagonally into 4 pieces and set aside.
To prepare the batter, first take the all purpose flour, corn flour, red chilly powder, ginger and garlic paste in a bowl and make the medium thick batter adding salt.
Heat oil in a pan and dip the baby corn one by one in the batter until its well coated and deep fry them till golden brown in low-medium flame. Fry them in batches and remove them onto an absorbent paper.
For sauce preparation, first get set by chopping the spring onions and garlic finely. Chop the capsicums and green chilies lengthwise. Finally make a paste of ginger too.
Now heat oil in a deep bottomed pan, and in high flame, add garlic followed by ginger, capsicums, spring onions (reserving some for final garnish) and green chilies one after other. Do not overcook the veggies here as it may loose out the crunchiness.
Immediately add all the sauces here except the tomato sauce,  adding the fried baby corns and give them a good stir. Add the tomato sauce finally tossing all of them while garnishing them with chopped spring onions and serve Baby Corn Manchurian immediately.