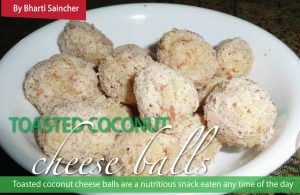 INGREDIENTS
• Ricotta cheese -500g
• Dry milk, powered, 1 ¾ cups
• ½ cup dried unsweetened coconut, toasted
• 2 tablespoons unsalted butter, melted ¾ cup sugar
• 4 green cardamoms, crushed seeds
• ½ cup unsalted crushed pistachio/almonds/cashew nuts
METHOD
• Preheat oven to 400˚F(200˚C) .
• Toast coconut until golden brown. Set aside.
• Make sure that no lumps in dry milk.
•  In a small bowl, whisk ricotta cheese until smooth and creamy and set aside.
• In a large heavy based saucepan, heat butter over medium heat. Stir in ricotta cheese, cook on low heat for about 12 minutes or until the cheese turns a shade darker.
• Add milk powder into it. When the mixture begins to thicken, add sugar and half of cardamom powder, stir frequently until sugar has dissolved.
• Continue to cook  and stir ricotta cheese on low heat until mixture leaves the sides of the pan and starts o release butter. Add toasted coconut, mix thoroughly and remove from heat.
• Cool slightly and form into balls. Place crushed pistachios, almonds or cashew nuts on waxed paper, roll the balls around to garnish.