Ingredients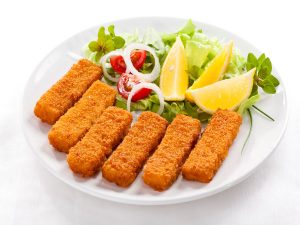 Corn kernels- 1 cup (boiled and mashed)
Milk- 1 cup
Potatoes- 2 (boiled and mashed)
Cheese- 2tbsp (grated)
All purpose flour- 2tbsp
Cornflour- 1tbsp
Green chillies- 2 (chopped)
Pepper powder- 1tsp
Cumin powder- 1tsp
Salt- as per taste
Coriander leaves- 2tbsp (finely chopped)
Water- ½ cup
Bread crumbs- ½ cup
Butter- 1tbsp
Oil- for deep frying
Method
Heat butter in a pan and add the mashed corn kernels, salt, milk and cook for about 6-7 minutes on medium flame till the milk is absorbed completely by the corn. • Switch off the flame and transfer the corn mixture into a mixing bowl. Let it cool down.
Add boiled and mashed potatoes, pepper powder, green chillies, cheese, coriander leaves and cumin powder to it.
Mix well with your hands and make a soft dough.
Make 10-12 fingers out of the mixture and refrigerate for 15 minutes.
Heat oil in a deep frying pan.
Make a batter of all purpose flour, cornflour, salt and water.
Spread the bread crumbs on a plate.
Take out the corn fingers out of the refrigerator and dip them one by one in the flour batter. Make sure all the sides are coated properly by the batter.
Roll them in the bread crumbs and coat each side well.
Now carefully fry them in the oil for 3-4 minutes on medium flame till all the sides turn golden brown.
Once done, transfer the fried corn fingers on a paper towel to drain the excess oil.
Once the oil is drained transfer them on a serving platter and serve.