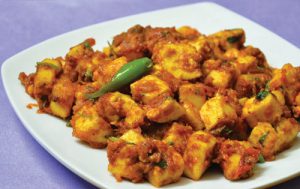 Ingredients:
Paneer cubes – 1 cup
Onion – 2 no.
Tomatoes – 2 no.
Green Chilies – 2 no.
Turmeric – 1/4 tsp.
Chilly powder – 1 tsp.
Coriander powder – 1/2 tsp.
Garam Masala – 1/2 tsp.
Coriander leaves – handful
Salt to taste
Oil – 1 tbsp.
Cooking Method:
Chop onions and tomatoes very finely. Slit the green chilies into half and keep this aside.
Chop the paneer (if it is a block) into small cubes and put it in a salted warm water.
Heat oil in a pan, adding onions and green chilies and cook them in low to medium flame for 2 minutes. Add chopped tomatoes too and cook this until oil leaves to the sides.
Once the tomatoes and onions are well combined, add salt, and all the spices like turmeric, chilly powder, coriander powder, garam masala and give it a stir keeping the flame low.
Finally add the paneer cubes (discarding the salted water) and chopped coriander leaves and keep it covered for around 2 minutes. Now serve the Paneer Fry with chapatis, pooris, rotis, or it goes well also as side dish to the main course.