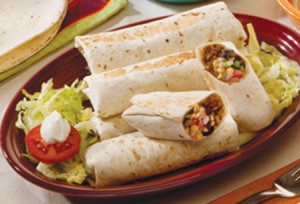 400g tofu or any other filling of your choice
1 tablespoon olive oil
Salt and pepper
1 (50g/2oz) onion, finely chopped
4 small (100g/4oz) tomatoes, diced
3 small green chillies, seeded and finely sliced
Half (100g/4oz) lettuce, sliced
100g/4oz frijoles (cooked black beans)
100g/4oz cooked rice
2 tablespoons fresh coriander, finely chopped
8 wholewheat tortillas
Sour cream or grated Monterey Jack cheese to taste (optional)
Method
Cook tofu with the olive oil in a pan and season with pepper. Remove and reserve for later.
In the same pan, sauté the onion, tomato and chillies for 4-5 minutes until the tomato becomes pulpy. Add the beans, rice and coriander, as well as salt and pepper. Give it a good stir.
To assemble the burritos, heat the tortillas slightly in a clean frying pan. Place some of the your filling (tofu) in the middle of each tortilla. Add the cooked rice and bean mixture on top, some fresh lettuce and finally, some sour cream or cheese, if using.
To seal the burritos, fold one side to ensure the contents do not fall out. Then roll the tortilla up, leaving only the top open.