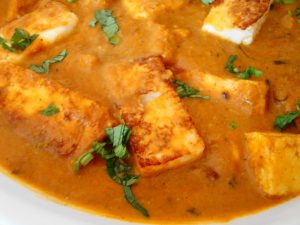 Ingredients:
250 gm Paneer
2 Onions (blanched and pureed)
2tbsp Butter
3 tbsp Tomato puree
1 tsp Ginger garlic paste
2 tbsp Cashew nut paste
2 tbsp Kashmiri chili powder
1 tsp Coriander powder
1 tsp Turmeric powder
1 tsp Garam masala
1 Cup Fresh cream
Procedure:
Cut Paneer in cubes and fry. Soak them in warm water so that they become soft.
Heat butter in a kadai and add the onion puree and sauté till they turn light brown in color. (This is also known as brown paste.)
Add Ginger garlic paste to the brown paste mixture and sauté for some time.
Then add the Kashmiri chili powder, coriander powder, cashew paste, tomato puree, turmeric powder, garam masala powder and salt and sauté for some time.
Add the soaked paneer cubes, little water and allow it to cook till the gravy becomes semi-solid.
Finally garnish it with fresh cream.
The delicious Paneer Butter Masala is ready to be served!