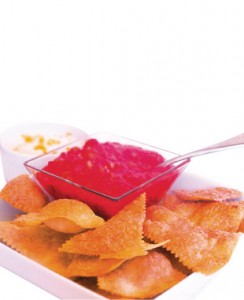 Cinnamon tortilla chips
These baked tortilla chips sweetened with sugar ans a touch of cinnamon are a sweet treat that kids and adults alike will love, and they take just a few minutes to prepare. Cinnamon tortilla chips are a great after-school snack for the kids along with a fresh fruit salsa.
Ingredients:
• 4 flour tortillas
• 1 tbsp cinnamon
• 2 tbsp margarine, melted
• 1 tbsp sugar
Preparation:
Slice the flour tortillas like a pizza into 6 slices. Drizzle with melted margarine and then sprinkle with cinnamon and sugar. Bake at 350 degrees for about ten minutes,
or until desired crispiness is reached.
Vegan "Hip Whip" Pie
Easy five minute low fat recipe
Prep Time: 5 minutes • Total Time: 5 minutes
Ingredients:
• 1 7.5 oz container "Hip Whip", vegan whipped cream, slightly thawed
• 2 6 oz individual serving soy yogurt, any flavor
• 1 readymade pie crust
Preparation:
Combine hip whip and yogurt until well mixed. Pour into readymade
pie crust. Freeze for at least two hours.
Remove from freezer 5-10 minutes before serving.
Enjoy your easy vegan pie!