After losing a loved one, Yogesh Bhatia and his mother, Sudarshan, gave a votive offering through a pledge to help unprivileged people in India. Sudarshan, a widow, took another blow when she lost her younger son, an Indian Army Helicopter pilot, in 2011, in a fatal crash. Her younger son's death became too pervasive and gnawing—like a severe internal injury that seemed not to heal. Then, it dawned on her that she couldn't live shackled in the dungeon of misery forever. It was time to heal a tragedy by turning it into massive charity work in India.
Thus, this charity work began to turn the tragedy into a case study of how a small initiative can turn big.
Cataract blindness affects approximately every poor old person in India, often because of a lack of access to quality eye care. Unfortunately, India has the highest number of blinds in the world. Cataract surgery can cost upward of $200, which is way beyond the means of an ordinary person whose monthly income is less than $200.
She and her elder son Yogesh, who lives in Vancouver, with the help of family in Canada and the US, initiated helping the poor people in India. For the past 11 years, they have used their personal funds and donations from friends to fund charity work in India. Sudarshan and her older son Yogesh have helped thousands of poor people in India. They organize a charity dinner in Vancouver and collect funds for the Gift of Sight and Gift of Vision Project.
And these funds are used to provide cataract surgeries for impoverished people in India under a project known as Gift a Sight through – Friends for Cause Foundation (FFCF) – established as a Not for Profit in 2014  in Vancouver.
Yogesh flies to India every year to carry out the project. He ensures that the process follows all medical guidelines – from picking out people on the streets to getting their vision tested and having the surgeries done on those who require it; it is all planned and executed under his guidance.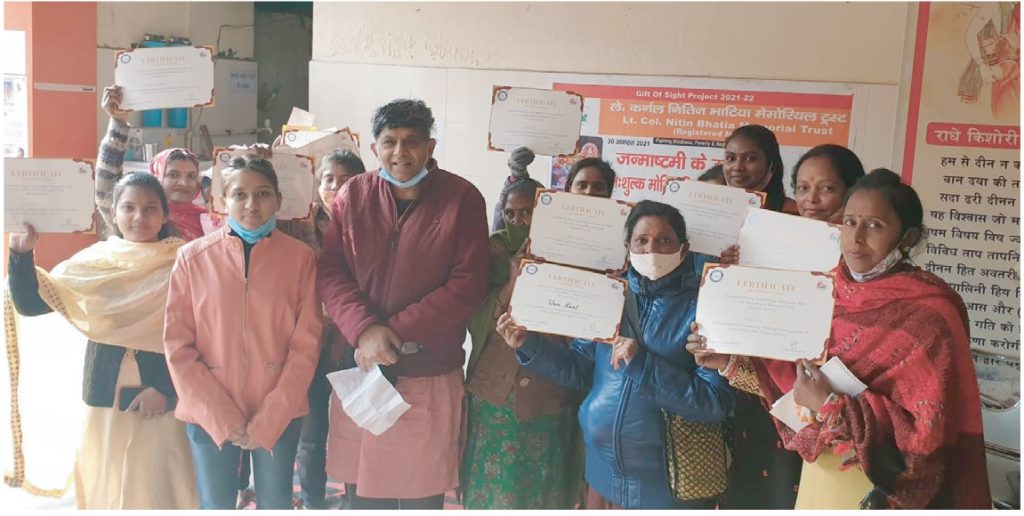 People with high financial needs are given priority, and they are provided with the necessary care as soon as possible. To date, 5000+ people have been provided with free cataract surgeries, and another 30000 + have been provided with eyeglasses in 500 mega eye camps in northern India. The camps are always held in rural India (Moga, Punjab to Varanasi UP) in North India is the belt, where he travels for 3 months to target the most deserving population.
Such a charity camp organized by a Canada-based family is an astonishing fact. It's amazing how this family takes this much dedication to help poor people in India and has built a massive network of volunteers to help them during their project execution.
Interestingly, family members go to India anonymously yearly to help their fellow countrymen. Last year, Yogesh and his elderly mother traveled over 7000 km in Indian villages to help people, to carry out their charity work. They work in remote parts away from public glare. It is not easy and only possible if one is truly dedicated to the cause. And around 1637 people were provided free cataract surgery last year. This year they plan to help 2100 people.
The Gift of Sight will soon become one of the most significant initiatives to remove cataract blindness in India by ordinary overseas Indians.
When Drishti asked Yogesh what lessons he had learned and would like to share. He says, "My mom and I have always thought about serving. This thought is so powerful and rebounds as happiness inside the soul," Yogesh said with profound happiness. "We should be conscientious, always appreciating humanity and caring for people living in difficult circumstances as we go through our journey. Volunteering and serving others earn great respect and blessings. It makes one self-reliant, leading the life one dreams. The value of doing a volunteering task without expecting any recognizability is itself a great virtue and blessing by the divine. As far as having a clear conscience, service to others creates internal respect and satisfaction within oneself. These are the best-recognized award anyone can receive, and I have named this award Internal Happiness!" happiness.