BY GARY THANDI
"From my upbringing and experiences that have influenced me, it has always been my desire and motivation to be in an industry or a sector where I could be a part of something that achieves the greater good."
Rajat was born and raised in Mumbai, India. "I was raised in a middle-class family that placed the most importance on family values and education" he explains. "My parents were from Punjab and moved to Mumbai in the 1970s. My father left Punjab, came to Mumbai, established his business, and excelled. That was a big motivation for me – to take the lead from him."
Rajat completed his Bachelor of Engineering degree in Mumbai but notes that he was always interested in pursuing business-oriented disciplines. So, he moved to San Francisco for his MBA, which he completed in 2002. After working in USA and post 9/11, he moved to Canada in 2005 and achieved his CPA designation. "I chose Canada because I wanted to be in a country that welcomed immigrants and offered opportunities to succeed". All those experiences have shaped me – my life and who I am – and that helps keep me grounded. As a first-generation immigrant to Canada, I have never forgotten my roots, starting in a small village to living in a suburb in Mumbai, then moving on to San Francisco, and finally, here in Canada. It has been a terrific journey."
Rajat along with his spouse and three daughters lived in Victoria, where he worked for the Ministry of Health. "I was involved in many projects related to the development of healthcare infrastructure in BC," he reveals. His first management job was with the Capital Regional District (CRD) in Victoria, where he became the head of the Finance department. A few significant projects he oversaw included a public-private sector collaboration on a 500-bed patient care center hospital project, supportive housing for homeless, complex care facilities for seniors, and projects focused on sustainability and climate change.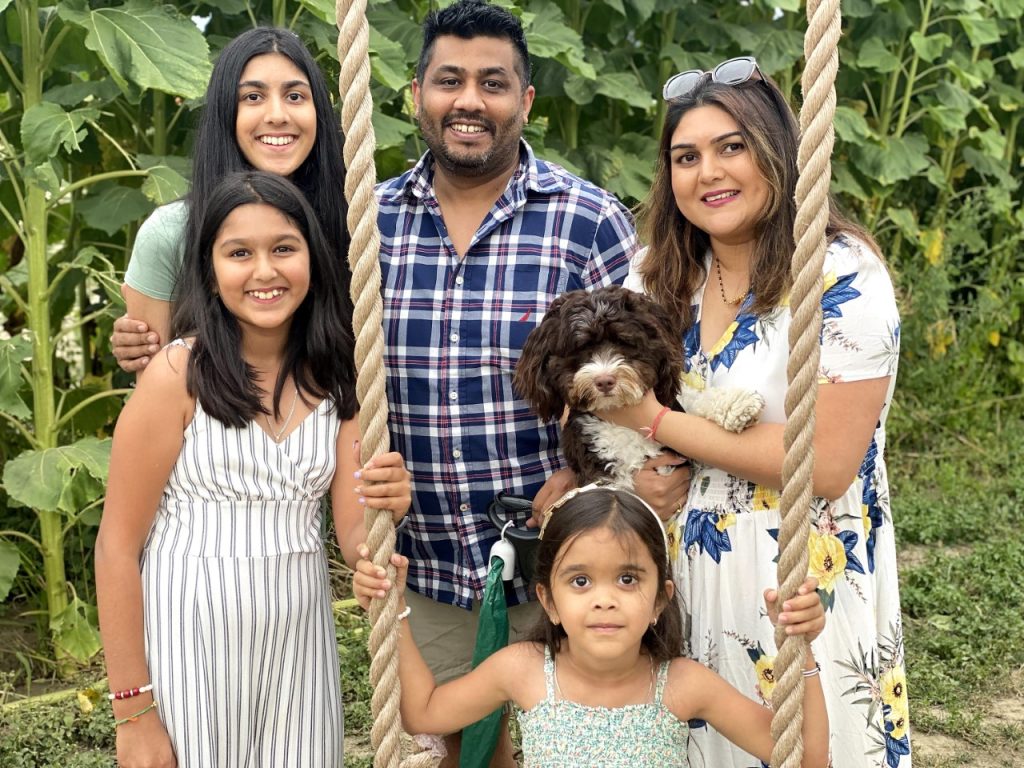 Rajat worked at the CRD for nearly ten years before moving to take on the role of CFO and General Manager of Corporate Services for the City of Abbotsford. In this role Rajat worked closely with the Council on several significant initiatives. "I worked on improving the city's financial health," he notes, "and one of the big accomplishments was completing a long-term master plan that provided a roadmap to support the growth in the City over the next 25 years. It was a great experience to lead that initiative and completed it before I left to pursue other opportunities – with MITACS, a national not for profit organization."
MITACS's "goal is to develop the next generation of researchers and innovators for Canada's knowledge- and innovation-based economy. Mitacs empowers Canadian innovation through effective partnerships that deliver solutions to our most pressing problems and drives economic growth and productivity.
"I initially started as the CFO for MITACS in 2021, and then was promoted to the Chief Operating Officer (COO) role. And what we do in our role at MITACS is create meaningful change to improve quality of life for all Canadians by providing a key link between the industry, academia, and world to drive innovation. So, within Canada and between Canada and 25 different countries and regions we work with, we support projects that promote innovation and build Canada's innovation capacity…That is the essence of MITACS: We power research and development, We connect the smartest minds, We enable, We build bridges."
Rajat is very excited about Mitacs future as there is a lot of great innovation happening worldwide. Areas such as quantum computing, artificial intelligence and cyber security are transforming the global
marketplace. "One strategy is to look for ways to support talent mobility, nationally and internationally," he explains. "To promote or provide opportunities for students to not only come to Canada to do ground-breaking research but also to have opportunities to go to partner countries and regions and see what is happening there enables us to keep moving the Canadian innovation ecosystem forward."
"Canada is a great country, very welcoming. There's no shortage of opportunities to prove yourself and to be successful. Just stay the course, keep working hard, and things will work out. As an Indian, I feel that every Indian should be proud that our community comes here and make a sizable difference not only for themselves but also to the overall Canadian economy… And that's the greater good that I always cherish."