BY SONIA WEST
Meet Manjit Lally and Nita Khabra. Two parallel paths converged to create this dynamic duo. They refer to themselves as "Soul Sisters." They are both strong, tenacious women who share many similarities. These Soul Sisters are a destined match. After 20 years of working for Envision Financial, they reevaluated what they felt was a priority in their lives.
Wanting to achieve a work-life balance, the sisters have embarked on a career path that is the perfect fit for them. They have started their own journey as Independent Mortgage Specialists under Axis Mortgage Corp.
Both Manjit and Nita worked for the credit union for 20 years leading teams as Branch Managers at locations primarily in Surrey and North Delta. Both women have been married for 22 years; their husbands are now friends. Both are mothers to a daughter and a son. Manjit is originally from Birmingham, and Nita is from Williams Lake. Their lives are mirror images of each other. While their paths are the same, they are unique and complement each other to fill in the gaps.
Manjit says about Nita, "I know if I need to talk something through, she is my person. Our universes are so parallel. However, we are quite different. She brings out the confident side of me."
Nita says about Manjit, "I tend to take on too much; Manj helps me to draw a line in the sand, keeping me grounded. She is the first person I turn to when I need that sound advice."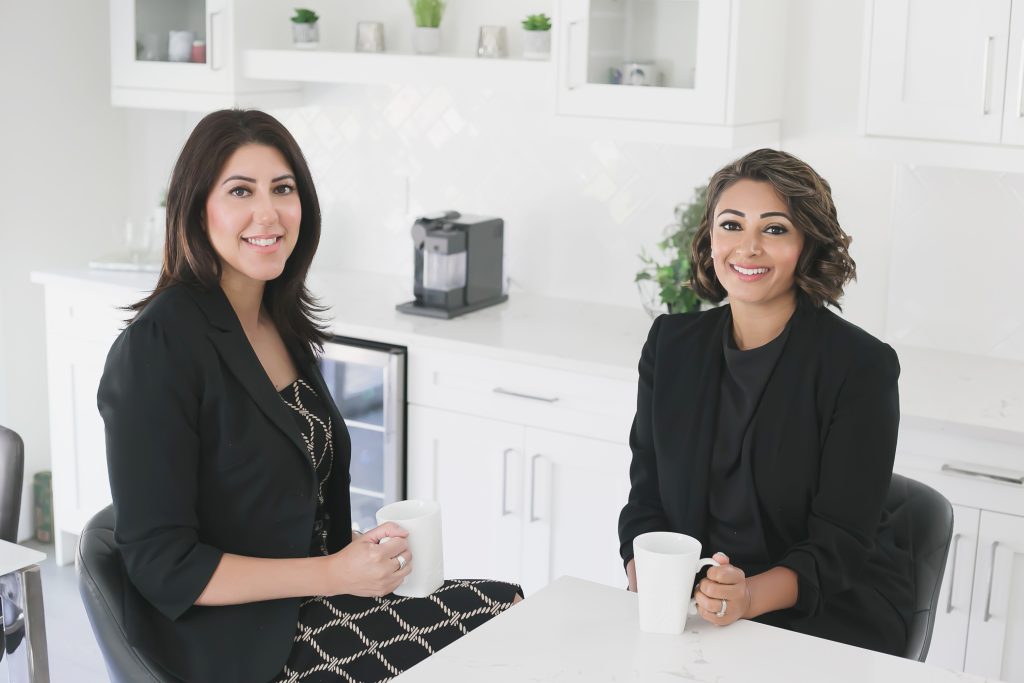 Manjit describes herself as loyal, dedicated, and efficient. These attributes, paired with her financial knowledge, are what her clients always benefit from. She feels that women are often discounted in the financial sector, "There's a lot of women that have excellent knowledge, but it is their husband who's looked at by most people. Being a woman, I'm able to empathize differently. We have an instinct. I love hanging out with my family; they fill my cup," she speaks fondly about her family and draws motivation from her mother. "She is a huge advocate for working with honesty and integrity, and she implements these values in her work. Not all mortgage brokers will have the best interest of their clients. I'm very ethical; there's always a solution."
Nita further discusses her choice to leave a career of 20-plus years to start        this new venture. "Women are trying to juggle being mothers, wives, and daughters- in-law, and also still trying to chase a career and bring in a paycheck. I had to self-reflect. Is this all that I want?" She says about her new career and still being there for her family, "I would always feel guilty, but you can do both. We took a big leap of faith. It's possible to do it as a woman to juggle all things in life and have a career and still feel accomplished." Nita describes herself as caring, strong, and loyal. She has had the same group of girlfriends for the last thirty years. "When I see someone in need, I just have to help them." She has had to deal with losses in her life. After her father's untimely death she realized "Life is too short; I want my friends and family to experience a good life."
Nita decided to transition to Mortgage Broker to allow for flexibility so she could be more present in her children's lives. Her children are involved in many activities including dance and basketball. She, herself, is an avid sports fan who encourages youth in sports, "It teaches them self-confidence."
She is a devout Peloton enthusiast, and her drive in sports is much like her tenacity in providing the best solutions for her clients and what they can expect from their Mortgage services. "We are not geographically restricted, and we do construction mortgages, bridge financing, investment properties, and work with first-time home buyers. We also qualify self-employed individuals. At times, their income is tied up, and we can advocate for them. For people with credit issues, we can talk to lenders, as the client empathy, we have trusted relationships with many different financial sources      over twenty years."
Nita and Manjit are well-known and trusted. There is a familiarity for their clients. They work as a team, a competitive advantage versus their competitors. They make sure they always take care of their clients. If one of them is away, the other takes over, ensuring the client's peace of mind.
Here's some advice from the soul sisters to a woman hesitant to take a chance on a new career: "As women, we always put everyone ahead of ourselves, practice self-care, take that leap of faith. Do what feeds your soul. You'll never know until you try."
Nita Khabra
604 512 1499
nkhabra@mortgagesbynita.ca
www.mortgagesbynita.ca
Manjit Lally
778 322 4307
Manjit@lallymortgagepro.ca
www.lallymortgagepro.ca