BY J.M.LEE
Jessy Sahota is a proud Surrey native born and raised in Newton. Jessy participated in numerous sports from a young age but excelled in Wrestling & Kabaddi.
Jessy has won 3 National Championships in Wrestling and was also a Scholarship Athlete at Simon Fraser University, where he completed a Bachelor's Degree in Criminology. Jessy graduated from SFU in 2015 and was immediately recruited to work for the Surrey School District RCMP Wrap Program.
In 2016, Jessy joined the Delta Police Department and had since been part of the Patrol Support Team, Violence Suppression Team, and currently serves as the Youth Liaison Constable. During this time, Jessy competed in the World Police & Fire Games in China (2019) and Holland (2022). Jessy excelled in both tournaments claiming double gold in the 125kg division for Freestyle and Greco-Roman Wrestling. Jessy is the only Indo-Canadian athlete to hold this record.
In addition to Wrestling, Jessy is a top internationally ranked Kabaddi Player, having represented Team Canada eight times; Jessy has won the prestigious Kabaddi World Cup while traveling to more than 20 countries competing in Wrestling and Kabaddi. Jessy has received enormous online support due to being the only athlete to compete at an international level in Kabaddi & Wrestling simultaneously.
In his free time, Jessy volunteers to coach two high school wrestling teams with his brother Paul Sahota, Shaan Randhawa, and others. The brothers have coached the Tamanawis Secondary team, their alma mater, becoming champion in four consecutive Provincial Championship tournaments.
It has become a very competitive team, one of the top-ranked teams in the country. What started as a recreational, fun program for kids in this neighborhood after school has become a fantastically high-level wrestling program.
Jessy has been a volunteer coach since 2009 and has over 4000 documented hours with the Yo-Bro Yo-Girl Youth Initiative, having coached over 250 youth in Wrestling and Kabaddi since 2009. Jessy has received numerous sports and community-related awards, but most recently, he was named as one of the top 40 Police officers Under 40 in the world by the (I.A.C.P.) International Association of Chiefs of Police. Jessy will be recognized for the award in Texas on October 17, along with 39 other officers from the USA, UK, UAE., India, and other countries.
Now a Delta Police officer, Jessy graduated from the school in 2010. Back in 2015, the Sahota brothers saw potential wrestlers at Tamanawis, "but more than that, we saw a need," Jessy said.
"Kids had a lot of idle time and were looking for something to fill that gap," he recalled. "When we opened the doors, many kids showed up with no athletic experience and just wanted to do something and be part of something. They were tough, gritty, and kept showing up."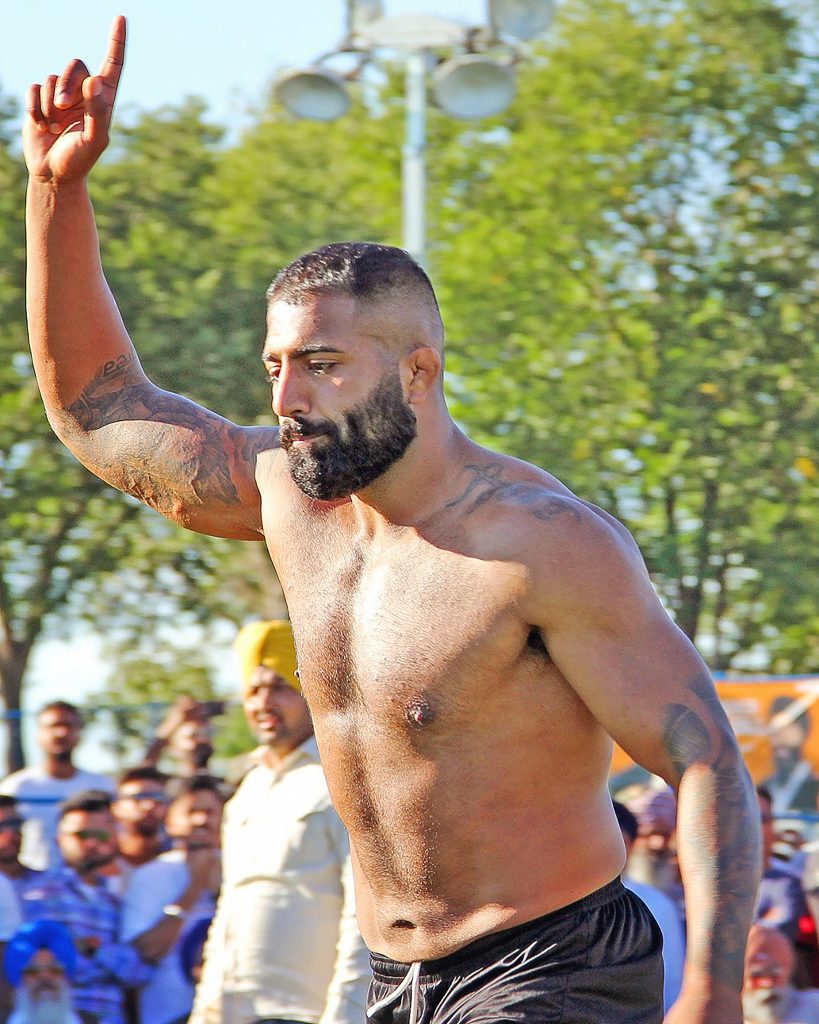 Along the way, they got backing and financial support from Yo Bro/Yo Girl Youth Initiative. Its executive director, Joe Calendino, helps empower at-risk youth with tools to avoid the perils of drugs, gangs, crime, and violence.
 Jessy's accomplishments are listed below:
 * International Chiefs of police top 40 under 40
 * City of Delta Top 20 young leaders (2022)
 * 3x National Canada Wrestling champion
 * World Police & Fire games 125kg heavyweight wrestling gold medalist in China 2018 & Holland 2022
 * Volunteer Head coach of Tamanawis Secondary Wrestling (reigning 3-time provincial champions) ** Best High School Wrestling team in Canada. Also coaches the North Delta Secondary Wrestling
Program
 * 13 years of volunteering with YO BRO YO GIRL youth initiative (non-profit charity) over 4000 documented volunteer hrs
 * Kabaddi world champ
 * 8 x Team Canada for Kabaddi
 * Surrey Guru Nanak Temple Community youth Initiative awardee
 * Outstanding achievements award by Dashmesh Sikh Committee on Vaisakhi parade
 * S.F.U. Scholarship Athlete
 * S.F.U. Bachelor's Degree in Criminology