Thousands of Sikhs travel to Pakistan from around the world every year for a pilgrimage to Gurdwara Janam Asthan Nankana Sahib, a site built where the founder of Sikhism Guru Nanak was believed to be born over 500 years ago and Gurdwara Sri Kartarpur Sahib, where Guru Nanak spent the last 18 years of his life. This spiritual journey has been popular with many Canadian Sikhs for its religious as well as cultural significance.
Lahore-born Bushra Ahsan, a Canadian entrepreneur and philanthropist, has been working towards making it accessible and affordable without the stress of planning each aspect of this wonderful journey through her venture Jiayaanu.
Bushra runs several logistics businesses in Canada and the USA. She has recently ventured into two new companies. One for student immigration services and the other very close to her heart which offers religious tourism specializing in Sikh Yatra in Pakistan. Bushra works closely with the Pakistan Consulate in Vancouver as she heads the Pakistan Canada Trade Association that has Consul General as its chief patron. She has a deep understanding of the social, economic and political situation in both countries. The travel packages offered by Jiayaanu not only provide affordable trips but also take away the stress of the visa application process, best hotels for a luxurious experience, travel and security provisions as well as entertainment and sightseeing.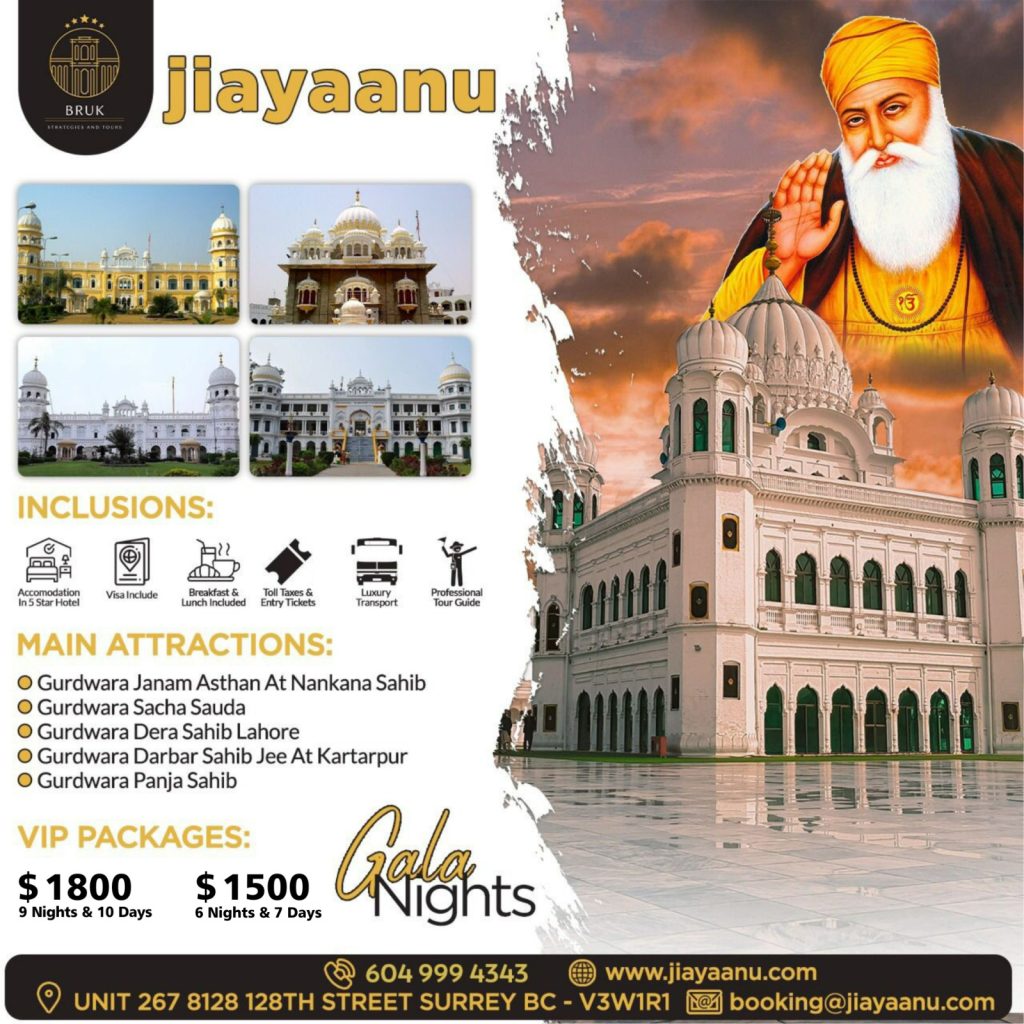 The latest packages for six to nine nights range from $1,500 to $1,800 per person and features trips to sites like the Gurdwara Janam Asthan at Nankana Sahib, Gurdwara Sacha Sauda, Gurdwara Dera Sahib Lahore, Gurdwara Darbar Sahib Jee at Kartarpur and Gurdwara Panja Sahib. The packages also include some meals and professional tour guide services as well as a quawwali night for the guests.
"I understand the feelings of Sikhs living abroad towards their faith and the desire to visit their holy places," says Bushra. "Providing that opportunity with an affordable, safe and exciting package makes me truly happy."
Next year, she is looking forward to offering a cultural immersion experience for young Sikh children from all around the world. That platform will provide top quality education and camp experience for those children (ages 18 and older).
For More information, please see here:  http://jiayaanu.com/