BY GARY THANDI
"I help Senior Executives of small and mid-sized organizations align their teams around a path forward. We facilitate strategic planning processes and deliver leadership development programs."
Ali Grovue has a degree in organizational behavior and experience as a small business Chief Operating Officer, non-profit Executive Director, Officer in the military, and business consultant and advisor. She currently works as a Senior Consultant with Ignite Management Services Ltd.
Ali grew up in Aldergrove and moved to Vancouver in 2001 to attend UBC's Sauder School of Business. She has lived in the city ever since. "I picked a business degree thinking it was a marketable degree, but I didn't have a clear direction or clear career path back then," she advises. "Very early on after graduating, I decided I wanted to be a consultant, even though back then, frankly, I didn't even know what that meant. I was just drawn to the independence of it, wanting to be in the heart of things, to solve problems."
Ali started down her career path through some initial business communication contract work and received a short-term contract with a Vancouver cleantech company. "I ended up moving up in this company and ultimately stayed for several years," she reveals, then moved next to organizational development consulting. "It was not necessarily what I had planned, but that was what they needed—helping small organizations get their business operations in place." Opportunities and challenges continued to present themselves, and Ali next found herself taking on an Executive Director role with a non-profit agency.
Aligned with that organization's values, Ali encountered considerable challenges within the sector and limited growth potential, so after her one-year contract, she decided to move onto different opportunities. "So, this was another opportunity to step back and ask myself, 'okay, I keep wanting to do consulting work, but then I go and do something else. So this time, I am going to do it'." She set up her own company, investing time and energy in creating a logo, website, and strategy in the future. She worked with several small start-ups and non-profits. "Even then, I still didn't quite know what a consultant truly was, but I was moving closer to what I would ultimately become."
While many of Ali's career choices brought her closer to what she ultimately set out to become—a consultant—her next career choice seemed to come somewhat out of nowhere. "I joined the Canadian Navy," she enthuses. "I then ended up going away for multiple full-time contracts." Ali reveals that exploring opportunities in intelligence work had been a dream for her, and she decided that she wanted to live life without regrets—so she put her consulting work on hold to pursue this dream. Ultimately, "being in the Navy made it difficult to establish consulting contracts," she acknowledges. "So, I eventually decided to focus back fully on consulting, and that is when I joined Ignite Management Services Ltd."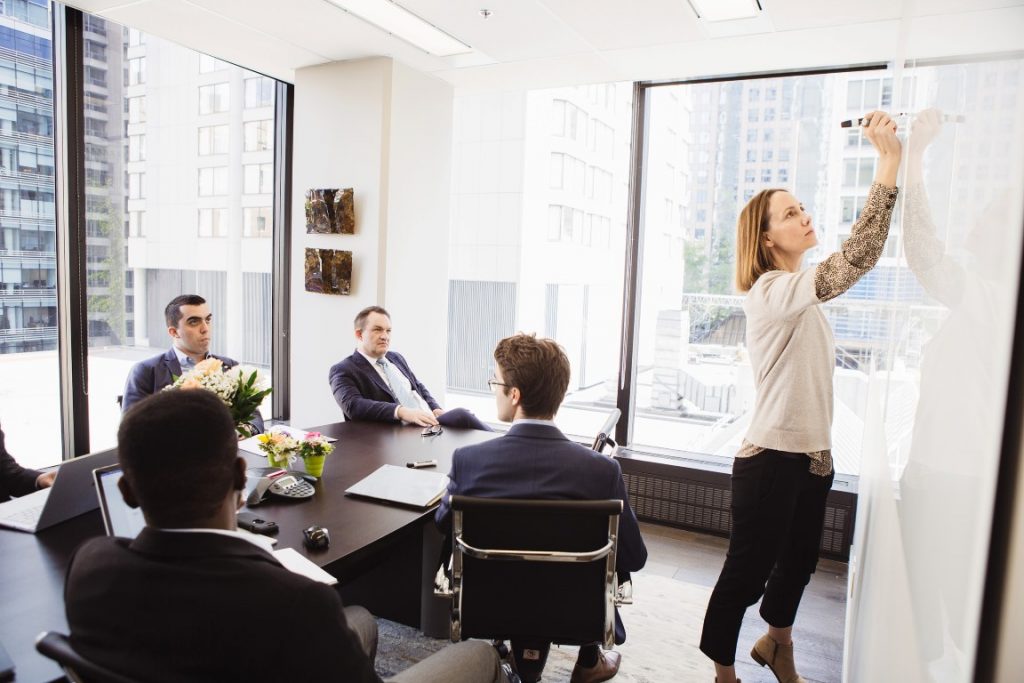 "I spend a lot of time with people," Ali explains. "My day is a mix of spending time with my team in internal meetings, on planning client engagements, and other business-related conversations. And a great deal of time is spent with clients. We are very client-facing. We are facilitators and facilitate group sessions, strategy sessions, one-on-one discovery conversations. And the in-between hours are spent trying to solve problems or design processes for clients. To think through what the next steps are for the client, to facilitate the conversations that our clients and their teams need to have to make decisions and move forward."
According to Ignite Management Services Ltd.'s website, the firm's "strategic planning process and leadership development programs will help you clarify your vision, align your team, develop a roadmap for change, and create the conditions for successful strategy execution." Visit ignitemanagement.ca to learn more about Ali and Ignite Management Services Ltd. Team.
Ali's words of advice to DRISTHI readers:
"I wish people would listen to themselves more, think about 'what do I want? What is important to me in my life?' To shake off the expectations of 'this is what I am supposed to do, this is what I am supposed to want.' It is not an easy path, but it is the only path to real joy and happiness in life. To get in touch with yourself—and learn to listen to your gut feeling."