Jasmean was hired in the company's infancy as its first employee in 2011. She started as Manager of Operations, where she juggled a diverse workload, including analyzing acquisitions, coordinating various aspects of development, and managing project financing, while simultaneously handling the company's day-to-day operations.
As EDGAR grew and shifted its strategy to purpose-built rental apartments in 2012, Jasmean gained invaluable rezoning and development management experience. She was a critical member of the development team for EDGAR's award-winning purpose-built rental project in Vancouver, named The Duke. Highly involved since its acquisition in 2012 until its completion in 2018, she helped lead the project through the rezoning process.
To date, The Duke has been nominated for several industry awards. It has won 10 of them, including the Urban Development Institute (UDI) Award for Excellence in Market Rental, and two Georgies, for Best Multi-Family Mid/High Rise Development and the Provincial Award for Excellence in Housing Affordability.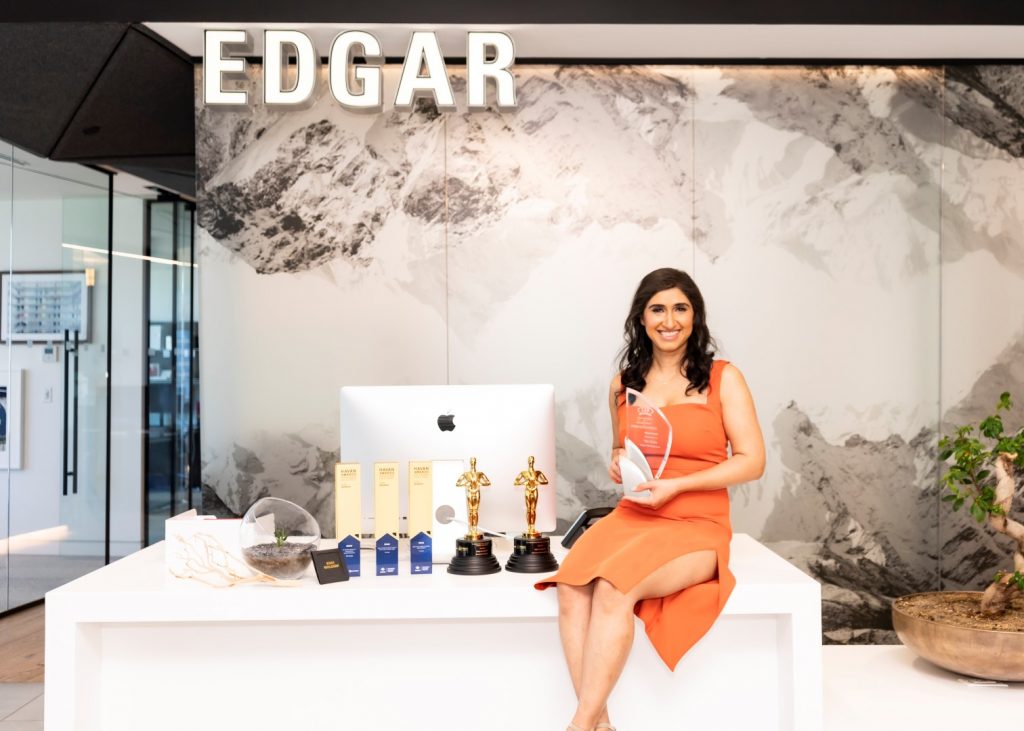 EDGAR now has 15 staff across Vancouver and Edmonton. "I've been fortunate to be surrounded by such a synergistic team who allows me to leverage and hone my strengths while flexing my curiosity muscles," says Jasmean.
Extensively engaged in the real estate industry and community, Jasmean has held many boards and volunteer positions. As a passionate advocate for women in business, she was a vital member of the executive committee of Commercial Real Estate Women (CREW) Vancouver for four years. She was selected to be the organization's 2017 President.
CREW Vancouver is the local chapter of the broader international CREW Network, a non-profit with over 12,000 members globally in more than 75 markets. Throughout Jasmean's involvement, through collaboration with fellow board members and volunteers, the organization expanded by increasing its membership base, reach, and sponsorship support. Today, CREW continues to be a leading force in advancing women's achievements and careers in the real estate industry. Jasmean's vision was to change the perception of CREW Vancouver from a social club to a respectable business network known for its members, sponsors, volunteers, mentorship program, and events. Throughout her term as President of CREW Vancouver, Jasmean also devoted time to mentor young women in their pursuit of personal and professional advancement, which she continues to this day.
Jasmean is active in the community, serving on the Board of Variance for the City of Vancouver for nearly three years. Currently, she sits on the board for the Vancouver Canucks Alumni Association's 50th Season Lunch.
Her success has resulted in her representing Vancouver and EDGAR on a national real estate panel, which aired live on the CBC News Network in 2017. In 2019, she won a Business in Vancouver Top Forty Under 40 Award, and in 2016, she was featured as one of Real Estate Professional Magazine's 100 Elite Women in Real Estate.
Jasmean credits her work ethic to her upbringing, growing up in the Lower Mainland with four siblings in a busy household, and witnessing her parents work tirelessly. These same core values have been instilled in her. However, is that it's not all work without any play. Grateful to have traveled to numerous destinations around the world, Jasmean counts Brazil, Vietnam, Iceland, and France as only a few of her favourites.
Jasmean is a determined, results-focused leader who thrives in an entrepreneurial environment, one that EDGAR imbues. She has distinguished herself with a strong dedication to giving back in ways that enhance her industry and community.