With infection rates rising rapidly around the world, countries are scrambling to contain the spread, to treat those impacted, and ultimately, to discover methods of preventing COVID-19.
SaNOtize Research and Development Corporation, a biotech company based in Vancouver, is one of the agencies at the forefront of the efforts to prevent and treat this illness. This past May, SaNOtize announced that enrollment of its first participant in a multi-center Phase II trial of its patented Nitric Oxide Releasing Solution (NORS) for the prevention and early treatment of COVID-19. Recent laboratory tests conducted by the Institute for Antiviral Research at Utah State University confirm that within two minutes, SaNOtize's NORS resulted in the rendering inactive of more than 99.9% of SARs-CoV-2, the virus that causes COVID-19.
Dr. Gilly Regev is CEO and co-founder of SaNOtize. Born and raised in Israel, Dr. Regev has her Ph.D. in Biochemistry from the Hebrew University of Jerusalem and 25 years of experience within biochemistry, analytic chemistry, and microbiology fields. She began her post-doctoral work in Vancouver and decided that she wished to promote and address public health issues that directly benefit communities rather than remain solely within the academic field.
Dr. Regev met her business partner, Dr. Chris Miller, in 2008. She shared that Dr. Miller is a pioneer in work around Nitric Oxide, and he had been researching it for many years when they met. Such work includes the use of Nitric Oxide and inhalation devices for 'blue babies' – newborns with constricted blood vessels – to produce needed oxygenated blood. Dr. Miller was looking for a biochemist to find ways to create NO and have it administered in different methods beyond a canister. "Our partnership started with me asking him, 'Okay, tell me everything about Nitric Oxide'."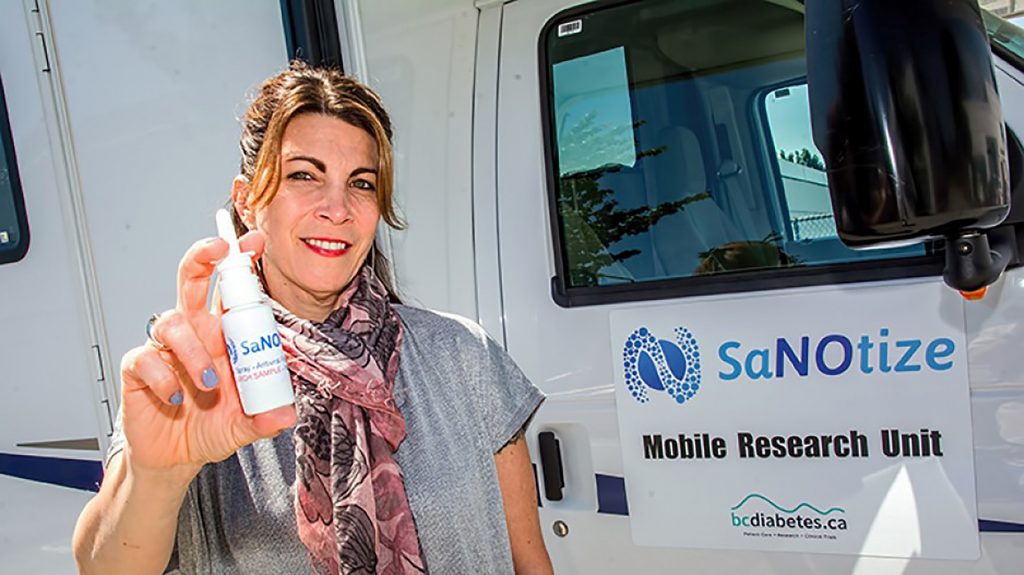 "We are still learning every day. For such a simple molecule – a combination of Nitrogen and Oxygen – it is  involved in so many complex things in our bodies.  And it is produced by almost every cell in our body. It's a fascinating molecule. It helps relax blood vessels and increases blood flow, but it is also involved in wound healing, and on top of that, it kills bacteria and viruses on contact."
Before the efforts around COVID-19, SaNOtize worked on ways to utilize its Nitric Oxide Releasing Solution to prevent microbial infections, such as diseases of the respiratory system and the skin. One of the company's objectives in this regard was to introduce an alternative to antibiotic treatment, thus reducing reliance on antibiotics – and reserving their use for more severe infections, which would slow down the development of drug-resistant infections. This innovative approach included treatment delivered topically, as opposed to traditional methods of Nitric Oxide delivered via canisters. "It's a gas molecule," Dr. Regev explains, "we needed to figure out how to deliver it topically. So, we figured out ways to deliver it by a liquid that releases the gas." Nitric Oxide is safely tolerated by the human body – in fact, the NO that is produced is identical to NO that is produced naturally by the body. SaNOtize has been granted US and EU patents and has been testing treatments delivered through gargle solutions, nasal spray, and nasal lavage.
"The formulation can be effective in treating a whole range of conditions," Dr. Regev notes. "From treating acne with a cream, athlete's foot in a foot bath, diabetic foot ulcers, flu prevention, nail fungus, strep throat, there is a whole range of conditions we could focus on. There is so much we can do, but of course needed to focus initially on one condition." SaNOtize conducted a trial for athlete's foot, and "we showed we could kill the fungus on foot within 3 days."
The COVID-19 pandemic resulted in SaNOtize shifting its focus for the time away from their ongoing other clinical trials. "Everything was paused with COVID-19, and we always thought it could be used as flu prevention, so we shifted our focus," Dr. Regev advises.
According to its website, "SaNOtize believes that by reducing the risk of infection, daily use of NORS can help facilitate the gradual resumption of social and economic activity while we wait for a vaccine to be developed." The NORS is delivered by a nasal spray, and the Nitric Oxide finds its way to the upper respiratory tract. In an interview with The Globe and Mail, Dr. Regev's colleague and SaNOtize's Chief Science Officer, Dr. Miller, described it merely as a "hand sanitizer for the nose."
"We are looking at the use of nasal spray as early treatment or prevention. It is well tolerated," Dr. Regev notes. "We are hoping to complete the trials within a few months. If the results are as we expect, positive, then we can move onto the next phase of trials.
To learn more about SaNOtize visit the website at Sanotize.com