Anjali Dhaliwal has already accomplished much in her eighteen years. She has started a local business: Nutri Lip Balms, to raise awareness and funds for climate change. She is an in-demand presenter, speaking at various schools, conferences, radio programs, and podcasts. And Anjali is already an accomplished artist.
Anjali attends the highly-competitive leadership program, Inter-A, offered at her high school. Anjali also initiated the foundation of the non-profit organization, Youth Helping Youth (Youthelpingyouth.ca). Through YHY, she began and supported several community events and fundraisers, as well as advocated for causes that are near and dear for our youth.
Anjali co-founded a local business called Nutri Lip Balms, in which she is the Public Relations and Marketing Officer. Nutri Lip Balm is an organic, 100% vegan, eco-friendly, handmade lip balm. Ten percent of the profits from sales go towards the planting of new trees in Metro Vancouver BC. To this day, sales of Nutri Lip Balm have helped fund the planting of over 500 trees in our region. "I chose to develop this kind of company since the cause and problem of climate change was apparent," Anjali advises. "Since the product connects the value of being organic, planting trees within our community effectively correlated the company's values with the positive impact my team and I wanted to enforce."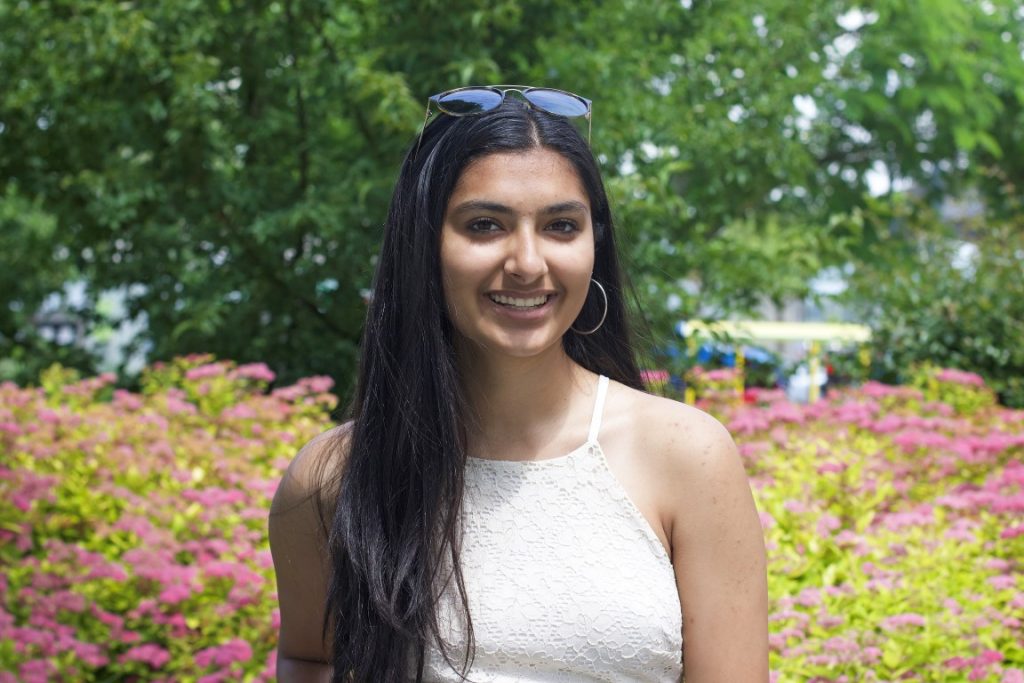 Anjali's business acumen has also led to some significant accolades, including winning first place at one of the largest and most competitive school business case competitions in North America. The MiniEntreprize Case Competition is one of North America's most challenging and largest case competitions. Anjali and her team entered the match with a proposal to expand Amazon's offline market. "Amazon has a strong online presence but struggles within the offline market realm," she explains. "My teams' solution was to have Amazon Go stores franchised to open room for more opportunity. Franchising would take care of all the management stressors and provide job opportunities and advancements to current amazon staff. Not only did My team win, taking home $1000, but I was one of five students chosen in over 300 delegates to receive a $500 scholarship. I am so honored that I had the opportunity to attend as a delegate and a supportive team to enjoy the victory with!"
Besides business, leadership, the environment, and addressing youth social causes, Anjali has a great passion for music. She started studying voice when she was seven years old, and has studied classical, pop, musical, and opera. She has been taking high level voice lessons for nine years and has performed at several community events, fundraisers, and schools. "Growing up, I had a lot of different musical influences that I looked up to," she recalls. "For one was the powerful and deep voices of Demi Lovato and Adele. I also enjoyed learning Arianna Grande's numerous runs and riffs. Broadway stars, especially Denee Benton singing 'No One Else,' were all inspirations. They taught me what I could do with my voice and how to tailor that to my style."
Personal positive influences also include her parents, community leaders in Surrey, Michelle Obama, Emma Stone, and Malala. "I just feel so lucky and privileged to be alive at the same time as these empowering female leaders, breathing the same air, and walking on the same planet as me. It's humbling."
"My purpose is to serve vulnerable and minority communities within Surrey," Anjali advises. "I will work towards my goal by procuring a bachelor's degree in Business Administration at the Simon Fraser University. With my degree, I plan to work with the City Of Surrey. I hope to further strengthen the city's programs for at-risk adolescence, revamp social platforms to reach more teens, and assist youth-led initiatives."
Anjali's accomplishments have not gone unnoticed, as she was acknowledged with a Top 25 Under 25 Award from the Surrey Board of Trade in 2019.