Written by: Shannon Mann & Parvir Gill
Pink is the color of universal love, of oneself, and of others. That's precisely the color of Pink Orchid Studio. We do our job with love.

Based in Vancouver, British Columbia, we are a group of talented and seasoned hair and makeup artists providing makeup art, hair design, and stylists services to a countless number of clients on the most important days of their lives. Harp and I are the founders, best friends, first cousins, and passionate about everything beauty related. We have been providing the ultimate beauty experience through hair, makeup and styling services to Vancouver's elite and discerning international clients, from Bollywood Royalty, bridal clients locally and destination brides from around the world.

We have travelled to Bahamas, Mexico, Hawaii, New York, and Sweden to help style bridal clients on their big day. We have now expanded our services to include a Team of Bridal Stylists, a product line, and also a Beauty Education Academy to teach the next generation the art of South Asian bridal styling. Pink Orchid Studio started as a passion project. We were both were sought after by friends and family as hair and makeup stylists on the most important events in their lives. After experiencing some disappointment finding stylists to execute our vision on a professional level when we got married, we realized that there was an untapped market in the local beauty industry.

Over time our business grew to become one of the leaders in South Asian Bridal services, sought after by bridal clients locally in BC and worldwide for destination clients. The biggest lesson we've learned and a piece of advice that we'd like to give is: Innovate, work relentlessly, and stay focused on your vision. There is something beautiful and unique about everyone, find your strengths and capitalize on that. The worst disservice you can do is try to copy someone else. Be you! Also, stay focused, keep hustling until you reach your goal. There are so many people along the way that will question you, and you may sometimes even doubt yourself. But you need to believe in you, if you got that down, you can move mountains. Something that sets us apart from other make-up artists are details! We cater to each client as an individual and provide them with the best service and experience possible. When it comes down to your big day, you want to remember every moment. By creating an experience and helping you formulate that experience into a memory, Pink Orchid Studio enhances the whole bridal experience. We Provide professional makeup application, hair styling, and stylist/dressing services to help clients achieve their dream look.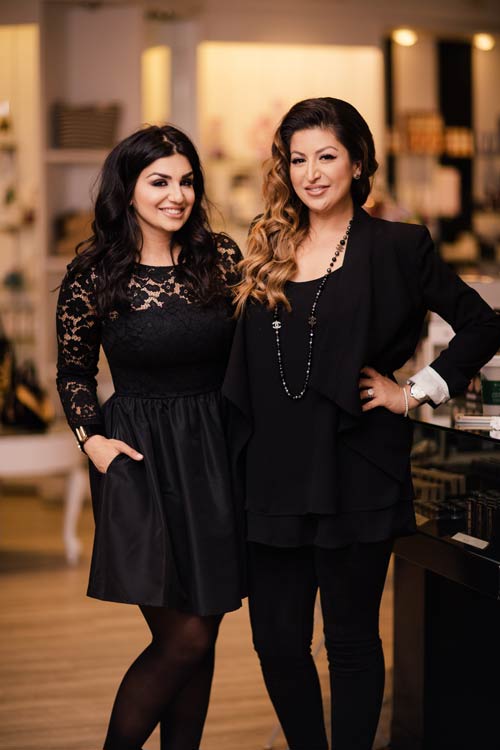 Photo credits: Fine Pixel Studios & Vancity Vogue
Pink Orchid Studio is well-deserving of many awards and accolades. Our passion in Hair and Makeup Artistry has been recognized by several organizations across Canada such as the Professional BC Wedding Awards and The Wedding Industry Expert Awards naming us the "Most Popular Hair and Makeup Service" in Canada in 2014.  We are prepared, we have backups for backups, we arrive fully stocked with anything we could possibly need on that day. Every styling tool, hair pin, hair padding, double sided tape, antihistamine in case of allergic reaction, pain killers for headaches, extra earring backings, and a sewing kit. We have spent an immense amount of effort to be prepared for anything. I can firmly say that we haven't had anything too challenging happen that we couldn't fix. Ripped zippers, we've seen it and fixed it all. I once had my husband deliver my own jewelry to an appointment where our Bride's set broke beyond repair. We are prepared to do whatever it takes to make her day perfect.

Our training Academy was established in 2012 and has expanded across Canada with classes in Vancouver BC, Toronto ON, and quickly becoming the largest training academy in Canada, partnering with elite brands such as Makeup Forever and Redken 5th Ave New York. Anyone who has participated in the Pink Orchid Studio Academy: Makeup Art and Hair Design Certification Program, knows that we lay it all out on the table. There are no secrets when it comes to hair, makeup and bridal styling, but there are techniques. And this is what we teach our students thoroughly in a comfortable environment.
Some tips and advice that we would like to give couples who are in the midst of planning their big day is to be prepared! Hire professionals and experts who have been working in the field to help you execute your special day flawlessly. Whether it is an event planner, photographer or décor specialist – they are all experts for a reason. Take the stress out of your wedding equation and enjoy the moment—your moment. You have spent countless hours putting together your big event, traveled continents to select the perfect outfit and matching jewelry, but the most important detail remains – how will you – the center of it all – put your look together?  When it comes down to hair and makeup we've got you covered. Our expertise is your peace of mind. At Pink Orchid Studio, international clients have trusted us from all cultural backgrounds to help put their best face forward. No detail will go unchecked, your outfit will be dressed and pinned professionally, your hair and makeup will last, and you can concentrate on celebrating your day feeling your best. Customer satisfaction is our No. 1 priority and also having years of experience under our belt doesn't hurt. We cater to each of our clients individually. We listen intently to our client's vision for their special day to ensure work of quality. Communication is everything, if our bride is feeling stressed, we ask why and how we can help. It's more about keeping her cool and collected. We execute our work with precision, character and professionalism. Lastly, some words that we live by when it comes to work, family and ourselves:
Shannon: "Whether you think you can or you can't, you're right."
Harp: "I'll aim for the stars and worry about the details later."