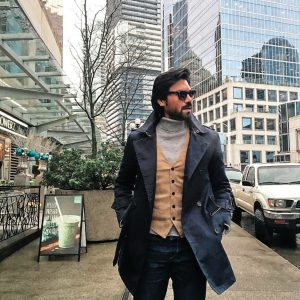 Gaurav Chopraa is an accomplished actor in both Bollywood and Hollywood. From his role in Blood Diamond to his eclectic Broadway performances, this style icon has captured the hearts of his audience and kept them coming back for more. Recently, Gaurav carried his formal look throughout his leading role in the hit series Uttran featured on Colors TV where he left a profound mark on the industry with his refined styling of suits & jackets.
Gaurav is the epitome of style. He is considered one of India's top style Icons and his extremely keen attention to detail sets him apart from the rest. He has completed his fashion training from NIFT and portrayed his sense of style and fashion in all aspects of his life, whether onscreen or off. Recently, the Hindustan Times gave him the award for Most Stylish Television Actor.
Having a perfect mix of boyish charm and mystery, he can pull off any role with élan. Best known for his role in RaghuvendraPratapRathore, he is one actor who kept the spunk and charisma of the character intact for five years. He can make any character look good, and he is always ready to try something new.
A drop-dead gorgeous guy with tremendous charisma, he is indeed a style icon in anything he wears, from tuxedos to Jodhpuri breeches and chappals to ankle boots. He exudes poise and has just mastered the art of sophistication.
He is also known for his sophisticated way of speaking, and a gifted dancer. Between his magic feet and witty and charming personality, he's always been able to capture the audience's attention keeping them intrigued.
In one of his next projects, he will be recreating the Great Gatsby look with a 1950's twist. He is currently playing the role of a mentor in SaddaHaq, which comes on Channel V India and was also part of a TV series on Star Plus during the prime time slot, as the lead, called Gulmohar Grand, which also encompassed his style sense. The latest additions to his work include the role of Akash on DoliArmanoKi and his comeback into Savdhaan India.
What are the milestones of your career?
Zaranachkedikha is a show I can never forget. The competition was real, the pain was real, and the happiness was real. The audience has been incredibly generous and loving. The Industry has been very accepting. There is some power above that is happy with me, who continues to help me find good work. I hope this stream of luck continues and most importantly, the love from the audience continues.
Gulmohar grand just wrapped up. How was the experience? Do you miss AnirudhDatt?
Gulmohar is a new landmark on television. A Lot of people don't know that we were the no one watched the show online. That's a huge achievement, an apt show for the future. Anirudh was a very real hero. A true human being. And heroes should be like him: capable of making mistakes like everyone else. Anirudhdutt will always remain to me as something that I played from the heart.
Blood diamond to television icon of the year. Your graph has just risen; success doesn't stay with everyone this long. Do you feel blessed?
The TV journey seems there is progression, and there are regular ups and downs but this constant praise and satisfaction along the lines, that's heartening. Of course, I am blessed and lucky, and I can only thank the power above and the audience.
Twitter has really caught on to the ASR lingo, how do you like it?
The hariyanvi lingo idea was mine; the scripts did not come like that. Scripts were written with normal conversational hindi and then I would have to translate and add the accent and change the lingo. But it was a very well-written and it became easy for me to add extra things and to spice it up more. And the surprising thing is that episode after episode the audience—these smart young guys and kids—would pick up the exact line that was added on to spice up the scene and talk about that line every day.
Are you a perfectionist? With the way things work in this industry, do you consider your idealism a boon or a bane?
It is both. But the thing is, the show must be good, but without trespassing on somebody else's line of work. Teamwork is the name of the game. Everyone has an input, including me. And knowing myself, you know that if I were to say it a certain way, it would sound a little nicer, a little more appealing, so why not go for it? I get great roles, and they are beautifully written, and to be honest, most of the credit that comes my way is actually for the writers and the creative people involved in the show. There is, however, time restriction on TV, and unfortunately, a lot of people working for television think it's a smaller medium. And I have a problem with that. There is nothing big or small about anything. You have to be perfect and put in your best for every moment of your presence on screen. So it's a mixed bag. You sometimes ruffle some feathers as people want to finish work while you are trying to add on to the scene to make the show better. But I always get along with my colleagues, and they are generous. They allow me to have these little luxuries if I may say so, and I am quite thankful for that.
Lastly, all this would not have been possible without the audience who watched the show religiously. So once again, heartfelt thanks to all of you, my loyal fans out there.