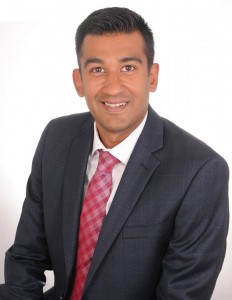 Every issue DRISHTI Magazine brings you profiles on South Asians who are excelling in their fields – whether that field is science, arts, medicine, law, education or business – we want to showcase the best and brightest our community has to offer.
Bob Sanghera certainly fits the criteria for best and brightest.  Earlier this year he was appointed Managing Partner of Smythe Ratcliffe LLP, one of the largest mid-sized accounting firms in Vancouver. In addition to his new role, Bob is the leader of the Firm's Tax Practice and will continue to serve as a business and tax advisor to his clients in a variety of areas including estate and succession planning, corporate reorganizations and the purchase and sale of businesses.
Born and raised in the small town of Lillooet, BC, by his father, well-known community activist and teacher Balwant Sanghera, and mother Baldev, a homemaker, Bob and his older brother Barinder, a lawyer, learned from an early age the value of hard work. "We saw our parents work hard and sacrifice to make a life for us," he explains," and that made us want to be self-sufficient and stand on our own two feet." Bob moved to the Lower Mainland as a teenager and completed his last two years of high school in Richmond. He graduated from UBC with a Bachelor of Commerce degree, eventually becoming a Chartered Professional Accountant (CPA) in 2002.
After spending four years with a large national accounting firm, Bob joined Smythe Ratcliffe in 2003 and became a Tax Partner in 2009. In 2012, Bob was awarded the prestigious Institute of Chartered Accountants of British Columbia (ICABC) Early Achievement Award, recognizing CPAs who have distinguished themselves within ten years of receiving their designation.
Bob is a strong believer in giving back to the community. Among his many community endeavors is his involvement with BC Children's Hospital Night of Miracles Gala, which raises money for much-needed resources at BC Children's Hospital. He also enjoys being a mentor to other young professionals that are considering a career in business or accounting. As a child of hardworking immigrants who built a life for themselves and their children, Bob has learned the value of hard work. As much as Bob appreciates his parent's influence, he notes that early on he didn't always have mentors who could teach him about specific subjects like business. "I was lucky enough to eventually come across some great mentors, and because of this I see the value in being in a mentorship role for others".
His parent's emphasis on family has also influenced Bob considerably. As a father of two girls, Nisha, 10, and Saiya, 7, much of his and his wife Raj's free time is spent with his daughters. "I put in my fair share of hours at work, but I also make sure to spend time with family and attend my daughter's activities." He notes work ethic is important, but so too is work-life balance and making time for family.
When asked what advice he can give to DRISHTI readers, Bob speaks honestly about a situation he has seen or heard of all too often. "A family decides to start a business. Maybe it's between siblings, and maybe the kids get involved in the business too. At some point there may be differences of opinion or some other form of conflict. Often due to this conflict, the business will face challenges, or even worse, the families become divided and relationships are damaged or broken." Bob adds that many families decide not to seek out professional advice or legal documentation, but in the long run it ends up costing them more.  Bob believes that one of the biggest challenges is a lack of proper estate and business succession planning as there are many intergenerational businesses, particularly in the South Asian community.
Smythe Ratcliffe LLP has been providing assurance, tax, business advisory and insolvency services for private and public companies, family-owned businesses and not-for-profit clients for over 35 years. The Firm consists of a diverse team of professionals – many of whom are experts in the technology, mining and exploration, real estate and construction and not-for-profit industries across BC and Canada-wide. "We are a local, independent firm that can provide a range of services to clients of all sizes" Bob explains.  Bob credits his clients and peers for making him both a better advisor and leader. "At Smythe Ratcliffe, we are proud of our experienced and dedicated people. They make me a better partner, and together we ensure the best services are being provided to our valued clients."
Smythe Ratcliffe LLP has offices throughout the Lower Mainland and Vancouver Island. The head office occupies two floors of the historic Marine Building on the downtown shores of Vancouver, BC. To learn more about Smythe Ratcliffe, visit their website at www.smytheratcliffe.com.